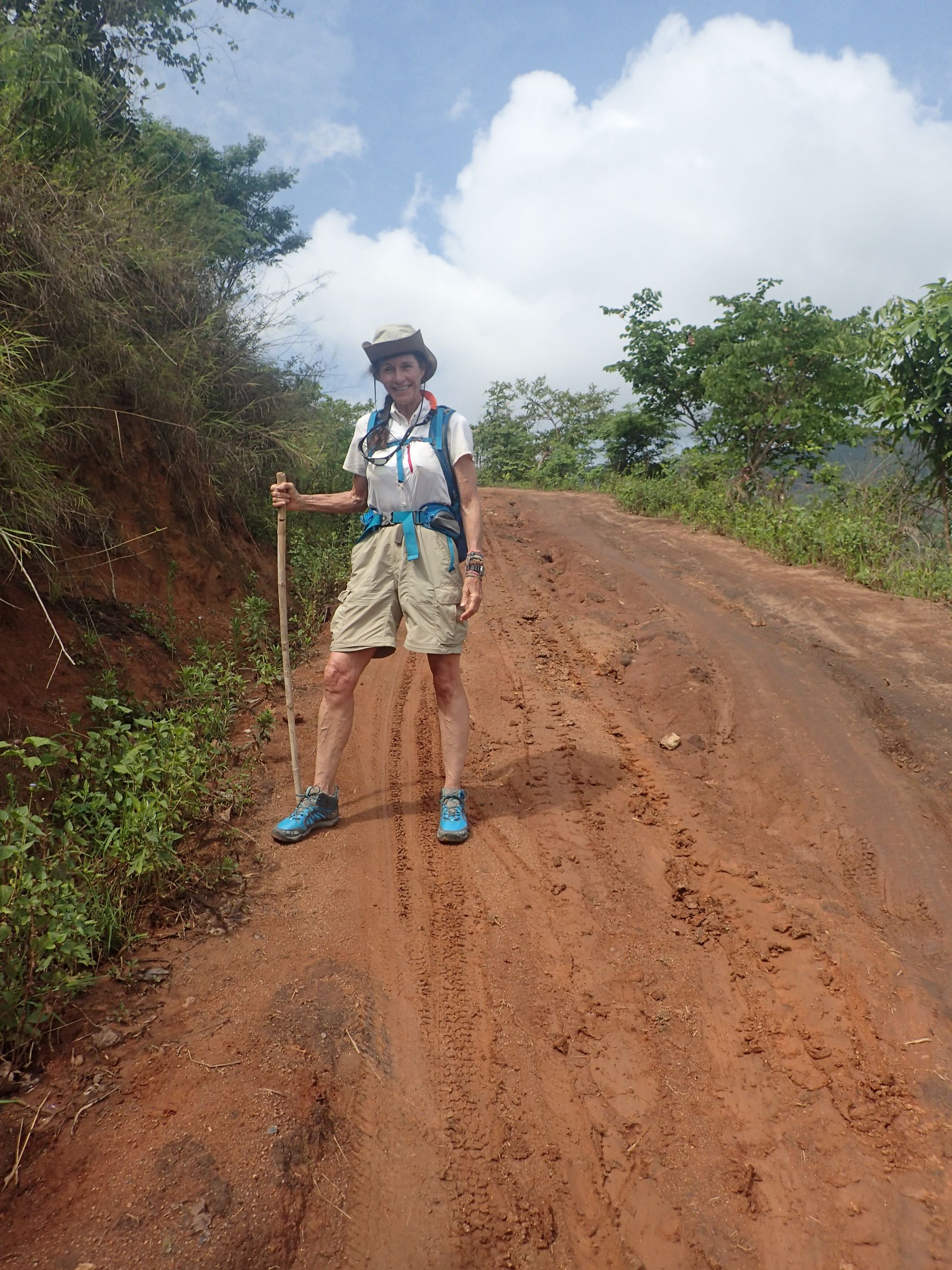 One hundred and ten degrees. Close to one hundred percent humidity.
Myanmar is not really the place to be in May. But there I was, slogging across four mountains (hills, really, but high enough) to get to the Kyaik Htee Yoe Pagoda, which is a holy Buddhist pilgrimage site.
My driver, Yaw, was taking me from Yangon to Mon State, where the pagoda sits. According to legend, the gold leaf-covered boulder sits magically on a single hair of the Buddha, and millions hike the trail during more pleasant seasons to see it.
Yaw told me that it would take three-and-a-half hours for a young man to make the hike. A woman, he said, four. Oh, at least.
"You are an old woman. It will take you five hours. You need to take the truck."
I laughed out loud.
"I"ll do it in three," I countered.
Yaw laughed out loud.
The main reason I was even in Myanmar was because my trip to hike Annapurna had been sidelined by the terrible earthquake in Nepal. I had hurriedly made other plans, which had landed me in Myanmar for the hottest month of the year.
You have no idea. Hot takes on a whole new meaning in Myanmar in May.
The hotel manager told me precisely the same thing when I checked in:
"You're too old and a woman.
"Take the truck," he said, emphatically.
Nope.
Yaw took me to the starting point for the trek to the Golden Pagoda. It was just eleven am. Not much tree cover. The hike up took me through homes and small shops which sold drinks to the hikers. Those people were in town, he told me; nobody would be around. I had plenty of water and snacks in my pack.
Take the truck, he insisted.
Nope.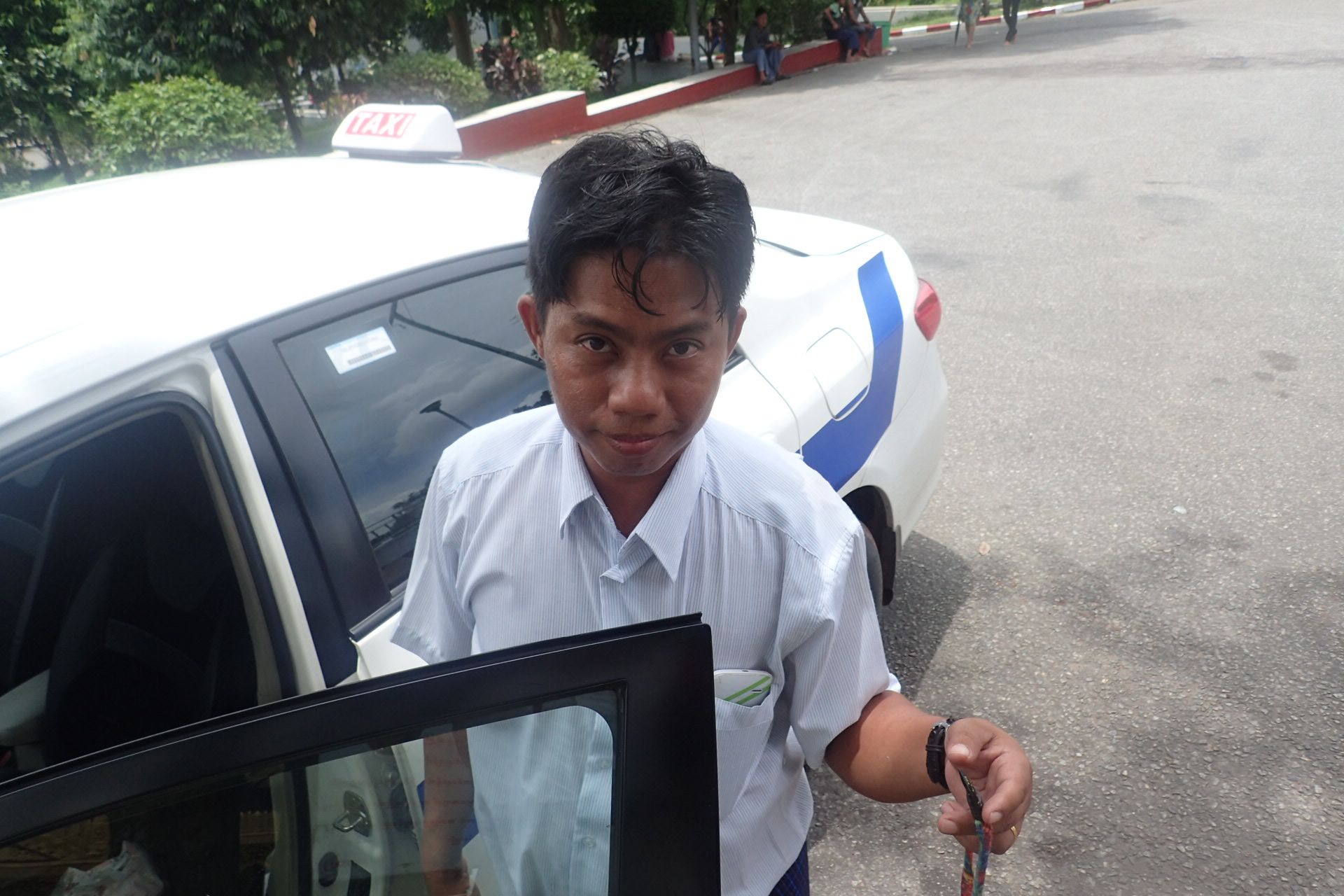 After he left, I took a photo of my watch against the backdrop of the gate. And off I went.
The gain in altitude wasn't much trouble. The heat and humidity were terrific. Within seconds I was soaked through. In fact, my pants got so wet with sweat at one point I thought my water bottle was leaking.
I set a blistering pace in the blistering heat, stopping for water and the occasional photo. Even stopped to play with a puppy.
There really was no shade, and the homes and shops set up along the way really were empty. Not too many fools would do this hike this time of year, true that.
This fool kept going, sweating and heading up.
Neither Yaw nor the hotel manager had given much hint about what to look for other than that I would know it when I got there. At one point I saw a golden statue on the side of the steep hill, just off the trail to my right.  
A monk was sedately hoeing the land.
This must be it, I thought. So I hiked up the steep hill to the statue, paid my respects, and hiked back down.
The monk approached me, grinned broadly and said, in broken English,
"You first person do that."
Well, shit.
Clearly I had a long way to go yet.
Impossibly, the sun got even more intense. I leaned over every so often and let the sweat run off my brow. My shorts and shirt were stuck to my skin.
Finally I came to the main paved road. At this point the mountain got really steep. The heat of the black pavement reflected into my face. Big trucks full of tourists bumped by, belching exhaust into my face as I climbed.
The hot paved road, now well above any kind of trees, crested at long last. There was the gold-plated boulder, perched delicately on the side of the mountain. People were everywhere taking photos and eating.
I swiped the sweat out of my eyes, then photographed my watch against the backdrop of the gate.
Even with the side stop at the monk's statue, I had done the trek in  under two hours.
UNDER two hours.
I found vendors offering luscious fruit, plenty of drinks and views for miles around. After a few minutes I located the famous truck that I was supposed to have taken up, and paid for my ride down.
Now that was an experience. Not only did the driver hurl us around the corners at speed, sending all of us slamming into each other, the heavens opened up and slammed us with dense rainfall. Oh my god what fun.
Wonderful.
In just a few minutes I stepped off in front of my hotel, where I borrowed the manager's phone to call Yaw.
He'd been napping at a nearby monastery.
"Where are you?" he asked, clearly expecting an emergency.
"Back at the hotel. I've done the hike."
"No you're not," he argued.
"The manager is right here," I said. "Want to ask him?"
The manager, who was equally gobsmacked, told him. I'd already shown him the photos of my watch against the gates.
The next day Yaw drove me back to Yangon, then to a wildlife preserve to see some elephants, which he knew I loved.
We talked about the hike.
"I didn't think you could do that," Yaw said.
I smiled.
"Your son is nine."
"Yes," he said, smiling back.
"How would you feel if I told him that simply because he was young, or because he was Burmese, or because his skin was brown, that he wouldn't amount to much?"
Yaw thought for a moment.
"I'd be pretty angry."
"Precisely. Now. How is that any different from telling me that simply because I am a woman of 62, there is no way I could climb to the Pagoda. And not only that, I would beat your best guess by more than three hours?"
He thought for a long moment.
"I never thought about it that way," he said, smiling at me.
"Precisely," I grinned back at him.
Yaw later introduced me to his family.
Before I left Rangon to explore Myanmar further, he gave me a huge hug.
We didn't have to say anything. Point taken. Lesson learned.
The best way for me to dispel ageism is to model its opposite. Challenge the ignorance, but to do it in such a way that nobody gets hurt.
WATCH ME isn't about an egotistical shut down. It's  a fun challenge. Because when I win, and I usually do, that gives hope to people who are terrified of aging.
It proves that getting older is still full of life and hope and happiness and adventure.
That's the real gift.
Dear Walkabout Saga Reader:
Thank you so much for taking a few minutes out of your life to read my work. WalkaboutSaga  is an act of love and devotion, and I hope that you found value in it.
If my work appeals to you, may I kindly invite you to consider joining those Patreon supporters whose generosity keeps the gas in my tank as it were.
Such articles take time, resources, research and effort. Even a small amount of support truly helps me keep this going. In challenging times, I recognize that even a small amount is hard. Those who can give, I appreciate it. Those who cannot, I hope my words are helpful.
My purpose is to Move People's Lives. I can do more of that with your help.
Thank you.
You can explore that option here.
However you decide to partake of my writing, again, thank you.