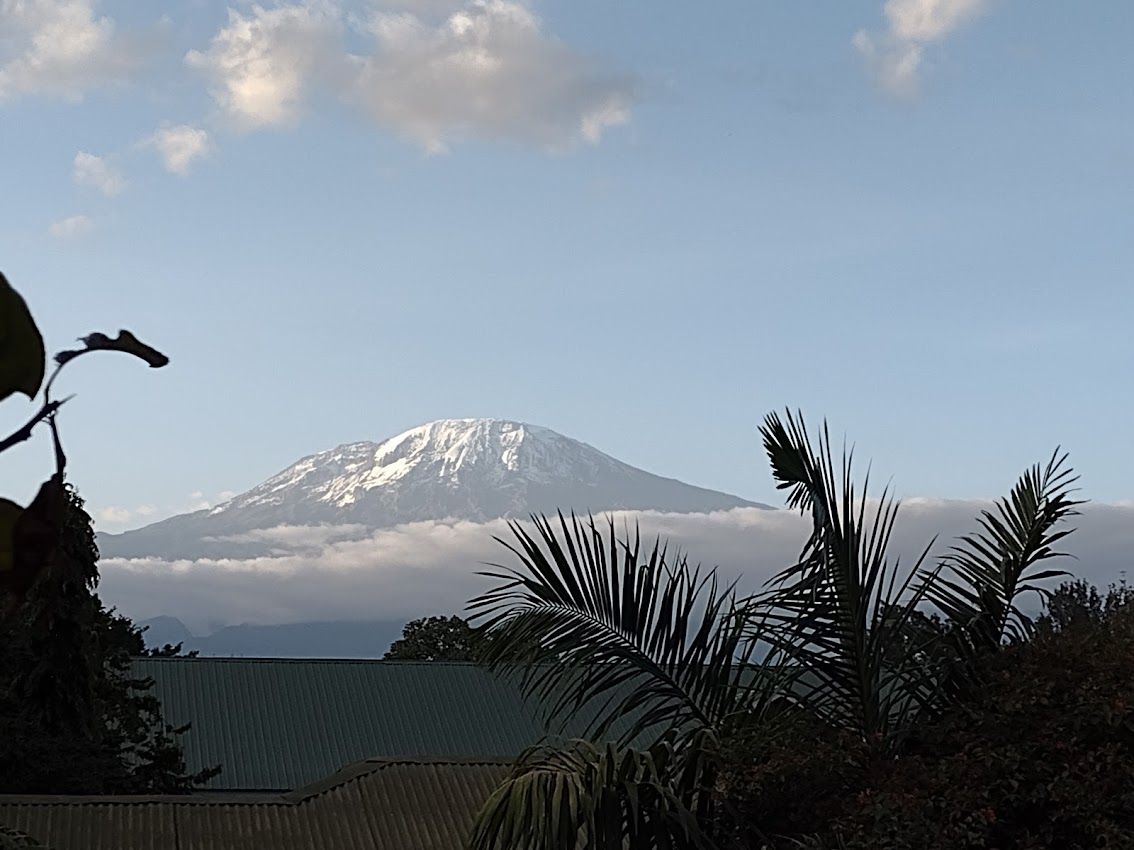 Too little, too late? A lovely hotel, an amazing staff, a Big Dream and what you can do to help
Last night here in Moshi, Tanzania, the town which sits in the shadow of Africa's biggest mountain, Kilimanjaro, I sat on my balcony at Stella Maris Lodge and gazed contentedly out at a fine view of the mountain.  Kili, as she's called here, is the primary source of tourism around here, which means that tens of thousands of porters, hotel workers, guides, taxi drivers, cooks and much more benefit from those of us who travel to clamber up her sides.
These days, that's a lonely proposition. It isn't just that it's low season, which normally means steady rains. There are two main climbing seasons, and in between, in any kind of normal climate, the rains provide the moisture which the local farmers plan on in order to grow food for themselves and the market.
Recently, those rains haven't come with their steady regularity. They finally arrived this morning, but as with so many other changes in our world, the planting season has become so unpredictable that farmers often have no real idea what to do, or how.
It's not just that. Covid, which has thrown a pall on the tourist economy worldwide, hits places like Tanzania hard. While actual numbers in this country are far lower than in places like the United States, where a War on Masks and Vaccines has left more than a million dead, here, that's not the case. Sadly, ignorance about the rest of the world and its practices, combined with terrible and unfounded prejudice about the nature of medicine in many African nations, leaves places like Moshi bereft of tourist travel.
In this article I want to show how such changes, the combination of climate change and Covid, affect one hotel, the staff, and the larger community which counts on us to visit. What I show here is repeated everywhere, for good people with big hearts for the community abound.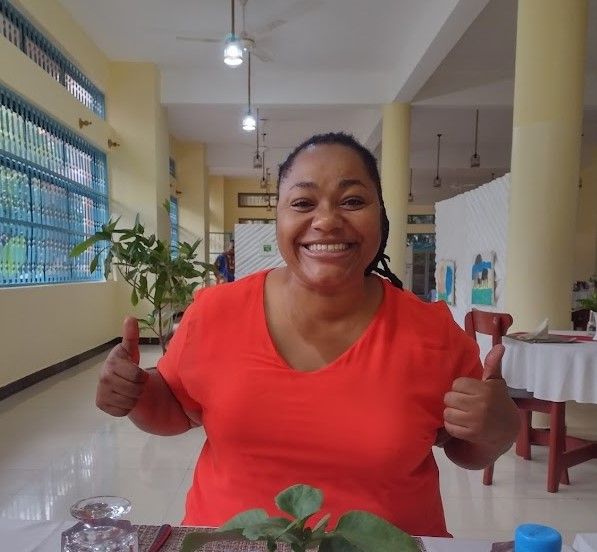 Teddy Chewa, a rare thing among Tanzanian women because she manages the wonderful Stella Maris Hotel, is worried. Teddy, as most would argue, is the main reason that this hotel has been successful. On its well-tended grounds is a big, sprawling school for kids whose backgrounds have not been kind. Here they get fed twice a day, get a solid education and head out into the world knowing they are loved.
Teddy, along with The Mailisita Foundation's support, is the author of that love, and the energy and enthusiasm to ensure those kids have a safe place and a future.
To know Teddy is know love. The moment I uncurl my body out of the van to step onto the cobblestones of this hotel, she is there to scream DADA (sister) and envelope me in her great hug. She greets all of her familiar clients this way, which is just one reason we come back over and over, whether or not the mountain is on the menu.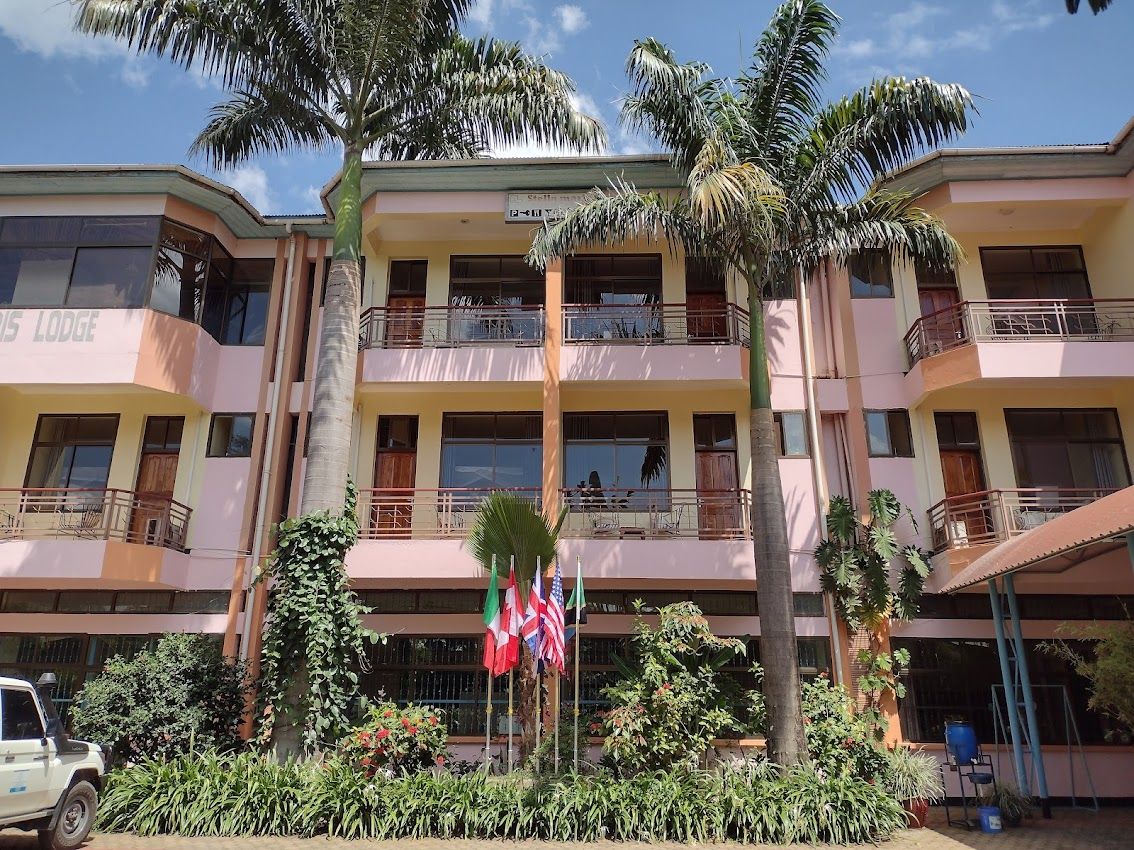 This talented and wonderful woman has overseen the growth of this charming hotel. Through her efforts, combined with other energetic and generous donors, she's been able to keep her staff and the teachers paid, some with relatively small pay cuts. So even while I walk the upper floors of this hotel to the sounds of my echoing footsteps, the cooks, cleaners and wait staff continue to be employed.
So are the teachers. Getting everyone fed is another story. Teddy told me about the Wamboma Group project which has local single mothers, all quite poor, learning how to plant and grow organic produce. That produce is bought by Stella Maris, and it feeds people like me, pays the women so that they can build small, safe homes for themselves and their families, and it also feeds the kids.
Wamboma Group started with thirty women in 2017, and now serves 120. Of those women, Teddy reports that half of them have been able to build homes as a result of this project, and all of them have significantly improved their standard of living.
Even better, those who come here and are vegan are treated to fine local vegetables, organically grown, which often taste considerably better than the pretty-but-not-tasty stuff we get at our supermarkets.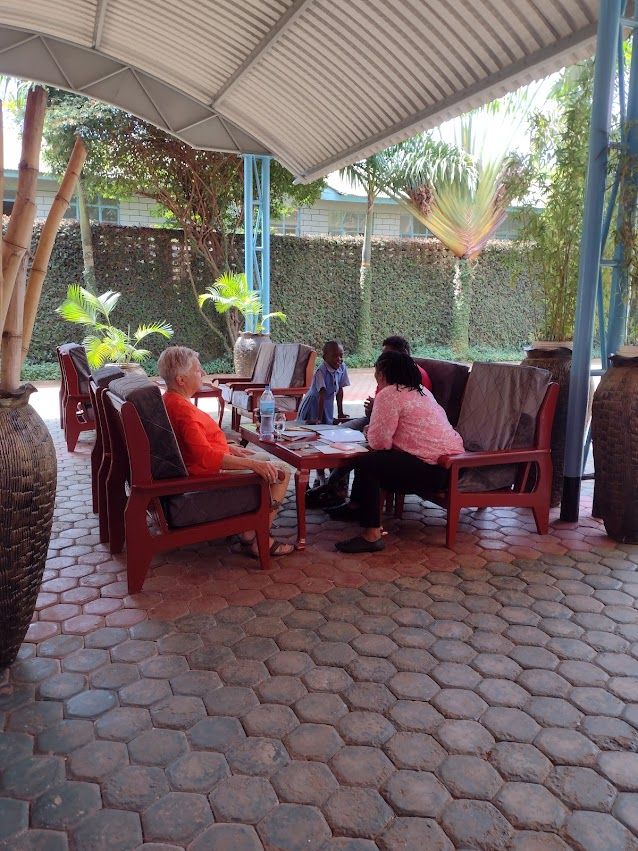 Teddy has gotten herself involved in so very many projects like this that sometimes it's hard to tell what is Teddy and what is everything else, for she has thrown herself heart and soul into ensuring the futures of the school, the kids, the women, the hotel. And in fact, those of us who travel half the world to see her, and also, by the way, maybe we also climb the mountain. She loves us heart and soul as well, and it shows.
Some of her kids- and all the kids are HER kids just like all her guests are family- count on the school for their two meals a day. During the one-month lock down in 2020, Teddy's church-Mailisita Parish- had teams (community leaders and the church groups) heading out house-to-house to ensure that those same kids had food. They did, and happily, the lock down only lasted a month. Since then, the hotel has bumped along, but Teddy is shy the tourists who are the financial heartbeat of this place, and the primary source of revenue. They have largely made Stella Maris Kilimanjaro Central for climbers.
So when tourists don't come, a lot more than the hotel can suffer. The ripple effect is felt like waves throughout the local economy in ways most of us can't comprehend.
Covid keeps many people away, and the fear of the war in Ukraine, which doesn't directly touch this part of the world, also keeps folks at home. I can attest that being in Tanzania, there are few masks because the country isn't experiencing a wave of cases. More folks get vaccinated (Teddy is, for example). I personally consider the odds of getting sick so low as to be miniscule. I feel far more likely to get sick in America than here, which is just one reason I came.
The other, of course, is Teddy.
Out of terrible concern for her community and most especially for the school, whose existence is directly tied to tourist revenues, Teddy announced that she would climb Kilimanjaro to raise money. Peak Planet, which has long hosted many if not most of its clients at Stella Maris, is taking her up, which is great news. They have one of the best teams on the mountain.
Last night Teddy tried on my Hokas, which are my favorite hiking boots. We had a long talk about socks and gear and shoes, which she'll need to know a lot more about. She will need to train. So now, this remarkable woman is going to have to add additional expenses and training time to a groaning sideboard of responsibilities so that she can take on this monumental task.
Here is the link:
The lack of tourist income affects a great deal more than just food. As the Facebook post explains, supplies, teacher salaries, maintenance, all are affected when the flow of tourists slows down. That's just the school. The hotel, which Teddy was instrumental in finishing, was built room by room over the years as people discovered it. It needs maintenance, upkeep, and people to care for her every day.
A savvy manager, as the hotel grew into what it is today, Teddy ensured that when there were funds, the funds were funneled back into the business to ensure more rooms for more travelers, which meant more income all around.
Now those lovely rooms too often sit empty. I am one of the few here, enjoying the relative quiet. Honestly I would trade that relative quiet for the high-energy sounds of happy climbers, post-climb tip dances and all the rest which mark a busy climbing season.
This is just part of what those tourist dollars pays for: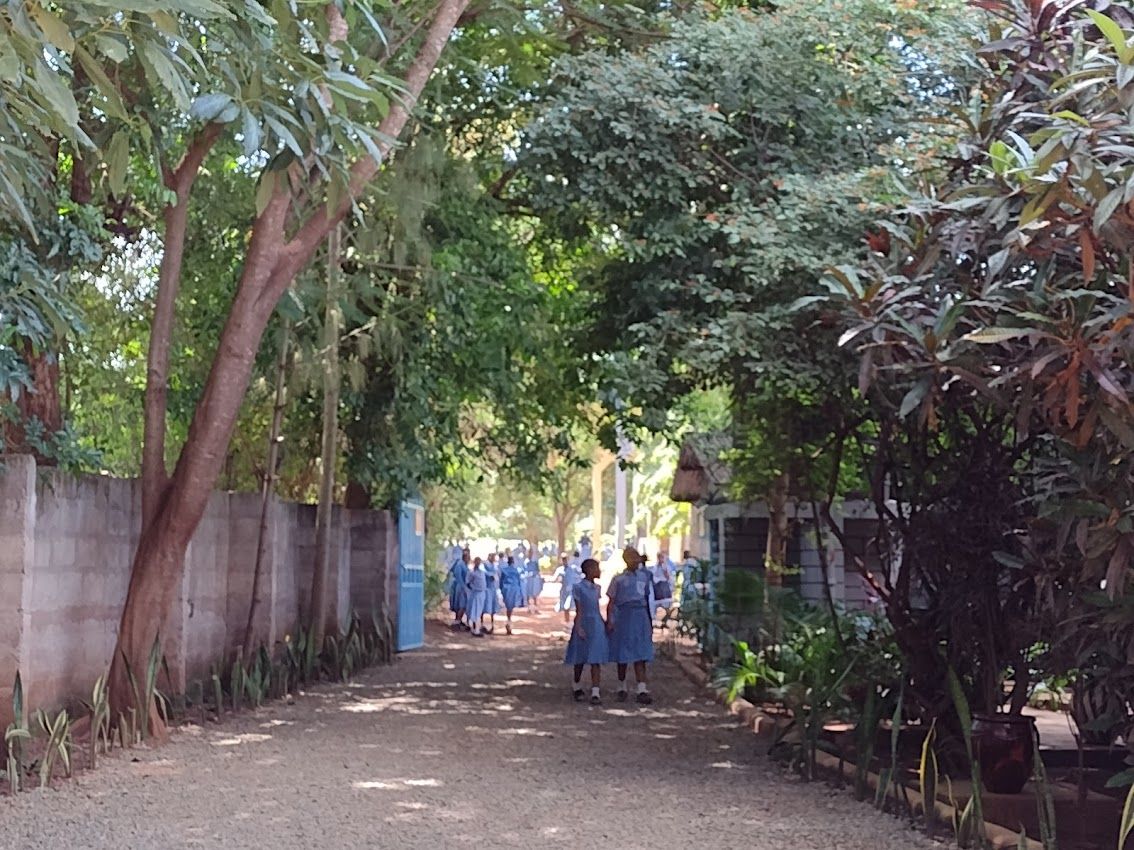 Just past these girls is a brand-new, almost-finished dining hall which has been under construction for some time. This huge hall is intended for multiple uses: for the kids' eating area, and then during nights and weekends, for weddings, ceremonies and other events. In her typical longer-term thinking fashion, Teddy recognized that Moshi has very few places for this kind of event. Her plan, paid for as the business could afford it, was to create yet another source of income for the school kids and staff during off seasons and slow times.
That's good planning, for as the rains vary and the climbers are sometimes iffy about returning to Kili, this hall could make a big dent in expenses and keep folks going for a good long time: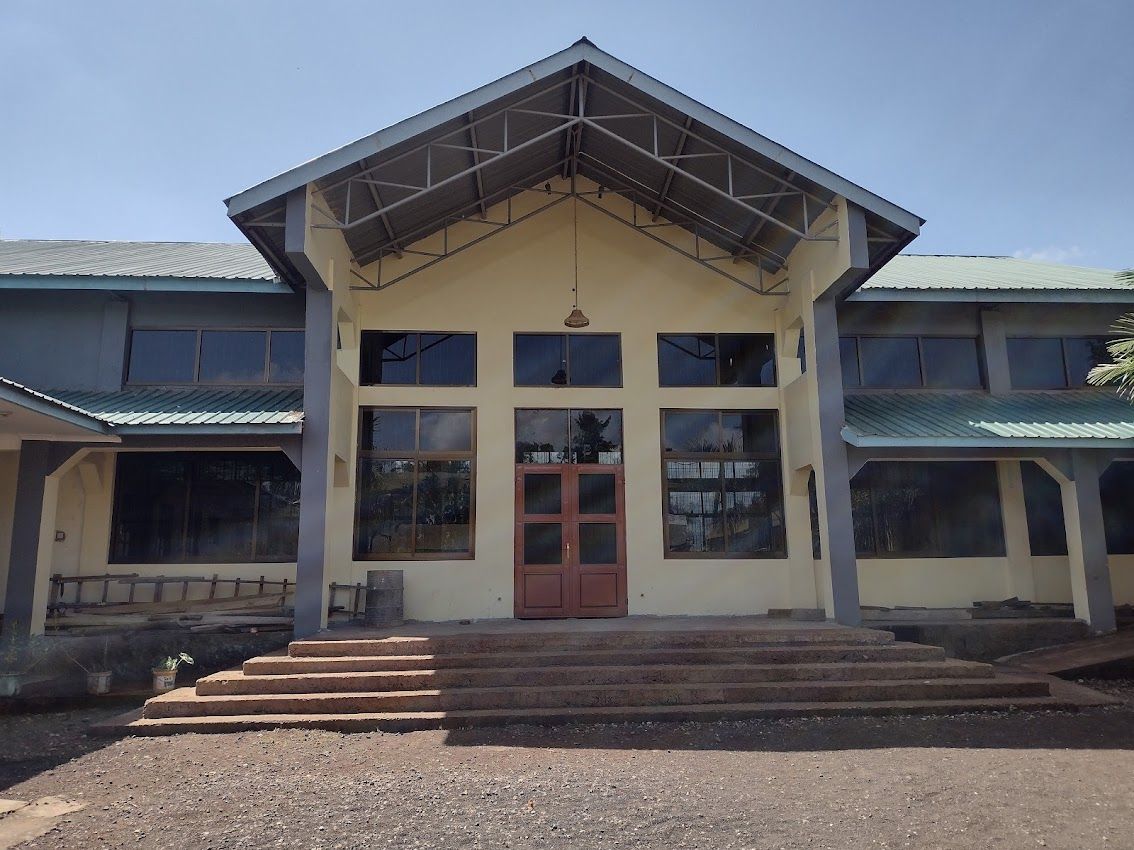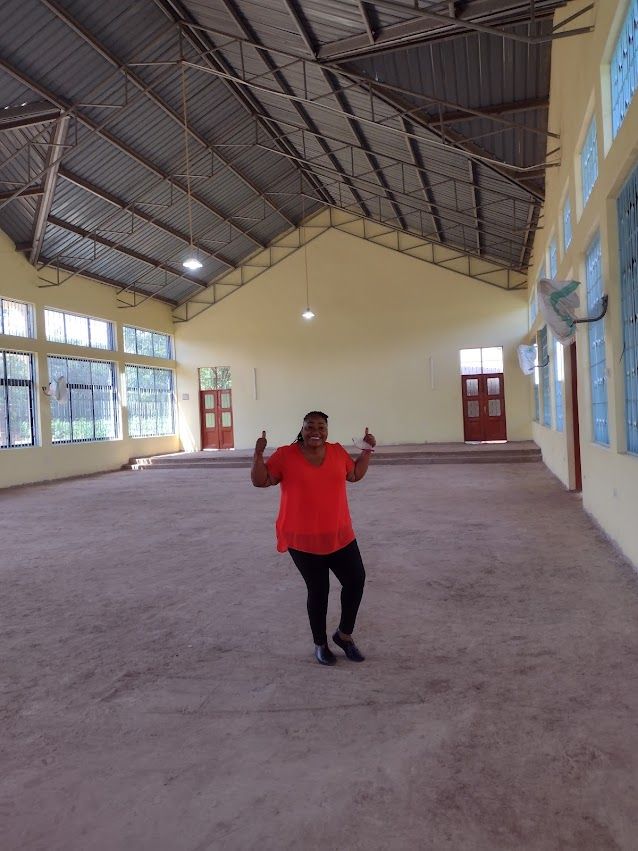 When I was here last, this hall was just underway. However, Covid or no Covid, rain or shine, crops or no crops, people meet, they marry, they need spaces, and Moshi is short on such event venues. So in her inimitable fashion, Teddy went to work creating this space which would serve her kids and the community, and be able to further fund the love she shares for her children, the employees and the community.
Today she needs furniture, tiles for the floor and bathrooms for guests, as Tanzanian law stipulates that guests can't use the same toilets as the school children. Teddy is undaunted even as revenues have dried up. She does a happy dance to celebrate how far she's come, and how close she is to creating another way to keep keeping her kids in school and her vast, extended Moshi family employed.
The hall will get built. Somehow it will happen. For Teddy will take on the great mountain whose climbers she has supported and celebrated for years, and who all love coming back just for a Teddy hug.
You would too. Stella Maris is a fine place to just visit, see the sights, relax in lovely green surroundings and gaze, on a clear night, at the mountain we love. You may never climb it, but by being here, you can help Teddy climb the never-ending mountains she must master to keep the school going, her hotel full and her employees fully paid.
Tanzania is a remarkably safe place to travel.  I hope you consider Stella Maris, for its beating heart is Teddy. When Teddy is working hard to keep her guests happy, the whole community is working, most especially for Teddy's kids.
‌
‌