I hurt like hell right now. I'm supposed to. Here's why.
Dear Walkabout Saga Patreon supporters: You voted on this, which is a series, and will be regularly-appearing pieces on what I do with that mid-week day. As promised, it's often less about precisely what I do but what those activities teach. This series will always be public; those other articles will go to higher tiers for previews before publication. Thanks as always for your kind support.
When I woke up this morning, my lower back was shrieking at me. The offending piece of gear, a Mountainsmith lumbar pack, got packed up and returned after throwing my back out after a training hike.
That's not all that hurt.
This past Hump Day, I met my new friend Stef at Heceta Beach. I got there early. I met a couple traveling from Florida (they can't afford to live there) around the country with Dozer, their animated and ridiculously happy pittie, who had to weigh close to eighty pounds. I know, cuz he leaned on me hard as I worked on his belly, eyes closed in joy, and dancing like a puppy when I got done.
Stef brought Coop, her enormous half-Rottie, half Husky, who has decided he likes me. Coop is as rambunctious on a hike as a toddler on six cups of cappucino. He's one hundred pounds of fast-moving railroad train coming at you on the hiking trail, so you learn to dodge.
Stef and I headed north to Cummins Creek, parked, and headed up. My now-departed  Mountainsmith was snugged into my lower back, I had my much-beloved Black Diamond carbon hiking poles, the ones which got me up Kili the first time, and off we went.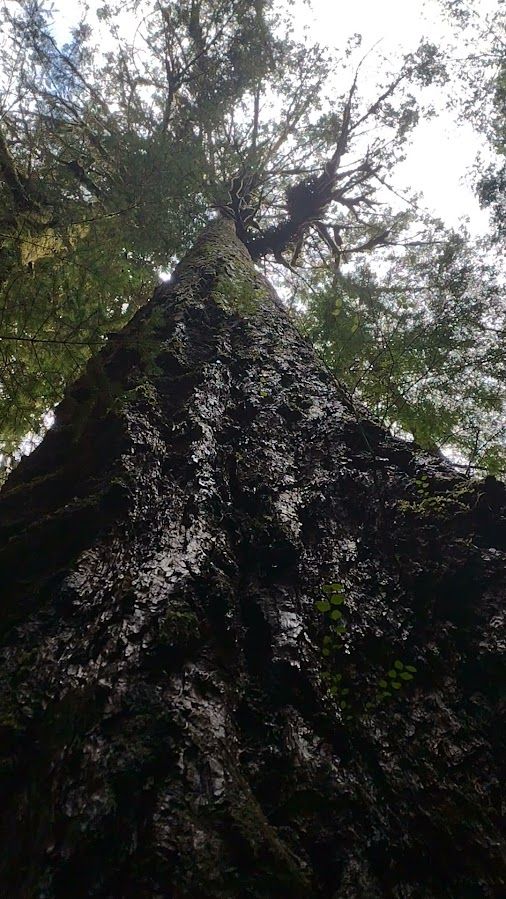 Stef doesn't know me; we had just met. But like me she's only been here for two years. Both of us have been challenged to find friends, and people to hike with. It isn't just the hike itself. It's conversation, and being able to discuss lots of stuff with someone on a gorgeous hike without having it soured with disagreements over politics or religion, which used to be off-the-table topics. Now they aren't, so it becomes an essential to make sure that your hiking bud isn't tempted to impale you with a pole or moved to nudge you ass over teakettle into a deep gorge for supporting The Wrong Guy.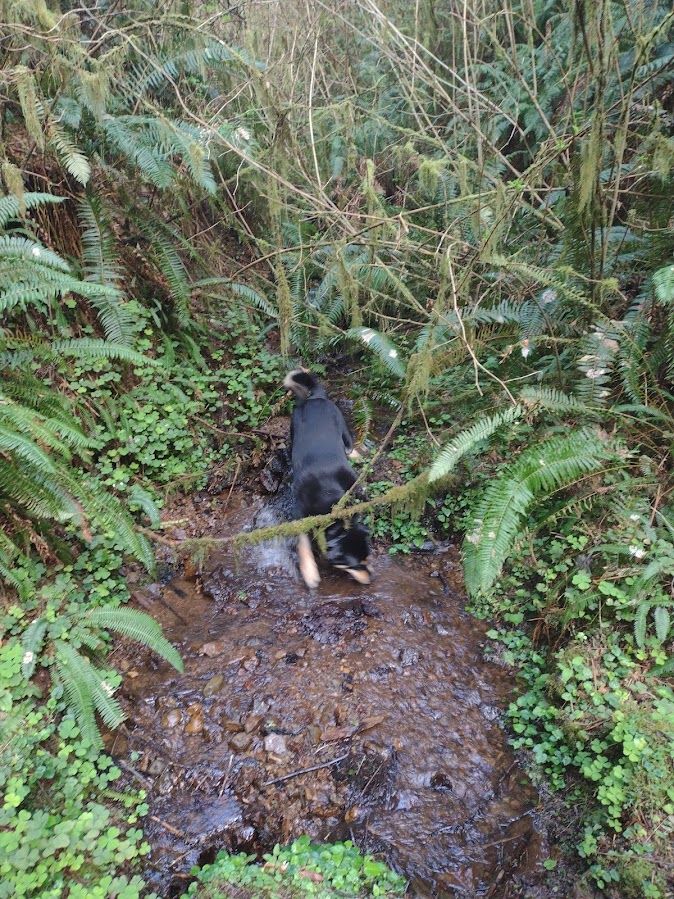 Ours hike was just over six miles long, a deeply gorgeous green walk punctuated regularly by gushing streams. I took photos, which Coop photobombed, leaping like a kid in the water to cool himself off after galloping up and down and all around. The hike was a steady, gentle rise, precisely the kind of training hike you want when you have Kilimanjaro in the distance and plenty of time to get ready.
Six miles was my first big ask of the year. It's not a long hike, but because of surgery and my very bad hand, running has been out of the question because of jarring, although I've been able to do some soft jogs. Fixing a barking left foot, which just got cortisone shots, finally meant that at last I can start taking on bigger climbs, which are essential.
I am planning to summit Kilimanjaro again in late 2023, and it starts right here, right now. These ailments and injuries become minor in the face of that kind of Big Ask.
I've been doing three miles almost daily, the last of which is up a very steep hill. You can do three times that on a single day after getting the habit down. You'll probably be sore but you can do it.
So several things. First, when I lived in Lakewood, a western suburb of Denver, the terrific Red Rocks Amphitheatre was barely 15 minutes away. That was my haven, rain or shine, snow or sun. Hundreds of steps on either side, training at its best at 6200 feet. That is the single reason, other than my friends, that I sorely miss Colorado. I had no idea what was going to happen to my body when I stopped training on stairs at least three times a week.
This is what I miss most: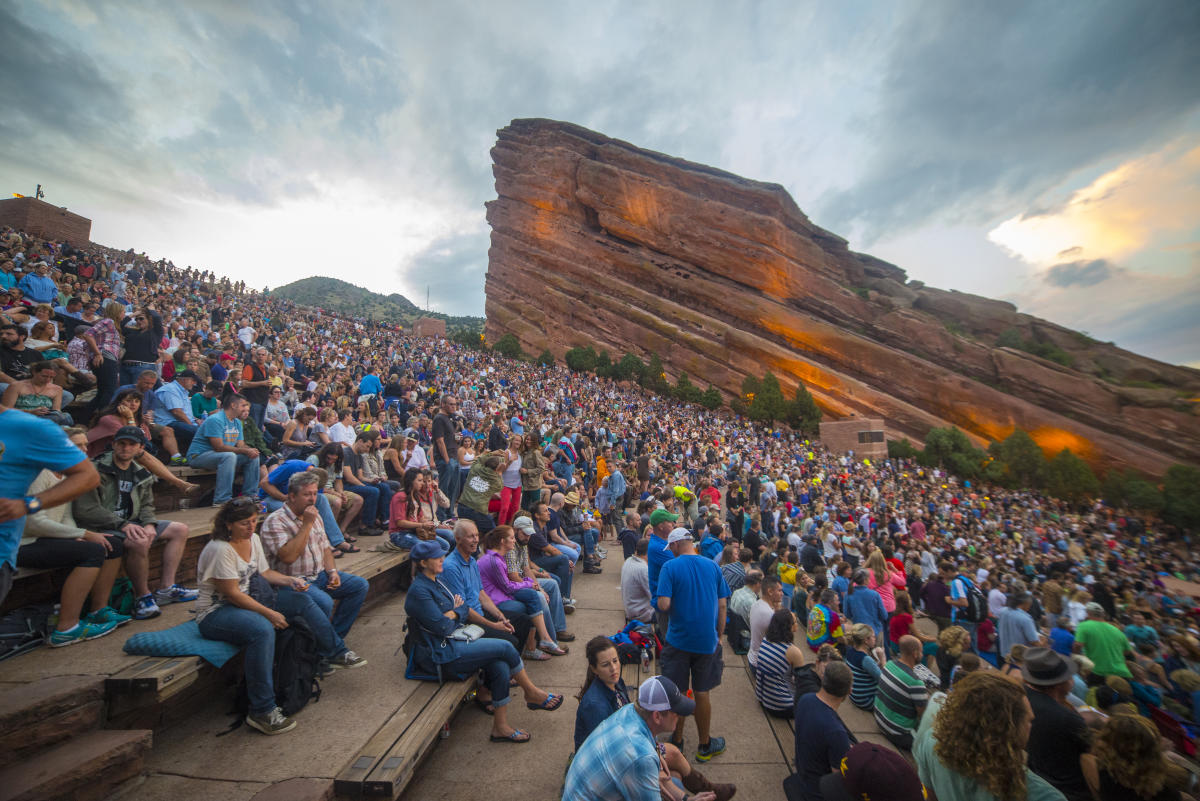 You can't ask for a better training venue. Outside, beautiful, fresh air, hard work, friendly folks, lotta dogs. High altitude. A real challenge, in other words. It doesn't get better than that.
There isn't anything even close to that here in Eugene, but the fact that we have lots and lots of trails. You can legitimately argue that those are even better but for two reasons: we aren't at altitude, which really does make a difference, and it's a much bigger investment in time to get there. You make tradeoffs. I did. It's not a big deal to trade steps for sidetrips into this kind of country. Especially mid-week, when the trails aren't as likely to be crowded.
So, about that two-year+ hiatus. And what happened to this body.
You combine leaving Red Rocks with quarantine, sitting WAY too much, injuries, closed gyms and all the other witches' brew ingredients from the last two years, and I was about to find out.
First, since I never quit exercising, I had tons of energy. The rich air near the coast is still such a treat after fifty years in Colorado.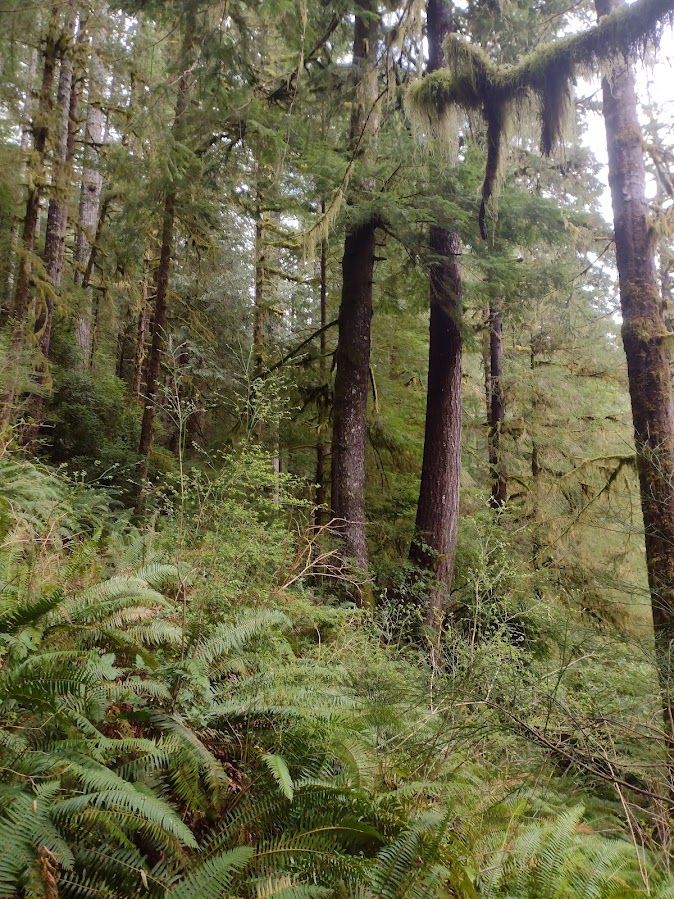 Second, I had no issue keeping up, nor did I run out of gas. Stef is in her late fifties, and she had every reason to wonder if I could keep up. We always do that with new hiking partners. You never know til you go.
Two days later, I was sore as hell. Calves, backs of my legs, and my lower back from that fool bag.
The bag was easy. You can't send your body back. All you can do is work through the soreness.  What's instructive is where things hurt, which correspond with where my body's muscles have lost their tightness. So while you can't send it back, you can build it back.
So I soak, rub in 1-TDC cream for the soreness, and went out for a speedwalk last night to loosen  things up. It's going to be this way for a while until those muscles are back to the kind of easy power I like, being asked for more and more miles.
What's even better is that as I continue to explore the coast on Hump Days is that each excursion is an exploration of a constantly-changing land, meeting friendly people who love it as much as I do, and slowly but surely finding friends.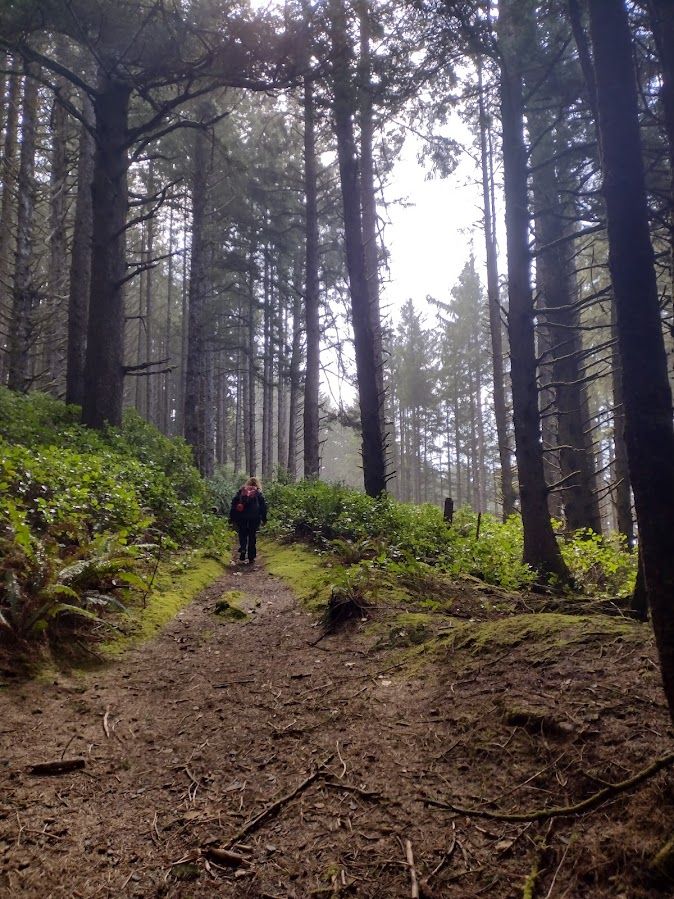 Stef and I spoke briefly on the challenge of making pals late in life. In some ways it's a lot harder these days, as whether or not one's politics align is for many an immediate determiner of whether or not you can move forward. That's been on my mind lately, but that's another article.
This is about how, as we age, we can remain open, soft and curious about each other. When we move later in life, we often leave behind decades of connections and familiarity. That's very jarring in many ways. Stef is married, her mother lives with the family, and she has kids. I don't. So the silence in my house, but for the white noise machines which chirp and sing birdsong and crickets and gurgling streams at me, can at times be deafening.
But as spring brings in the bundles of blossoms about to burst on my cherry trees, the yard explodes with new life just as does the forest: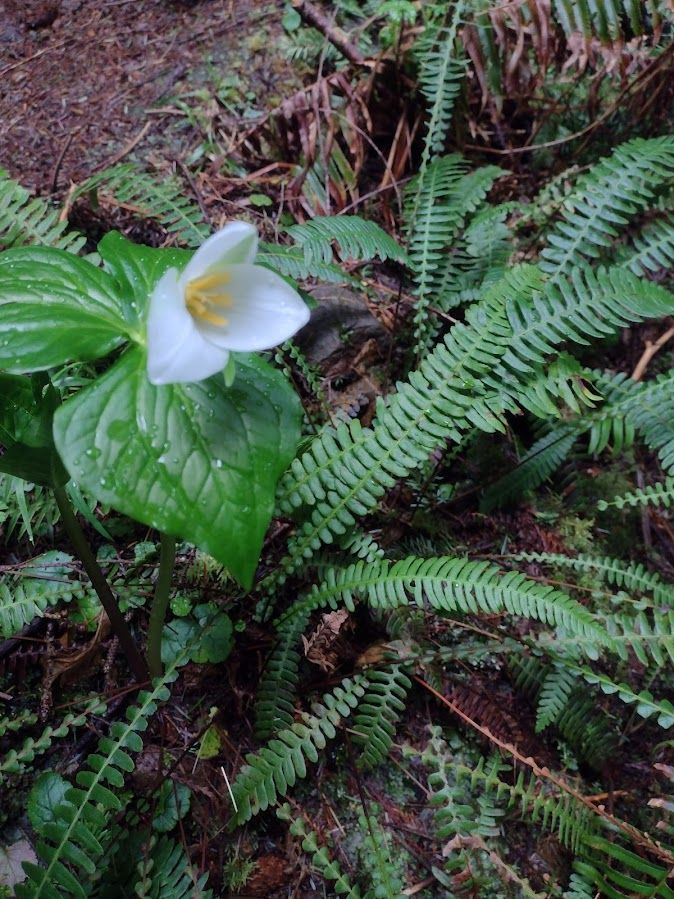 ...the opportunity is to work through the soreness and keep on going. I am immensely grateful for the strong body I have, and the remarkable endurance that decades of work have given me. The last two years were costly in some ways, but from a physical standpoint it's nothing I can't regain.
Many of us are bemoaning the shape we're in after quarantine. It's time to stop blaming Covid for every damned thing. We have plenty of influence over the shape we're in, and I have scads of work to do to get back in Kilimanjaro shape.
I just got word that my Ruck arrives sometime today. I am so jazzed. My weighted vest doesn't work so well on my small-boned frame, so I'm going to lift the weights out of that and put them in the Ruck. Instantly my three-mile hike will be transformed into a whole other kind of workout. I love that.
I will be doing gear reviews as I continue to train and use new stuff. Break in new boots, which is inevitable. My left hand, having just been assessed this past week, is in agonizing pain, and after three hours on the trail I had to retire my left pole and keep my hand elevated for the rest of the hike. I get surgery on that bad boy in late June, and already have my downstairs gym set up for PT and training with bands so that I don't miss much.
After two shoulder surgeries, I am now back at the gym, very close to full weights. Yes, that will take a hit when I get my hand done. But I knew that when I committed to Kili again. These are like taking a few short side trips off the main hike to deal with what an aging, well-used body presents as a challenge. The bigger goal remains. Kili is in the distance. November 2023.
That's a big, big ask. Did it once already. Between now and then, the asks are going to get bigger and bigger so that by the time summit night rolls around,  barring any other unexpected events (like nuclear war, god help us) I'll be ready for the biggest ask I can make.
Will I make it? No clue. But I know how to train for it. Now it begins in earnest.
Dear Reader:
If my work appeals to you, may I kindly invite you to consider joining those Patreon supporters whose generosity keeps the gas in my tank as it were. Those supporters get to dictate my content calendar, we engage as a community, and this website and its content acts in service to our collective best selves.
You can explore that option here.
However you decide to partake of my writing, thank you.