I close the circle with a trip to a once-magical town in Northern California. This is what that was like
The day began with hard rain in Crescent City, a smallish place losing its residents too fast. It's now just under seven thousand people. If that keeps up I wonder who will be out on the water fishing for crabs? Bringing in the haddock?
A question I can't answer. Resort towns get bought out, working towns die. Crab populations are wiped out, and industries disappear. It's the world doing what it does because of what we've done to it.
Back in the Eighties, when the book The Aquarian Conspiracy convinced much of America that a new wave was coming, I fell in love with California. Like many of my generation I grew up with the song California Dreamin' and was lured by the idea of sun and sand and broad beaches. More so, handsome surfer dudes, blonde mostly, and the endless promise of the wonderful wide-open West.
Thank you Beach Boys and Jan and Dean.
Forty years later I was back. Yesterday I closed a circle that I didn't even realize needed closing.
I'd already realized a huge piece of what I'd accomplished last week when I sat quietly in the Stout Grove of redwoods in Crescent City. There I realized that while I don't have redwoods, I was looking out at my own yard, as it were, in Eugene. It was a stunning realization. But I wasn't done, not even. That was just the start.
This was how the story finished.
My morning began at 4 am as it always does. I'd decided to spend the stormy day reading until the storm downed a critical power line, and out went the lights. The heat, too.
The best option for the day was to drive, rain or no rain. I headed south, through the redwood trees and along the far northern coast of the California coastline. I didn't realize what the day would bring. This was my last trip to enjoy being both upright and mobile for one last precious month before another foot surgery would lay me low for ten to twelve weeks.
Why not drive further south to a town which marked a watershed moment for me forty years ago? As I drove through the great groves, I passed the huge statues of Paul Bunyan and Babe, which was the farthest north I'd ever been in America back then.
A great wave of nostalgia, tinged with immense sadness and loss, washed over me.
I kept going.
I was headed to Eureka.
Eureka!
If I was expecting a welcome, a parade, or even a handshake, I was bound to be disappointed.
Just the town's name held so much magic for me, the way all coastal California towns had done for me in my youth. It sounded so.....epic.
The 78-mile drive down the California coastline from Crescent City was a long, winding strip of single-lane road through beaten-down, boarded-up and weather-battered motels, homes and camping grounds.
Orick is a ghost town.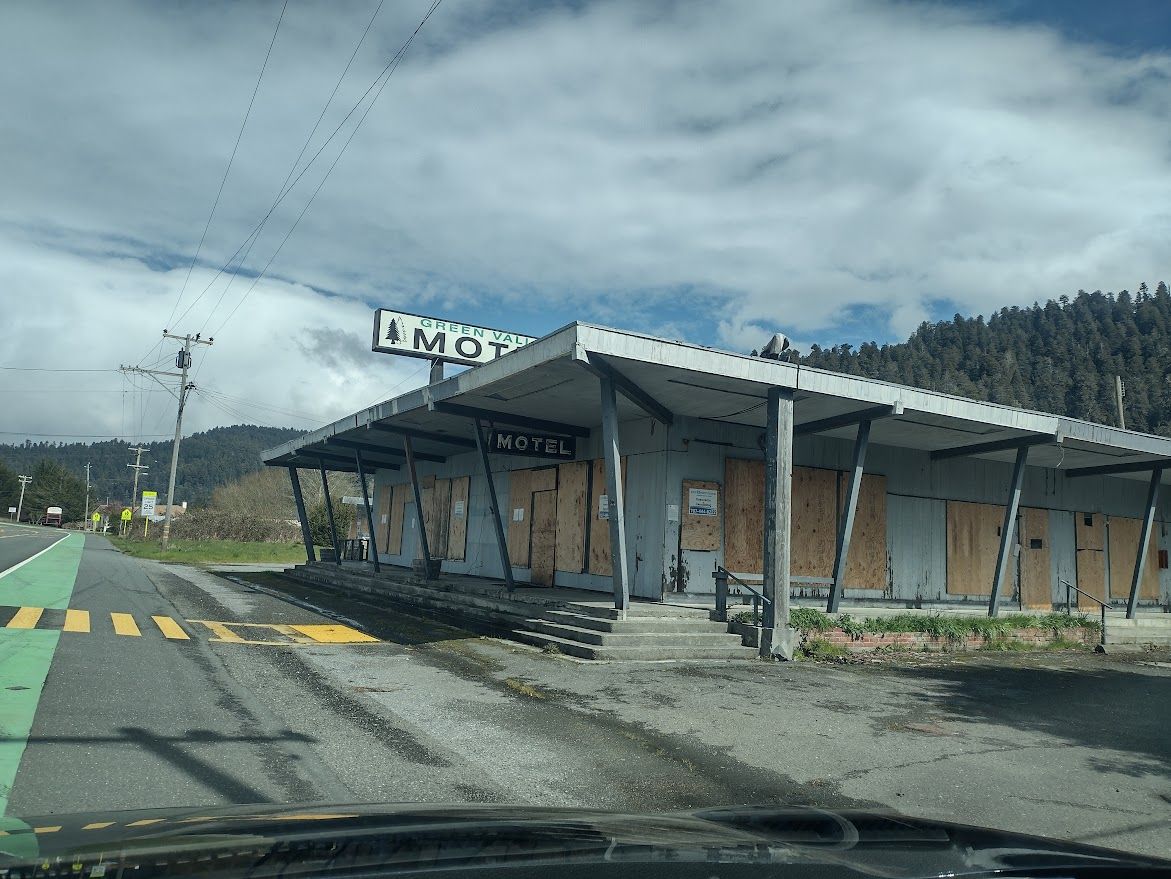 The road was well-maintained, even where it had been washed out. Expert crews guided us through snaking detours where huge earth movers and crews were working to rebuild the damage. The further south I drove, the more lagoons I saw.
I didn't remember those. I only remember the coast and the trees and the cold and the wind, even though it had been summer when I explored back in '84.
As I drove the coastline, the weather cleared. Off to the east the Sierras were blanketed with snow and the redwoods disappeared into fog.
Forty years ago I had wandered up this way partly out of pure curiosity about the state.
The other part because I was hoping against hope that Eureka, which was the birthplace of a particularly cute blonde, blue-eyed carpenter I'd met in Australia earlier in 1983, might be harboring a few more just like him.
Really? Honestly?
The ridiculous things we do.
Yet, where those notions take us can be life-changing, just not the way we anticipate.
I trundled into town, now on a four-lane freeway. The protected redwood groves had given way to industrial towns and flat beaches as I left the coastal cliffs behind. The fog and snow opened up to sunny skies, for now.
Redding isn't far, either. There, a lifelong friend of mine still works on rich people's houses. He's the classic blonde (now bald) carpenter, a man in his early 70s with a body so ridiculously in shape that you'd think he was still thirty. Like me he's still solo, having lost the love of his life years ago to an Elvis impersonator in Vegas.
You can't make this stuff up.
He wanted me to drive over but I didn't have the time. Another time, I thought.
We are both at an age where there may not be too many other times. I'm well aware of that, having turned 70 this January. We are both hale, hearty and very healthy, so I'm not terribly worried. Respectful but not worried. Another drive south is definitely in the future.
He wasn't the right blonde carpenter, I guess.
Driving into Eureka, I wanted to feel something. I was completing a handshake with my past. I wanted swelling, emotional movie music, something to mark the moment. Like heading back to your 50th high school reunion and expecting a ticker-tape parade just for showing up.
Nothing. I made a U-turn before I left town entirely and made my clumsy way back to an Asian fusion restaurant where I had lunch.
I want someone to congratulate me.
I'd have to do that for myself.
I had completed this enormous forty-year circle, counter-clockwise, from Eureka to Denver, where I largely was for fifty years, to Eugene and now, Eureka. Lots of other far, far-flung places in between, but still.  I wandered. Still do.
Until I reached the redwood groves of Crescent City this past week, I didn't remember that forty years ago I had birthed a dream of living close to the beach yet surrounded by big trees.
In a high-peaked house with a fireplace.
I'd done it. I had realized my California dream. While Cali wasn't my final destination, what I'd wanted were the trees and the beach.  Wildlife wandering the yard.
Got all that. Shy of the blonde carpenter with cobblestone abs, I had realized my dream.
Driving to Eureka with its shuttered restaurants and threadbare shops was little more than a ceremonial closing of that great long loop. I wanted to see the town where that dream had its inception.
I want my parade.
Not happening.
Nobody cares.
I do, though. So as I tucked into my vanilla ice cream after a lovely stir fry, I quietly acknowledged that circle. I still didn't see any cute carpenters.
Look, at 70, I'm not looking so hard any more. Priorities change. These days I'm happy to have a carpenter to work on my house, not my body.
In the same way silly people move to Montana because they saw A River Runs Through It or Yellowstone, I had driven from San Diego north to Eureka back in 1984 in the hope that somewhere, there was another handsome, flaxen-haired carpenter with blue eyes and cobblestone abs.
There wasn't.
Well okay. There might have been, but not walking on the main drag just waiting for me to drive up and offer him a ride.
There was no movie set-pretty coffee house where we would just happen to meet-cute and be happy ever after.
We really are ridiculous.
California as I knew her in 1984 is no longer.
After lunch, I loaded back into my car, not a truck with a camper this time, and U-turned to head back north. I like north. I like the cold and windy and rainy. I like the bent trees and tough vegetation of the coast. All that speaks of resilience, like the crabbers and fishermen who brave the Pacific for their catch.
Nobody in Eureka waved good bye. Shouted congratulations. Nobody will fervently hope I'll return (except the server, for whom I left a very generous tip).
I didn't really need the parade or the bunting or the banners or the halloos.
I just wanted to complete the circle.
I did. Now I'm going home.....
...to my high-peaked house with the fireplace, surrounded by huge trees, not far from the wild Pacific coast.
I had traded Eureka for Eugene.
My California dream. Slightly adapted, but a dream come true, nonetheless.
Dear Walkabout Saga Reader:
Thank you so much for taking a few minutes out of your life to read my work. WalkaboutSaga  is an act of love and devotion, and I hope that you found value in it.
If my work appeals to you, may I kindly invite you to consider joining those Patreon supporters whose generosity keeps the gas in my tank as it were.
Such articles take time, resources, research and effort. Even a small amount of support truly helps me keep this going. In challenging times, I recognize that even a small amount is hard. Those who can give, I appreciate it. Those who cannot, I hope my words are helpful.
My purpose is to Move People's Lives. I can do more of that with your help.
Thank you.
You can explore that option here.
However you decide to partake of my writing, again, thank you.