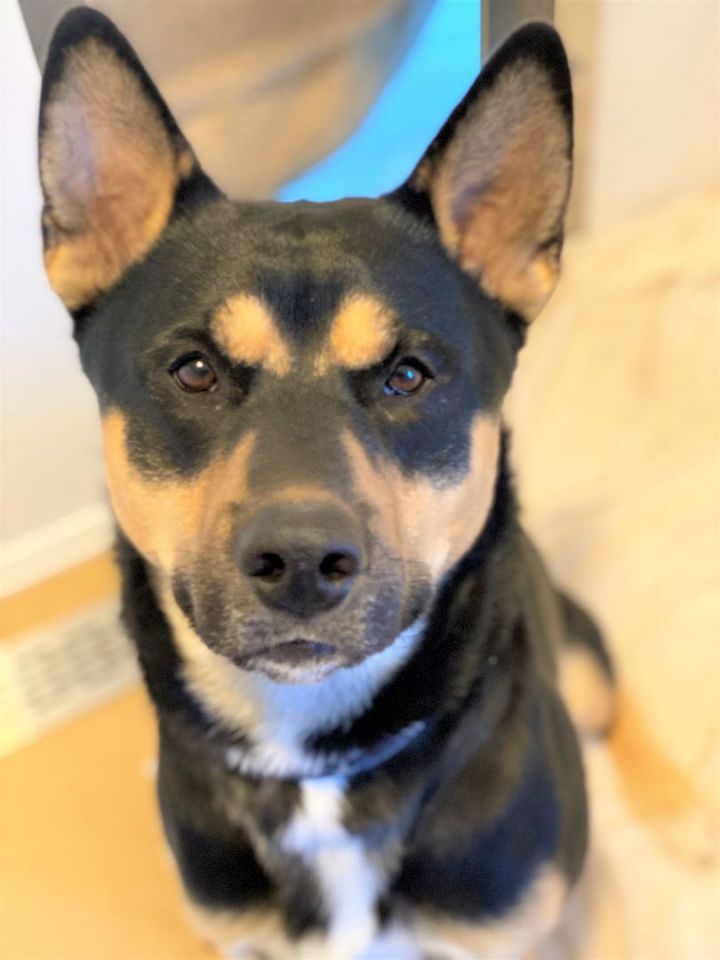 Hundreds of miles, gorgeous scenery and I still drove home alone. But not for long
After heading to the coastal dunes much earlier in the day to do seven laps (I keep adding, and next I add a rucksack), I turned my car north to head to Newport, where I would meet Tex, above.
As I headed out for the day, I got a call en route to the coast from another rescuer who finally responded to my inquiries about a third dog, a Heeler named Indigo. By this time I'd added a stop in Sheridan, Oregon to a rescue facility to see a Kelpie mix named Carlos. Now I would stop off in Corvalis to meet Indigo.
It turned out to be a very long day. The Newport sheriff's office has a dog holding facility which is where I met Tex. The handsome boy, above, is 65 lbs, with excellent manners. Sadly, those manners weren't present, and he promptly launched his full weight onto my chest multiple times, nearly bowling me over.
Not a good thing for me right now with a healing hip and questionable feet.
While I am well aware that these poor dogs are so eager for companionship that it's hard for them to be calm, the problem is that I kept imaging that gorgeous dog doing the same thing while on a trail in the high country. I'm already recovering from enough injuries, and a larger, stronger dog whose enthusiasm could create more, well, havoc, isn't wise.
I bid Tex adieu, sadly, and drove north and then west along Oregon 18 East. That drive, along one of the prettiest forest corridors in all of Oregon, was a boon for the soul. The winding road, which in Oregon is so often alongside a river, provided the perfect backdrop for a Hump day afternoon as I made my slow way to Harmony Animal Rescue.
The last of fall's foliage was dropping lazily onto the roads and the day began to darken slightly as I pulled up to Joy's farm west of Salem. There, she rescues and trains horses and all kinds of animals, and I spent time working on her mustang, who is generally terrified of everything and everyone.
At Harmony I met Carlos, who had been rescued from a high kill shelter. All the photos and descriptions were wonderful, but Carlos would have none of me. He was shaking and avoiding, to the distress of Joy, who had saved him. He's thought to be a Kelpie and Basenji mix, but I see a lot of chihuahua.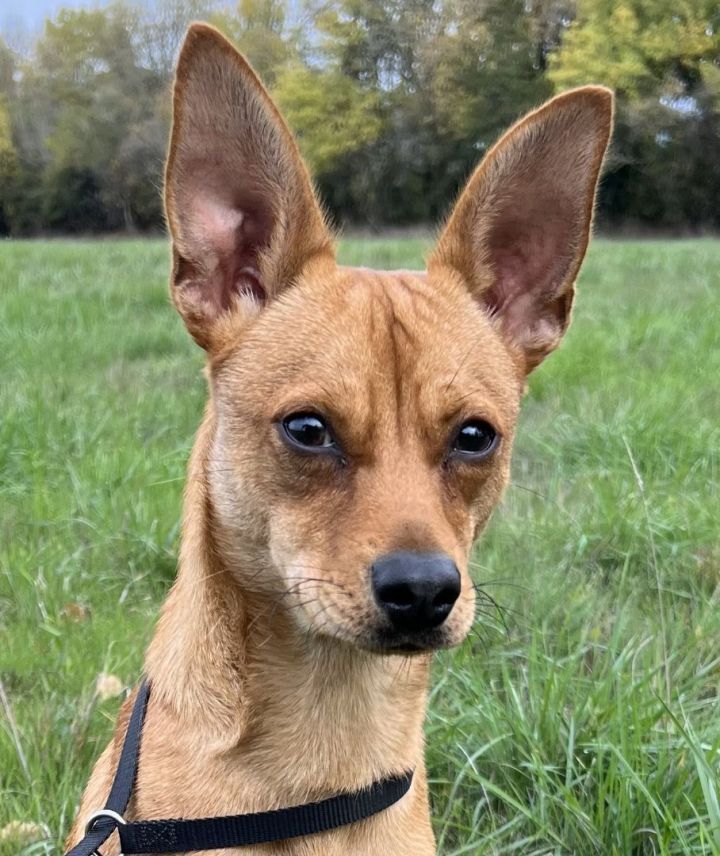 I sat with him patiently as the sun dropped and so did the temperature. Eventually he made his way to my lap, then leapt up the second I raised my hand. This poor dog, a street dog taken off south Texas back roads, has been beaten so often and so badly that trust is hard won.
He leaps at the slightest provocation and is so nervous it's heartbreaking.
Worse, despite the fact that his size would have made him perfect for popping in into a backpack (he's barely 21 lbs), noises are so difficult for him that he wouldn't thrive around me. My life, especially once I get going again, won't suit his very delicate nature, and the world so scares him that he needs an extremely slow and calm house.
While I can offer that part of the time, the fact that he would likely be kenneled every so often or have to tolerate a dog watcher would just be too much for him.
So as four pm rolled around, I nosed the car down Highway 99 and drove to Corvallis as the day sank into twilight.
I pulled up to Rua's house in Corvallis just in time to have about half an hour of daylight. She brought Indigo outside into her yard, which was planted with native plants more common to the eastern side of Oregon than the West. I have other friends doing this as well, with a nod to our changing climate.
Rua's a runner, mountain biker and the like. While Indigo is a Heeler, she doesn't have the extreme exercise drive typical of the breed. She's also light, at 35 lbs the breed standard, and extremely affectionate, which I was seeking. She's four, another save out of Texas (what's with that, right?), and a couch potato. Her lack of drive may well be because of a physical issue or pain, which would be up to me to discover. Hence, pet insurance.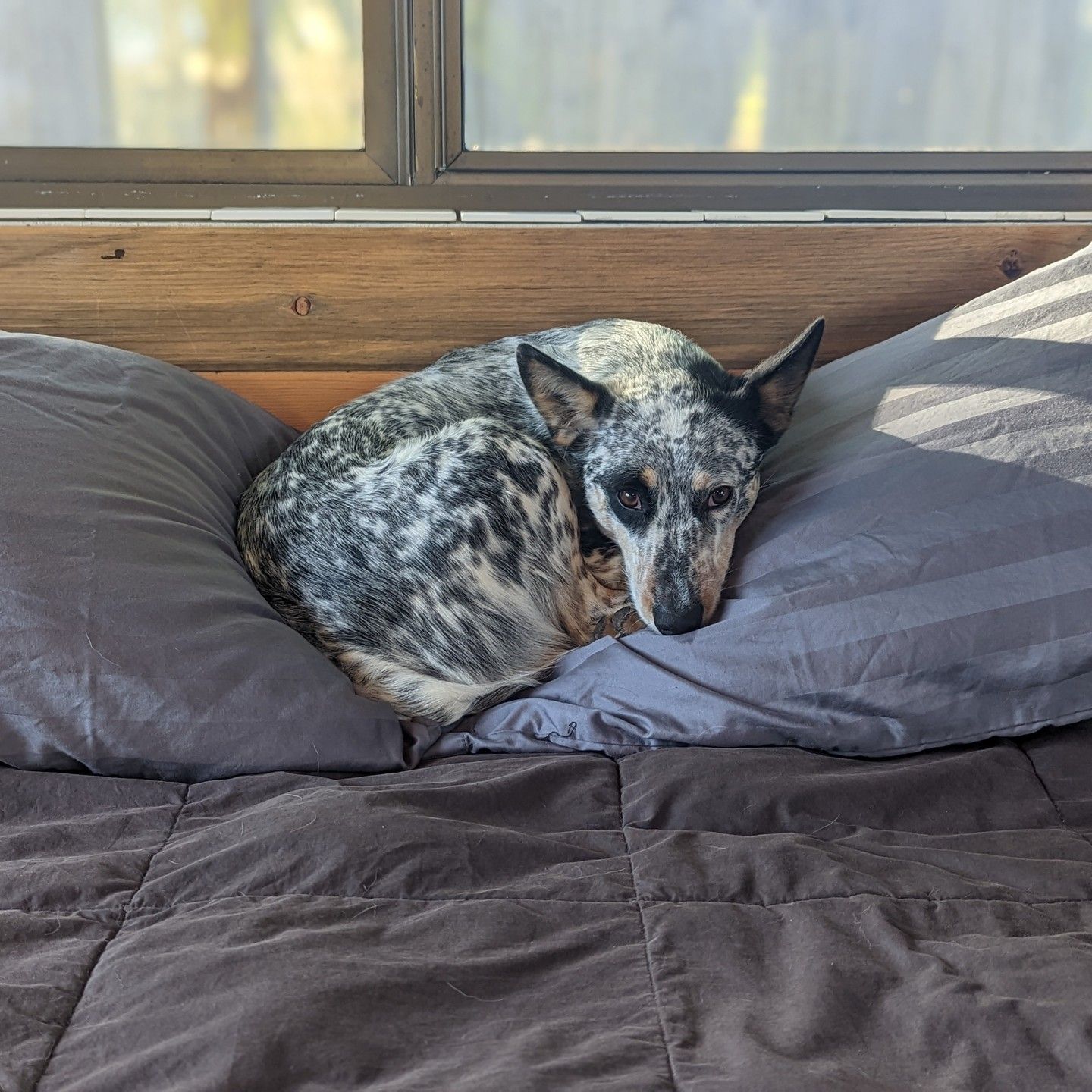 I took an instant liking to Indy, which is what I'd call her, and Rua and I decided to meet this weekend. I'm going to invite her to bring Indy to my house, as she is determined to make sure the dog goes to the right home. Indy loves affection, and I love to give scratchies and love, so this might just work.
I'd want someone to walk my home and approve, too. Indy, as do all dogs, deserves a shot at a better life.
A true Goldilocks day. Tex was too big, Carlos too small and timid, Indy seems just right.
But we'll see.
While there is no guarantee that Indy is the right fit, for she can be aggressive with other dogs and needs a muzzle, there is a chance I might be able to work with that. At the very least I can give her a good try, see how we are. Rua understands that a good period of trying each other out allows Indy to also make a decision that she likes her new person, too.
I learned a lot about bad people who backyard breed, who abuse dogs and cause terrible harm, and good people who are working very hard to provide a home for dogs that got lost, or were dumped, or that became too much for their owners.
Then there's this:
It's very tempting to be drawn into those international rescue schemes in places like Romania where, if you just HAVE to have your bragging rights that YOU RESCUED THAT DOG EVERYONE SAW ON YOUTUBE and it cost you thousands to do that, let me burst that bubble.
According to the ASPCA:
Approximately 6.3 million companion animals enter U.S. animal shelters nationwide every year. Of those, approximately 3.1 million are dogs and 3.2 million are cats. We estimate that the number of dogs and cats entering U.S. shelters annually has declined from approximately 7.2 million in 2011. The biggest decline was in dogs (from 3.9 million to 3.1 million).
Each year, approximately 920,000 shelter animals are euthanized (390,000 dogs and 530,000 cats). The number of dogs and cats euthanized in U.S. shelters annually has declined from approximately 2.6 million in 2011. This decline can be partially explained by an increase in the percentage of animals adopted and an increase in the number of stray animals successfully returned to their owners.
Those numbers have risen because a lot of folks decided, quite cruelly, not to keep the animals they adopted to soothe them during Covid.
I know who needs to be euthanized, and for my part it's not the animals.
Some damned fool will spend thousands to fly some animal home to America, when that money could have been far better spent right down the road at their local shelter. We are STUPID.
Here's an article addressing animal rescue scams: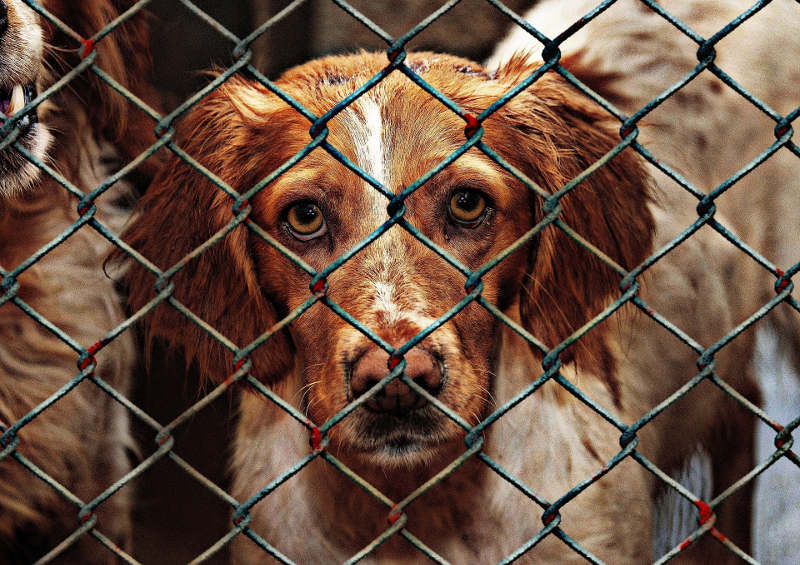 I am trying to do this right. Adopting an adult dog is very different from working with a puppy, which is what I've done before in most cases. But I also adopted a Vizsla who turned out to be one of the best dogs ever ever ever.
So it can happen, and I am willing to put in the work. Besides, I still am working through some health issues and as I heal, I can put the time in to my companion.
Indy might be the perfect fit. We don't know, and I appreciate that Rua is being careful. I would want that, too. Heelers are my favorite breed, and while most are far too intense for me at this stage of my life and recovery, Indy's preference for a pillow as opposed to the perfect trail run might make this a great match.
Dogs are great for a billion different reasons, especially as we age. I'm still on the hunt, but for now, the Goldilocks day produced Indigo. We'll see if this is a fit for us.
Dear Walkabout Saga Reader:
Thank you so much for taking a few minutes out of your life to read my work. WalkaboutSaga is an act of love and devotion, and I hope that you found value in it.
If my work appeals to you, may I kindly invite you to consider joining those Patreon supporters whose generosity keeps the gas in my tank as it were.
Such articles take time, resources, research and effort. Even a small amount of support truly helps me keep this going. In challenging times, I recognize that even a small amount is hard. Those who can give, I appreciate it. Those who cannot, I hope my words are helpful.
My purpose is to Move People's Lives. I can do more of that with your help.
Thank you.
You can explore that option here.
However you decide to partake of my writing, again, thank you.