Good news in a year of challenges
A number of the Kilimanjaro Porters Assistance Project (KPAP) Partner companies did a great deal of work to support their crew during a severely curtailed year of tourist activity. KPAP is the world's primary organization formed to protect the welfare of mountain crews, which are all too often unprotected in developing countries. KPAP has evolved into a world leader with their processes and services, which range from lending stores that porters can use for protective gear to monitoring on the mountain to ensure compliance with standards for crew safety.
Last year, with most tourists choosing to stay home because of Covid-19, the some twenty thousand porters who live near Kilimanjaro were thrown out of climbing work. While a few trips were run, most went dark. For the tribes surrounding the mountain, this was devastating news.
The mountain has two main climbing seasons. Porters count on these earnings to bolster their subsistence farming and other seasonal work, and may often support from twenty to up to one hundred extended family members each.
Many of the KPAP Partner companies, which have already committed to the health and safety of their crews, immediately went to work on additional funding efforts to bring food and much-needed supplies to these crew members.
This article touches on the stories that have been shared to date with KPAP.
360 EXPEDITIONS
It has been important for us to provide additional support during these difficult times of the pandemic for the teams in Tanzania. Along with our head guide, food packages have been coordinated for (at last count) 17 of our guides and porters to support them and their families while trekking opportunities are so limited. We're grateful for the support of many of our trekkers and climbers who have generously supported this fund and wanted to help us with looking after the Tanzanian team who looked after them so well on the mountain.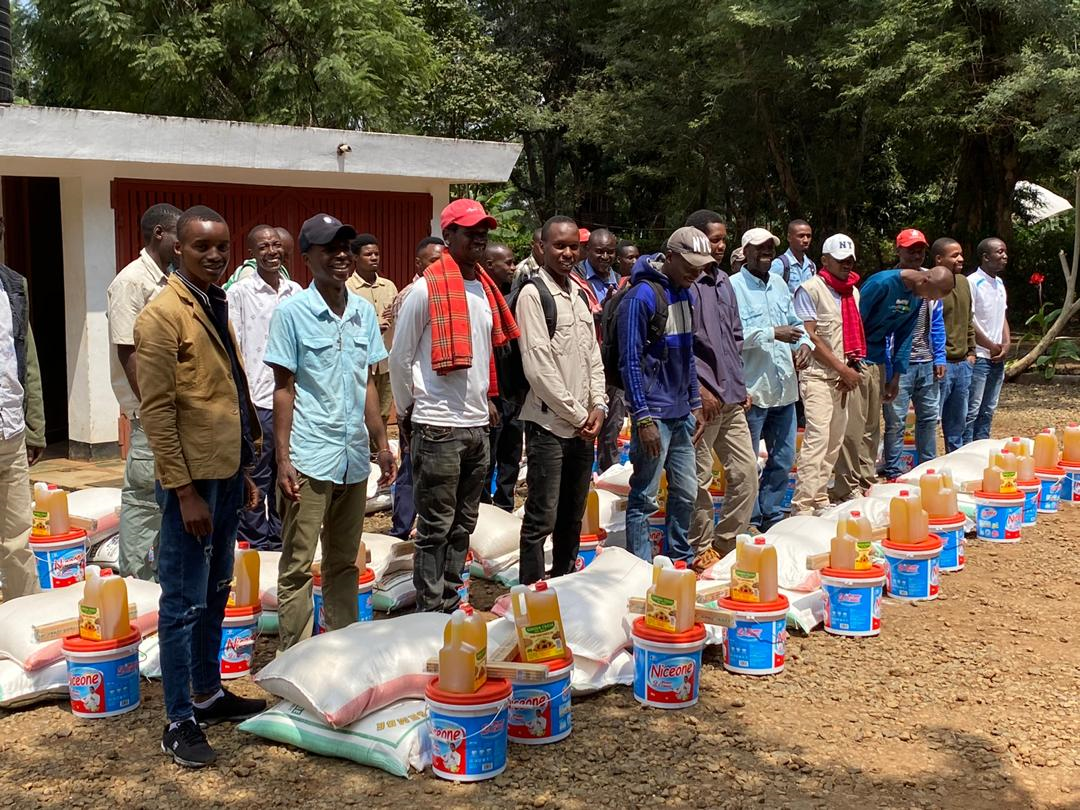 AFRICAN SCENIC SAFARIS
African Scenic Safaris was lucky to receive numerous offers of support from past and future clients for several fundraising campaigns. These funds were used to help the mountain crew and other local families who rely on tourism for their income. In total over 150 families received donations of staple foods and household supplies to help them along as they're focused on finding other ways in which they could generate an income. We were also able to use our network of contacts to source casual labor opportunities for some crew members, for example farming and harvesting work.


ALPINE ASCENTS INTERNATIONAL
Seattle, USA based Alpine Ascents International launched a fundraiser in November to benefit the Kilimanjaro crew and staff of their partner company in Tanzania - Big Expeditions of Arusha. Spearheaded by long time guide and program manager, Eric Murphy, the proceeds will be used to distribute $25 USD food baskets each to the entire crew and staff of Big Expeditions, approximately 310 individuals in total. Several distributions will be held over the next 4 months.  "Our hope is to give some small relief to all of the crew and staff, let them know they in are in our thoughts and spread hope that things will improve in the coming year."
BARKING ZEBRA TOURS
We identified our crew and their families that are most in need and are including them in our program of purchasing and distributing beans, rice, maize flour, and cooking oil directly to our Tanzanian team and their families every 2 weeks. We will distribute food to 150 people for six months and will add more people to the list if we raise more money than our goal.  
EASY TRAVEL
Easy Travel recognized that the mountain crew members needed to be looked after. We held discussions with the crew members and agreed that we would provide the crews and their families with maize to meet their short-term needs for food. This was a big operation. We purchased nearly 22.5 tons of maize and distributed equally to 372 crew members, representing three months' supply for each. The pandemic has shown the importance of having strong partnerships to provide support to those who need it. And it has given Easy Travel the chance to show its mountain crew members just how valued they are.
EMBARK EXPLORATION COMPANY
The Embark Exploration Company community helped raise donations for the 45 staff members in the wake of the COVID pandemic and subsequent lack of work.  Everyone received 25 kilos of rice, 25 kilos of beans, and cooking oil.  They were blown away by the generosity and could not say enough in the way of thanks for such kindness and support from everyone in the Embark community.
E-TRIP AFRICA
Once it became apparent that travel would stop for some time due to COVID-19, several of our past clients started contacting us asking how they could help support the mountain crew to get through the slump. Our first response was that they could share their photos and experiences from trekking Kili on their social networks, which would really help to get a quick rebound once travel is safe again. But they wanted to do more, and it was becoming apparent that COVID was going to last longer than anyone initially expected. So we accepted donations that were used to hire porters and mountain crew to do specific projects.
LOCAL MOSHI
Our fundraising efforts have resulted in our starting a communal farm project providing our porters with paid work to build the farm and benefit from the harvest to feed their families.  Our porters have enjoyed working on the farm, as it has provided them with some pay, as well as a sense of purpose in the absence of mountain work. We also provided basic food care packages.  Several weeks ago, we began to harvest our first vegetables and are fortunate to have the farm coming into fruition now.
MAJESTIC KILIMANJARO
When times are difficult, it is another opportunity to give back to those who make our success possible. Majestic Kilimanjaro Treks and Safaris is proud of our fundraising campaign to support 39 of our crew members. We are very grateful to our clients and friends for their generosity and most importantly showing that even though they are far away, they still care.
MOUNTAIN MADNESS
We are happy to do a fundraiser for our crew for them to know we are all part of a team. Our staff provides our clients with experiences they will never forget, and it has been great to see the response to the fundraiser and their support. In these difficult times, every bit helps and we're all thankful for the donations.
PEAK PLANET
When the pandemic hit, we knew that our staff members would be economically devastated by the sudden disappearance of tourism in Tanzania. We asked our past clients for help and they came through in a big way. With our clients' generous support, our crews have money for basic needs as we continue to face uncertain times.  
PRIDE EXPEDITIONS and WILDERNESS SOLUTIONS
Pride Expeditions' and Wilderness Solutions' fundraising efforts were supported by almost 150 donors from around the world. It has been incredible to see the positive response to our campaign.  The funding was used to support the team of Just Kilimanjaro in receiving some much-needed income to help them through the pandemic. It allowed them to participate in the Leave No Trace Event on Kilimanjaro for five days in September as well as assist with containing the fire on Kili in October. We return our love and thanks to them for staying positive and strong during these tough times.
As Camilla, one of our donors said regarding our crew "These guys were some of the most incredible people I have ever had the privilege to meet. Their experience and values were second to none. They showed strength and incredible leadership. They will be imprinted on my soul for my life and carry on through my son in the stories I share with him. Please take this as a token of my thanks."
PRISTINE TRAILS
We were blown away by over 85 past guests who reached out to support their beloved crew. We collected donations for 100 crew and staff and chose a direct assistance approach whereby the crew were given cash to use however they each saw fit. They were all grateful as the money came in at a time when they expected to be at their busiest - July. Some reported that it helped with rent, children's school fees and food provisions.

SNOW AFRICA ADVENTURES

Our big thanks to our past clients and Partner Companies for donating!  We were able to provide 72 of our mountain crew with food staples.  Our crew are very happy to get this food which will support them during this difficult time.  We would like also to thank KPAP for the wonderful idea of raising funds.
SWETT
We did fundraising to help our Kilimanjaro Mountain Crew with food packages. At Swett one of our core values are Together and that's why we wanted to do this fundraising to support our local team. Together we are strong. No matter if it's about helping each other to reach a top of a mountain or to overcome this pandemic. No matter if you are a Swedish guide, a guest or a local team member, we stand together.
WILDERNESS TRAVEL
Wilderness Travel and our partners on the ground organized emergency financial relief to our amazing team of local guides and the hardworking camp crew, cooks, and porters who take such good care of our climbers. On August 8th, Tanzanians celebrated "Nane Nane", or Farmer's Day, an important celebration in recognition of the contribution of farmers to Tanzania's economy and people. Our climbers exceeded our expectations in support of our team of about 150 people to make sure this year's Nane Nane celebration was bountiful and filled with joy and the promise of a better tomorrow.
***
As you can see in the above, many times it's the past clients who throw in first to help, for they truly value the men and women who made their trips so memorable. The needs of porters vary widely, but these Partner Companies were quick to identify those who were in highest needs first. Often they also worked to create additional value through better farming skills, even to build a farm which will pay off in big dividends down the line.
We can't wait to hear more stories from Partner Companies. If you're thinking about putting your head into the highest clouds of Africa, see this:
These are the tour operators and climbing outfits who have made a solid commitment to you and your safety by supporting their crews. Those crews who received this kind of lifeline are even more likely to be not only glad to return to the shining slopes of African's tallest peak, but they are going to be very happy to lead new tourists up in 2021.
Hope to see you at the top!