Fog, sun, green and blue: the RX for a perfect Hump Day
Robin was leaning over in the light afternoon breeze, poking around in the exposed pebbles for small treasures. Spencer, her eleven-year-old Corgi, alerted her to the fact that a stranger was observing them from the overhang above. I waved, and Robin waved me down.
She didn't know me. But around here folks are friendly.
My left arm in a sling from Monday's surgery, I made my careful way down the rocky embankment to join her. The tide was coming in slowly, but far enough offshore so that the sometimes deadly sneaker waves weren't a worry. For now, anyway. I found a big warm rock, Spencer found someone to rub his big ears, and we settled in for an hour of companionship.
That morning it had been heavily foggy at my house, and everything damp had crystallized into frost. It was, after all, the last week of January. Eugene was having a few very cold days, but out here at Yachats and along the beach, you'd think it was nearly summer.
That impression of course would swiftly dissipate if you got into the ocean. I wouldn't last long in this water.
Robin and Spencer were spending a few days on the coast to get away from her mountain town. She's a natural-born Oregonian, a Jehovah's witness, a cross-stitcher, artist and corgi fan.
And lovely company, as I wound up yet another Hump Day on the Oregon Coast, two days after surgery. The brisk coastal air allowed me to clear out the rest of the lingering anesthesia in my system.
I'd risen that morning at three, gotten ready for an icy cold day at the beach. Then I sat back down on the couch where I'm sleeping for a few days until my incision heals, and woke up two hours later. There went a longer trip. No harm. Hump Days aren't about doing doing doing doing.
That's the whole point. Here is the point:
One of my kind commenters wrote me yesterday to chide me gently about being on too many negative rants lately. Honestly, I appreciated the hell out of that feedback. While I don't mind a rant every so often, there have been too many of late, to her point, but I also know why. I wrote her that I can usually track the number and severity of the rants to align with how much physical pain I'm in.
And psychic, of course.
Lately, with my shoulder shrieking at me 24/7, the last round of cortisone shots not working for the CMC joints in my hands, and a pretty angry spot of arthritis on the top of my left foot making every single step exceedingly painful, I guess I've been a little short-tempered. I've been in constant pain lately, and the longer it goes on without relief the more irritated I get.
Add to that the cacophony of online outrage, the combination is hard to juggle with a free heart.
Like most of us.
You and I would do well to attend those commenters who are kind enough to point this kind of thing out. Without them we go off the rails, get way too puffed up with our own importance, and fail to adjust our topics and tones to those who read our stuff. We risk losing eyeballs if we don't have readers who call us out.
While I still hurt most of the day, however, it was a good day for healing. Hump Days do that, which is why I'm writing about them, in a very transparent attempt to inspire you to consider doing something similar.
Here's why.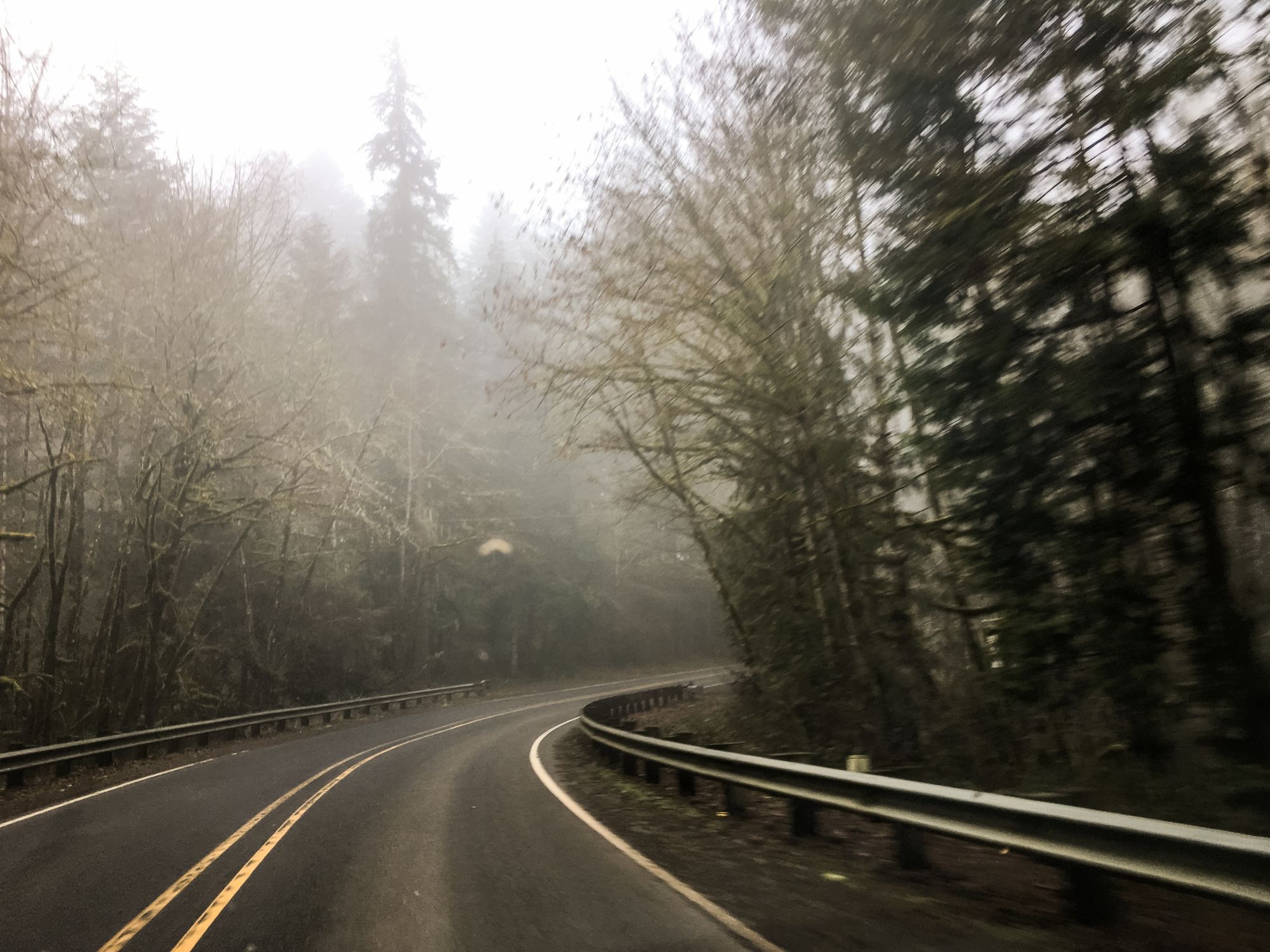 As I drove west on the main road 126 towards Florence, fully expecting to spend a cold day climbing the dunes, I spent about an hour on the phone with my social media guy. That in and of itself does us both good. This was just general rambling and yak, which is head-clearing because he's so smart, and fun because he's also very funny. The further I drove, until a dead spot ended our conversation, the brighter the sun got, and the more my options opened up.
By the time I got to the coastal Highway 101, I felt like exploring north. The sun splashed silver on the ocean, and the mist and fog caressed the coastline as far as I could see. I wanted to experience that coastline. Watch the sun splash through the great, tall, mossy trees which curved overhead as we curled our cars around the many corners and rocky embankments along the way.
Yachats was my final destination.
According to Oregon Geographic Names, the name Yachats comes from the Siletz language and means "dark water at the foot of the mountain". The town is full of small galleries and antique dealers (many closed due to Covid) and more than its fair share of seafood restaurants.
By the time I got to town it was close to lunch. As with all villages like this (the population is under 600) I love to find the local mercantile.  As a small town farm girl, I have always found the local "find everything here" stores a true joy, and worth locating.
Yachat's version of this is attached to the Drift Inn, where the cafe offered excellent seafood and a history of bawdiness, questionable men and women, and the kind of "local color" that makes a small town proud of its rough-and-tumble history.
The mercantile was open, the front door ajar and the screen warming in the bright sunshine. As soon as I walked in I was greeted by one of the most wonderful smells on earth: freshly-baked sourdough. Over my head were massive round loaves of the stuff, steaming, and making the entire store fragrant. Eight bucks for a loaf big enough for eight people.
That warm loaf, a bottle of dipping sauce or some warm honey and butter, oh my.
I bought two: one for my neighbor Don, who had ferried me to surgery and back, and one for my neighbor Julie, who constantly checks on me to make sure I don't need anything. Wanna make friends of your neighbors? Fresh bread is a fine way to do it. I can't eat the stuff but I sure can gift it to those who can.
The mercantile owner was happy to lend me the extra hand I didn't have. Meanwhile her Black Lab Norman, an old boy who's never missed a meal, discovered that today's customer knew a thing or two about working on animals. In no time Norman was growling and barking loudly in pleasure as I scrubbed his expansive belly. Then he took to leaping around in joy and leaning his bulk into my body for "more, please."
The mercantile was full of the kinds of products you might expect in a town too far from a Walmart. Everything from kid's toys to shears for your flowers to quick-heat meals for RVers to tools and clothing and brightly-colored needlepoint pillows. It was a delight to wander. For those of us who grew up in rural America, these stores always held fascination.
The owner's mother settled in behind the counter as the owner took Norman out for a walk. As is so typical of small town folks, she plied me with questions, taking real interest in how I landed in her state and her town. She told me that if I wanted a fish lunch (I did, especially after smelling that sourdough bread) the Drift Inn would be perfect.
About six steps later I was looking at this over my head: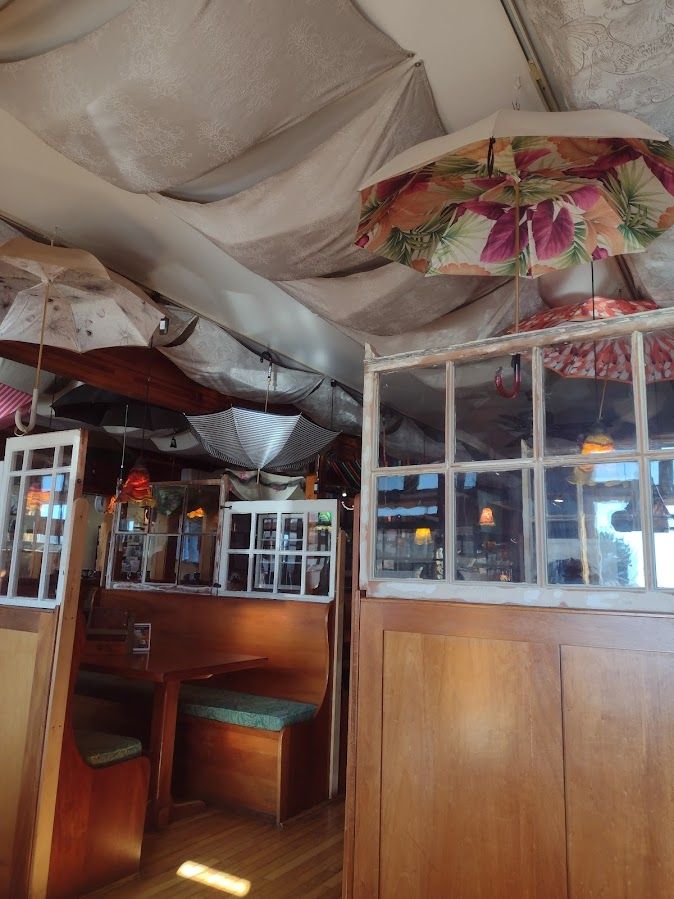 The inn is wonderfully decorated with umbrellas hanging from the ceiling (I've no clue but that's a great way to catch leaks in such an aging building). All the other diners were close to my age, settling into the aged wood booths and fingering the smooth wood tables as we perused the menu. That's where I learned about the history of the Inn, which was known for being dark, dirty, smoky, dangerous, and THE most popular place for miles around.
While they are terribly expensive, my Hump Day lunches are almost always started with crab cakes. These delicacies are perfect along the coastline, and this pair was no different. They aren't big, but their flavor was, and worth every slow bite.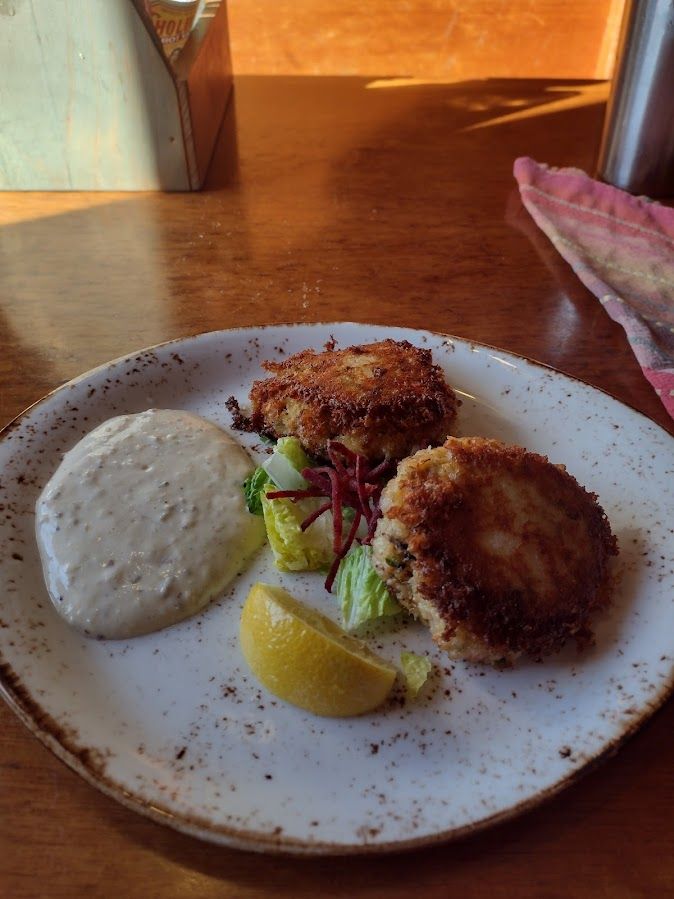 As I savored my crab cakes, the mercantile's owner wandered through and visited me to make sure I liked the food.
Small towns.
Small Oregon towns are also full of artists, who find unlimited inspiration just out the front door. Where I can, I love to patronize such art, because I'm also an artist, and we need to support those who make our lives brighter. So a few expensive gift cards featuring local painters later, I paid for my lunch, left a fat tip for Stephanie, my wait person, and wandered back out into the beautiful bright sun.
At one point I'd considered buying in Coos Bay, to the south. However, the tsunamis, the changing coastline and the rising sea levels tempered my enthusiasm. Eugene, which is close enough to dump me onto this storied coast after a gorgeous 90-minute drive, is perfect. Like many of my fellow Eugenites, I make the day trip, wander the sands, play with dogs and generally celebrate being this close to Big Waters.
There's very good reason I'm doing this. I'm a Florida girl born and bred, and am well aware of how healing the ocean is. That of course is backed up by research: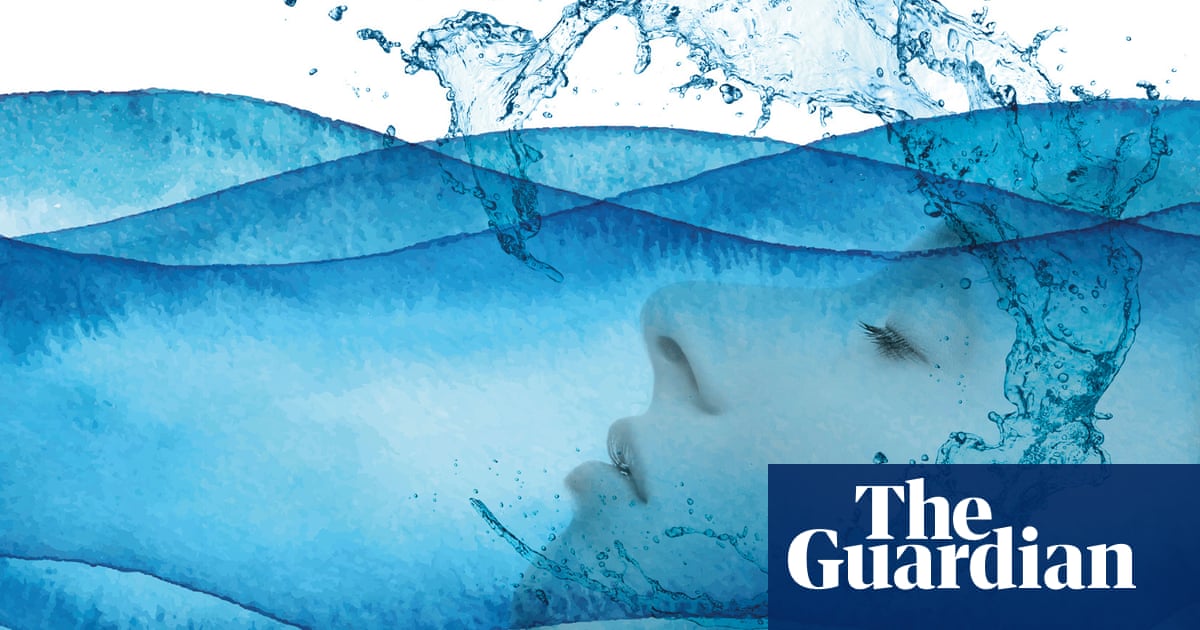 From the article:
White says there are three established pathways by which the presence of water is positively related to health, wellbeing and happiness. First, there are the beneficial environmental factors typical of aquatic environments, such as less polluted air and more sunlight. Second, people who live by water tend to be more physically active – not just with water sports, but walking and cycling.
Third – and this is where blue space seems to have an edge over other natural environments – water has a psychologically restorative effect. White says spending time in and around aquatic environments has consistently been shown to lead to significantly higher benefits, in inducing positive mood and reducing negative mood and stress, than green space does.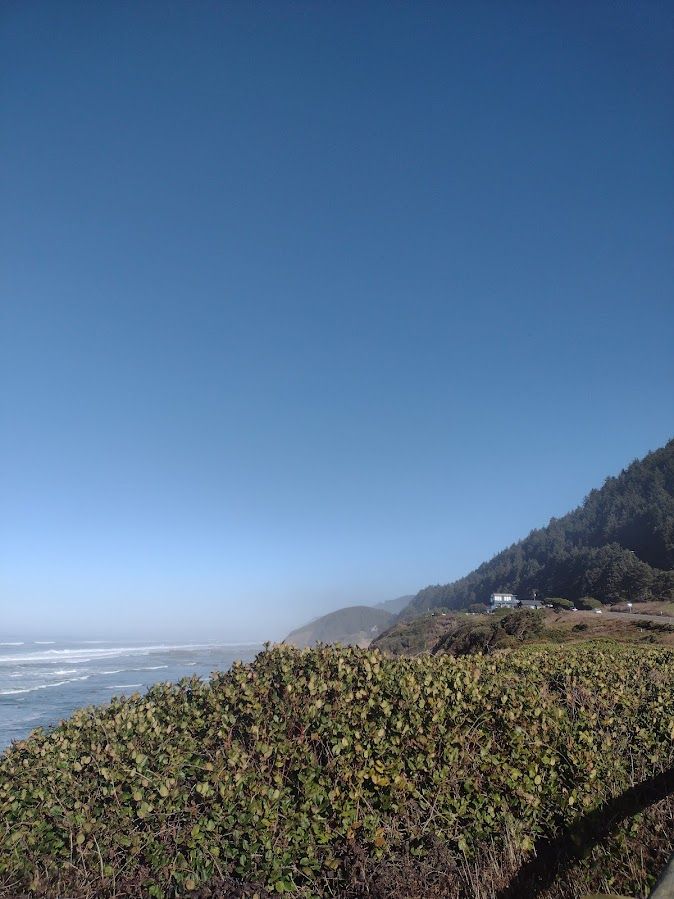 I chose Oregon for this reason, and Eugene. It was perfectly-poised between Bend, so like my long-time home of Denver, and the ocean. Here in Yachats, the locals love their west-facing homes with all the glass to let the light in. For my part, my favorite is the incoming storm. Nothing like it, all fury and wind and crashing waves.
A far cry from the crashing waves of viciousness we get online, the unrelenting bitterness and anger. Which is why I'm doing this. It isn't just the culmination of a dream to live in Oregon. It's a statement of healing. The physical pain is of course part of an aging body that I've used hard, and having to wait my turn for treatment in a world where the medical community is overwhelmed, and treatments for non-life threatening issues delayed. Sometimes indefinitely.
The psychic pain, you and I can address on our terms.
I am tired of having others' poison work its way into my head, heart and body. Which is precisely what my kind commenter was pointing out. Unless we shut down the social media, it is awfully hard to stop on the onslaught. So day by day, I limit the exposure more, and the weekly jaunts to joyful coastlines and small towns is unwinding the taut piano wire that outrage porn wraps around our necks.
I spotted Robin and Spencer when I took the circular road off 101 to see the beach. There, locals were jogging, and visitors sat on the benches in the sun.
Out here it's hard to get a signal. That's the whole point. Out here the Internet can be spotty, which is awfully hard to get in a world invaded in every corner with messages to buy buy buy BUY. Out here the loudest noise is the hypnotic roller waves, curling and crashing and glinting in the sun.
While it's true that some folks bring their asshole everywhere, and instead of using it as designed, they reposition the damned thing between their shoulders even in gorgeous places, that wasn't my experience yesterday. Nor has it been on every Hump Day so far. As I read more and more and more articles, Linked In posts and listen to people discuss the deadly nature of our toxic productivity porn culture, I'm putting my commitment into practice. I'm peeling out from constant online life, and peeling off the layers.
It's working, too.
While it takes some doing, clawing my way back to relative sanity by instituting a vacay day smack mid-week has been having surprising benefits. Fellow writer Yael Wolfe described how hard it was to learn to take a nap midday, and now it's normal. For me, too. Such take-backs from societal expectations aren't just a sanity check, they are a power statement.
By two pm or so, the sun's warmth had the beginning of day's end in its rays. Spencer was working his aging teeth on a beached log, and Robin was wrapping up her agate search. I stood, stretched, and found a safe route back to the car. We waved, Spencer barked, and I left lovely Yachats for the road back home.
Another layer of stress and pain washed away by the ocean. Another perfect day of gentle exploration, fine food, and happy dogs.
This is what it looks like to rewrite boundaries in a predatory culture. Someday the waters will take me home. In the meantime, I prefer to have them gently wash off the stress for the years and days I have left.
Microsoft had a wonderful marketing line years ago: Where do you want to go today?
That's a damned good question. Where will you go to let the waters wash away the stress, and remember who you are with your face into a warm sun?