The perfect spot for a perfect safari adventure, including if you are wheelchair bound
Also please note, I do not have a financial agreement with any of these companies. These are my opinions and reviews, they are mine only, and Dear Reader is requested to do their own due diligence. I like to see good organizations and outfits succeed. With all that out of the way, whew….
The lights came on at four-thirty this morning, at which point I was standing under a blessedly hot shower at Mara Eden and enjoying myself thoroughly. Yesterday had been a long day, starting at my typical three am or thereabouts, so by mid-afternoon I'm largely toast. The Central African sun had hidden behind a thin layer of clouds, which had made the day less intense but more humid.
Somewhere in this compound is a hippo wandering around; my driver Simon Kagiri told me about her. Apparently she is wont to waddle wherever and whenever, but this is no petting zoo. The problem is that if you are, as I am, fond of getting up this early, which in this part of the world is hippo central especially this time of day, is that first, you have no clue if THIS hippo is the one which likes to wander around Mara Eden largely without bothering anyone. And, there is no hard guarantee she won't. Because,well…
She's a hippo.
Which is of course why there are young Maasai men with flashlights on the pathways at night, not only to ensure your safety, but also to make sure that if she charges, someone is running faster than you are.
Okay, okay, I made that part up.
We did just run into her before lunch. I didn't make that up. She wandered her massive bulk nonchalantly past the polite signs asking us to please respect others' privacy by NOT waddling over their porch. I would imagine this is an argument you and I will not win.
Still, just a few yards off my front "porch," the early morning girl gossip had started as the nighttime grazing is over and all the ladies submerge themselves and their little ones for another hard day at the office. That is some way to start the day.
"Roughing it" for some folks is heading out in a heavily tricked-out van with all the goodies. For me it's a rather wobbly, buggy tent with the emphasis on raw experiences, usually rather extreme. My operator, Ben Jennings and the folks at eTrip Africa, have long gotten used to the fact that despite all my barking to the contrary I REALLY appreciate the respite in a place that reeks of luxury- not the kind of luxury you might find in a five-star hotel in downtown Paris, but for out in the deep bush, this qualifies. This is my sixth trip with Ben, and he has seen me with a machete whacking the brush down for tent setup on the side of Mt. Kenya, so he knows.
He also knows that no matter where I go, getting access to lots of very hot water is a real treat in the bush. However, when we rolled into Mara Eden night before last, hot water was the least of the treats.
I was on this river last year when I rode with Offbeat Safaris, and fell in love not only with the night sounds but also the proximity to some of the best wildlife on earth. As my driver Simon and I were out looking at wildlife today we could see the flights landing nearby, where Offbeat pick up and drop off their clients. This year I am riding in Simon's car, which is a different but still nearly-perfect way to view wildlife and immerse yourself in the wild.
A few of the things that delighted me when I arrived: the tents are quite spacious, and unlike other bush accommodations I have used but for one, the shower is self-contained. This one has a closed top, so that curious and determined wildlife don't seek a water source in your toilet and leave gifts behind. Gifts, shall we say, that might not delight polite company, unless said polite company has a very good sense of humor.
Mara Eden also owns and manages the concession, on the far side of the park, that launches you skyward in the very early morning via balloon. This is a special experience if you've never done it, and it takes both being an early riser as well as $450 to book that hour. You leave here at 4:30 to get to the launch site. From there you go skyward at 6 am. If you're lucky, like the five balloon-loads of folks that Simon and I saw today, you will be treated to one of those breathtakingly, heart-breakingly gorgeous sunrises (as at the top), followed by views of the night's kills, the morning's hunts, and everything else that the rest of us everyday folk have to chase by Ranger Rover and Land Cruiser.
About Mara Eden
The hot water is heated by individual solar systems, which is not only sustainable but generous. If you have long hair like mine you can, and I have, use up most if not all of what's in the tank. Mara Eden puts very large containers of biodegradable shampoo, conditioner and body wash in the shower, and additional containers of body lotion and insecticide near the sink and another bottle of bug lotion on your porch table. That concern for the Mara River and all the life that depends on it is important, as more people come and more hotels are built.
The entire room is appointed with tasteful African motifs. In my tent there are two big chairs, a work table, and a generous place to lay your luggage as well as a small closet sporting two bathrobes.
And something I hadn't expected: Stanley, a tall young man who introduced me around the room while I was wobbling with exhaustion like a sapling tree in the high winds, informed me that he would be filling the plaid-decorated hot water bottle and slip it between the sheets before I went to bed.
Works for me.
There is of course a laundry service, for which you pay a per-item fee. You toss your things into a zippered container, fill out the form like you would at any good hotel, and your items are washed and then sun-dried in the bright African sun, assuming plenty of sun. Then, as they just were to me, delivered neatly folded, smelling like African breezes.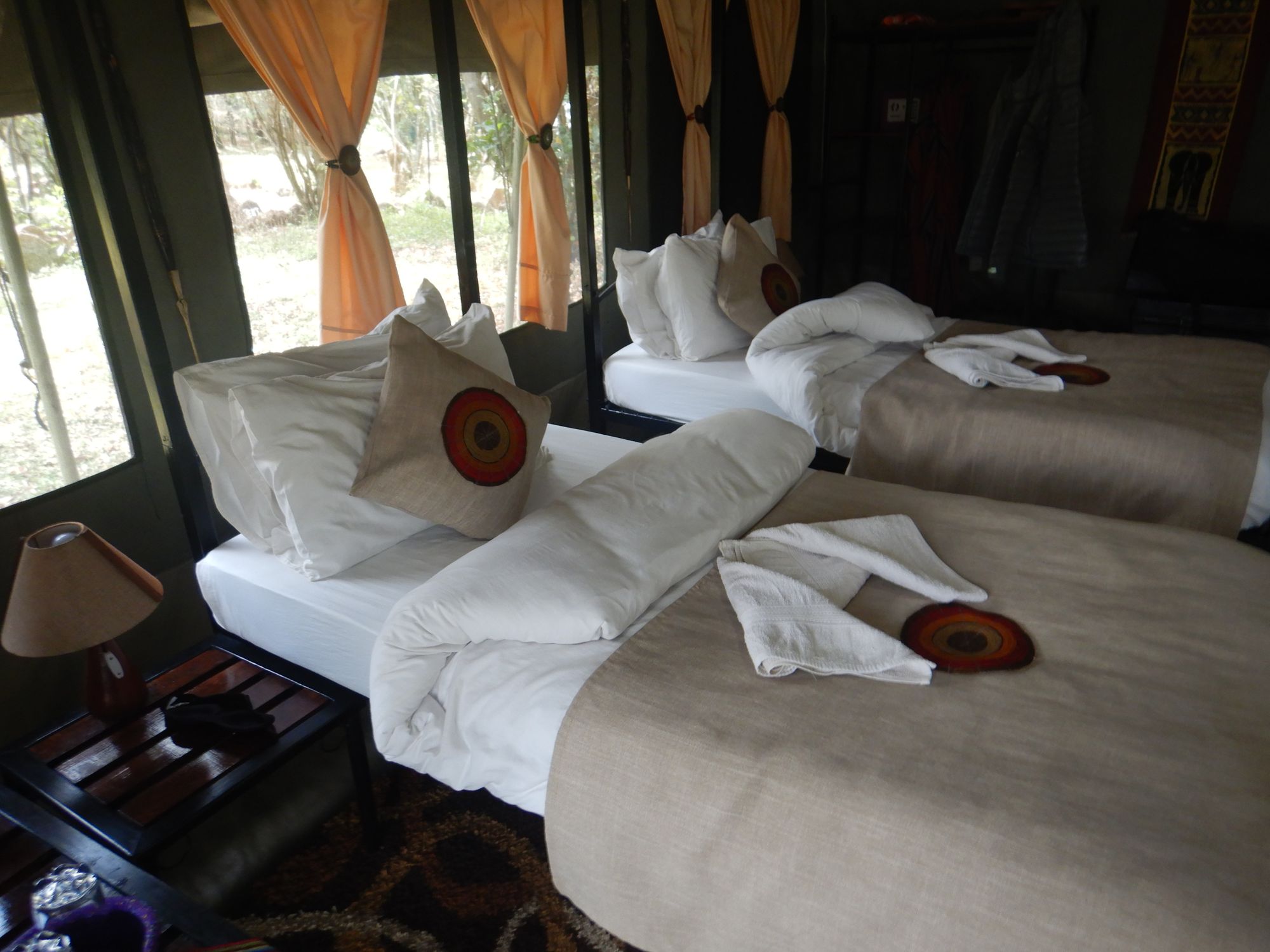 For those tired of the recliner
Last year Mara Eden paved the rough path down to the tents, which now allows people with disabilities to have access. Look, it's not a flat, easy drop, it's bumpy, but you can get down with both help, of which there is plenty, and by minding the bumps. It's AFRICA. Just knowing that you can safely and easily make it to the tents and enjoy what's here, and be able to get to the vehicle to view the wildlife while being pampered in-between is, for my vacay money, worth the investment.
In fact, Mara Eden keeps a wheelchair handy just in case. This is very proactive, and a nod to an aging population as well as those who have long longed to be in the middle of it, not just watching from your home.
For those of you who have mobility issues, you can very much appreciate the simple fact that the world in general does not operate under the Americans with Disabilities Act. So where I can find a place which does its level best to offer much the same quality of experience to those who are on wheels or otherwise limited, I am a fan, because that means that you do not have to limit yourself to National Geographic. You can be right out with those who are filming for Nat Geo, if you will, for the cheetahs here are regular documentary subjects. If nothing else, you can get your own Nat Geo quality photos, yours, not Unsplash, for which I am grateful until I sort out this annoying Chromebook.
This is most particularly important for those who, either because of Covid or for whom various infirmities or disabilities have caused you to feel as though these things are forever out of reach, I beg to differ. While I have not been to all the camps, and there are too many, this one I can vouch for. To that,
I have worked with eTrip since 2013, and my consistent experience is that if Ben likes an outfit, it's for good reason. I'm on a long trip of five weeks on this continent, faced with a slew of complex issues including confusing requirements for Covid testing.
To that, YES I got a nose swab yesterday in the middle of the Mara, our two Rovers side-by-side, the young man in a lab coat, mask and sterile everything. I had to have the results before I left for Kilimanjaro, and this is what it takes: swabbing with the wildlife looking on.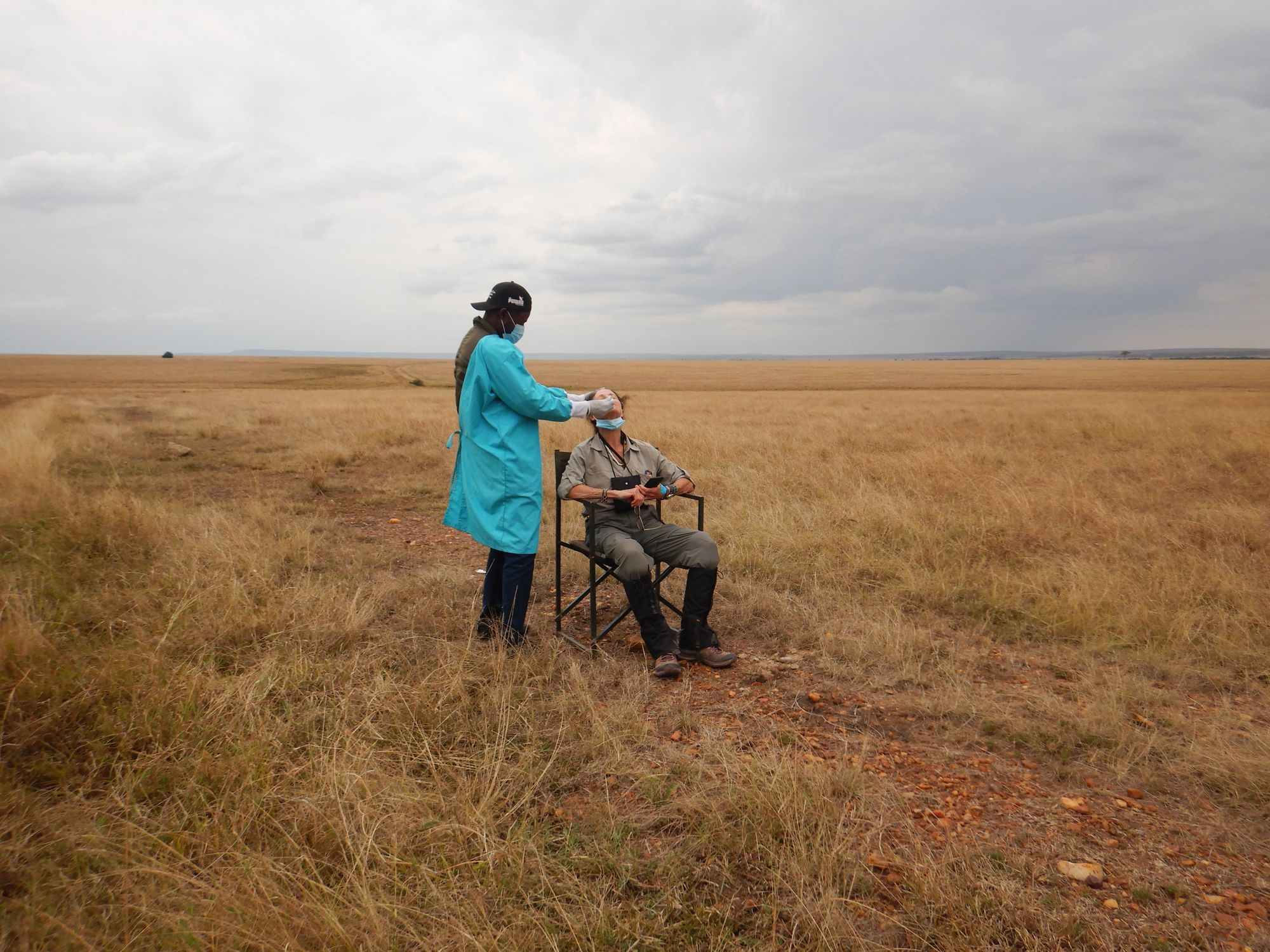 It was worth every penny just for the story.
Even better, Mara Eden handled it, which makes it far easier for those of us who prefer to spend our time animal viewing rather than negotiating clinics and lines and waits.
Ben called Simon today to remind me that after five pm I have to fill out the Tanzanian health form. Surrounded by all this, I totally forgot. You can't afford to, not in today's world. There is just so much going on that this kind of personal attention is absolutely necessary, especially when you have a history of head bumps like I do. We get lost in Paradise for good reason, but we still have to play by the rules.
My experiences are neither definitive nor exhaustive, but I've been to nine African nations, been on more safaris than I can recall, and have had my fair share of bush experiences. As I sit here after a late lunch, the chef has come out yet again to make sure, absolutely SURE, I am happy with the food. You could give me a banana most days and I'm good, but here they treat you like royalty.
If you only do something like this once, the way I see it, this concession, and I am sure others, are making it far easier for you to see what others take for granted due to mobility.
One more thing: if you do come to Mara Eden, please do not show up without some kind of shower shoes. I use extremely lightweight Nike runners which weigh mere ounces and dry swiftly. There is a solid layer of plastic tarp for your floor, and if it is slicked with water and/or soap/shampoo, it is wicked slippery. For older folks, people with challenges, please mind your feet. I nearly did a tip over teakettle and the shoes make all the difference. Flip flops work just fine.
AND everywhere else, wear good shoes. Because, it's Africa.
You really need to see this place. I hope you do.
Now I'm heading out for one more game drive at dusk, one more hot shower to the Hippo Gossip Girls, and will be back on my way to Kilimanjaro in the morning.
And one more thing. That long drive from the gate to Mara Eden? And back to the gate? Game drives, coming and going. Keep your camera handy, and an extra battery.