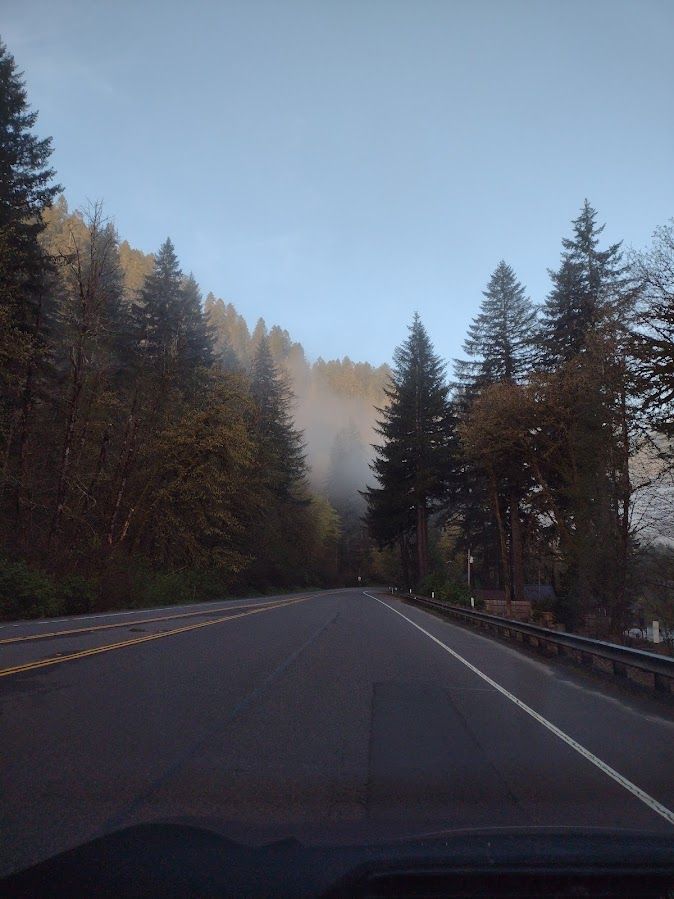 A cold start, and a warm ending to another perfect day
Stef and I were having communications issues. She had invited me for another hike, I was up for it, and our emails were crossing paths. Finally, we got ourselves sorted out, and met again at Heceta Lighthouse Beach to take on Cummins Creek hike.
Coop, her overly-cooped up hundred-pound Rottie rescue, who had spent too much time inside during Stef's recent New York trip, was beside himself. Jerking on Stef's leash,  her coat arm, her hand, his powerful jaws clamped on her insistently. He needed work. He got it. Thankfully.
We headed out, this time taking an additional detour to see where it went. As with all detours, around here on the coast of Oregon it's going to be lovely. The only thing that wasn't was Coops terrifying insistence on investigating EVERYTHING, which in one case was a very steep drop towards the busy highway. We had to leash him again, to his great irritation, to prevent his tumbling out of sight forever or else ending up as someone's grille decoration.
Finally we returned to the original hike, which was now starting to dry in the increased warmth. Trilliums and other flowers were burgeoning. By midday, the cold fog had relented and the tall firs broke the cold of the wind. In no time we were sweating and Coop was joyously leaping into every waterfall.
The path has some rather steep areas, which will get slippery the drier it gets. My poles help, but my aging Keens' lack of traction made the walking harder. Note to self: time to break in new hiking boots.
Stef is easy company, full of stories about kids and life, delighted that she recently scored a job at the local casino. A real job, she said, with a decent matching plan for retirement. In her late fifties, this works well for her. Steve, her husband, is the executive chef there.
She likes my company for two reasons: first, I can keep up. Second, I have plenty of my own stories, which makes conversation lively. The holy trinity for my kind of friend around here is the same for Stef: be fit enough to engage in fun sports, have something interesting to say, and be curious instead of judgmental. Stef's opinionated, as I am, but the value in having had a varied life is that it makes us much more willing to listen and learn.
I listened to my body as we hiked, and some of what I heard wasn't happy. A sore ankle, for example, and just overall tiredness. Not that this can't be handled, and I will. I need better hiking boots, as above, for my poor dogs (not Coop) were very sore at the end of our six-mile-plus hike.
And speaking of sore, Coop made it to Stef's Honda, then collapsed on the shaded road while she and I photographed a garter snake sunning on the hard clay. That's what it takes to tire him out.
What the body's soreness brought up for me was this:  one of my friend Melissa's elder concierge clients in Denver was moved into her son's house for her own protection. Suffice it to say that the mother can difficult; for example, she refuses to wear any kind of notification device which would get her help if she falls. She has fallen, and refuses to admit that she is likely to fall again (she's in her late eighties, and has mutiple issues including macular degeneration).
My mother had it, and it reduced her to barely shuffling around her tiny apartment at the rest home attached to her oxygen machine like a tethered goat. She hated it. But she couldn't do much else.
Melissa's story about that middle-aged man's frustration with his recalcitrant mother reminds me of tales I've heard from other late fifties and early sixties friends whose parents remain in high denial of their actual state of health, and in insisting on their freedoms, effectively imprisoning others around them who have to be on constant high alert for a fall or an injury.
Even given my mother's lack of eyesight, she saw herself as perfectly capable. She wasn't. On more than one occasion she had issues with her meds and was found outside in the snow, cold and terrified. We had to move her to assisted living.
These issues touch us all, especially as we hike straight into our older years. The challenge is to be clear about what we can and cannot do, which really takes courage, for age and life and time all take their tolls.
We parted at about 1:30, just enough time for Stef to get to an appointment and for me to pull out my supply of nuts and raisins and sit at the beach for a while.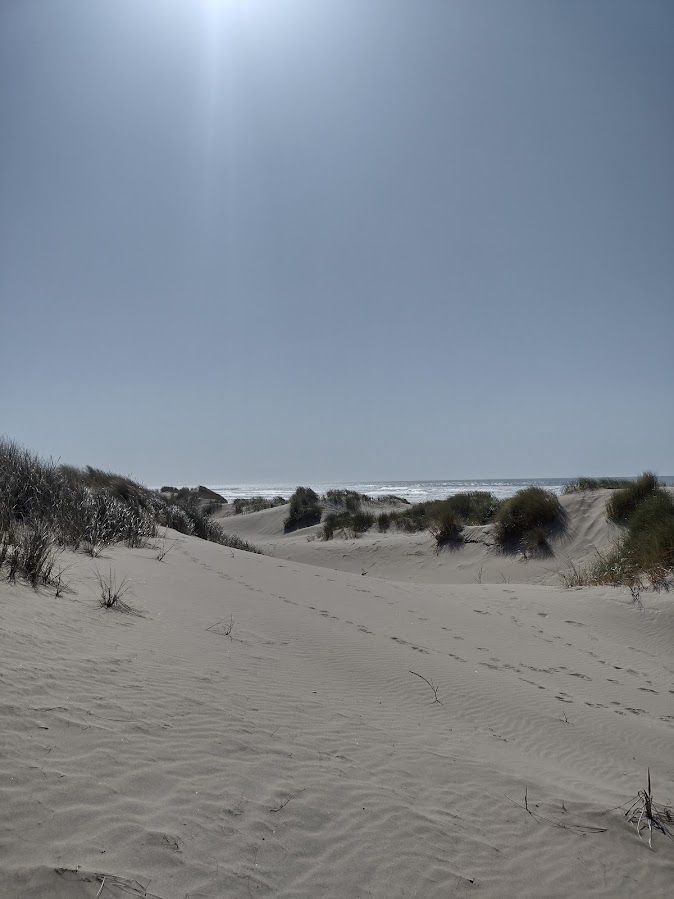 As I face the inevitable deterioration of my physical form, with any luck many years away, I realize that part of my responsibility is to be wise and humble enough to recognize when and if I do indeed need help. Special accommodations. My ill-informed arrogance about my physicality could be deadly for me, and very inconvenient for those who care about me.
As I listened to stories about very old women who refused to leave their apartments in the devastated suburbs of Kyiv, I was reminded of how our egos and insistence upon our independence can be a crude blunt weapon in the face of those who care about us. We deserve the right to die on our own terms. However, if we are living with our families, it's fair for them to ask that we accommodate their lives for the safety and convenience of their homes, which are theirs, not ours.
That said, there are folks who would institutionalize us before our time, so there's that, too. I'd sooner walk off a cliff, and if ambulatory, might well do precisely that. In Melissa's client's case, her mother is unusually fortunate to have family to take her in, especially given the extraordinary cost of housing in Colorado.
To that, Melissa's house, once a reasonable $240k value, has now leapt to close to $900k. She and I are both gobsmacked at such a price. The client likely doesn't truly understand how fortunate she is to have a place to be given the unbelievable real estate costs.
She has a fair few freedoms, living with family.
But those freedoms come, as they all do, with a price.
Aging is immensely hard work. My new friend Stef isn't yet sixty, she has a few years to go. We regaled each other with stories of our favorite salads as we hiked. She eats well, moves a lot and has every reason to expect a very positive aging experience.
As I bumble along towards seventy, I am reminded of the terrible importance of good food, good health, good movement, and kindly please, no more concussions. Even with all that, somewhere along the way, I will need assistance in passing to wherever I am headed next.  The more I read stories about older people barking and bitching about their bodies, the pain they feel, the more determined I am to figure out how to manage the aging process with as much grace as possible.
We can age better. It's incumbent upon those of us fortunate to have loved ones who want us around and who care about us to graciously accept those small, incremental but often life-saving devices which make their lives easier, as well as ours. That's not that big an ask.
Melissa is thinking about writing stories about her clients, not just to validate their existence, but also for those of us who, like Melissa and me, are in our mid-to-late sixties and needing to start thinking about later in-life-care. It doesn't matter that the topic is difficult. Life is difficult. Aging is an Olympic sport.
What's much better is taking the best possible care of ourselves in the first place, which means that when it's our time, perhaps we can lie down, like Coop, in the turnout, after a long hike, enjoy the dappled sun of a gorgeous spring day on the Oregon coast, and give up our ghost right then and there.
Now that would be a fine way to go.