I'm training for another huge summit attempt. Here's why I plan to hike with new friends
Lisa paused, and took a moment to remind me that the hike on Mt. Pisgah was moderate. And, she said, she wanted to make sure that both the hike and the pace wouldn't be too much. I had called her for additional information before I signed up on line.
I love that kind of kind attention. She's 65, I'm 69, and since this was my very first hike with Eugene-based Obsidians, she had no idea if I was up to the task.  This past Sunday we were meeting at noon to do a six-mile-plus hike in the soft spring weather. It is unfortunately too common for folks to overestimate their physical abilities, and that can have an impact on the rest of the group.
I was WAY overdue for this. After the PT for my recently-repaired shoulder gave me a serviceable arm, I was ready to go from the three-mile-a-day speed walk/hike to a much harder one, and this was right up my alley. Another friend had strongly recommended the group. Another told me that they have a pretty swift pace.
So do I. Okay, well, after I get past that first very annoying half hour of warmup, during which I piss and moan and spit and bark and complain to myself. Then after that initial argument with the body, I find my go-gear. That go-gear can go for miles on end, and the more I push it, the more it gives me. I was ready. The week before I'd done a six-mile Hump Day hike with a friend on the coast, so I knew that my sore calves needed more work, not less.
I signed up and blocked off my Sunday afternoon.
Our smallish group gathered in the North parking lot, most of us circling sixtyish. One woman was dealing with long-Covid, which would dog her a bit on the hike. However, I watched the group spread out a bit, as is natural. Two guys went ahead at a faster pace, some folks held middle ground, and as the woman with long Covid straggled a bit, people stayed back with her to make sure she was okay.
That's what good groups do.
Lisa, who snowshoes and leads groups in that sport, mentioned that on certain trips you can't allow folks to stretch out. I've been on trips overseas where a local guide gets egged on by faster-moving people, leaving other folks dangerously far behind in unfamiliar forests. That is how folks get injured or die. A good group is fairly well-matched in skills, and they watch out for one another. On a hike like Pisgah, which is heavily tread and with lots of folks, the danger is far less. In high country, getting too far behind can be seriously bad news.
Lisa and I spent time walking together, during which she told me about her cancer battle. Hiking gave her that outlet to keep her both healthy and sane, right through chemo, she said. For my part, the lovely scenery, the fine day, the moss-covered tree trunks and early spring flowers are a perfect testament to how Nature heals and nurtures. You might not be up for a seriously badass haulass hike, but like our friend with long Covid, the point is to be out, to hike, to be surrounded by folks who are watching your back. That kind of social support along with the challenge that Nature offers can go a long way towards getting healthy.
The well-worn trail curved around and up, giving us some huff time. I use poles, always use hiking poles.  My ankles can twist on rocks, and I need to constantly train with poles which I will be using to climb Kilimanjaro again in 2023. People can underestimate how much upper body work it is to hike, which is why it makes sense to do upper body workouts.
That, and the older we get as women, and I like wearing sleeveless tops, I don't like having batwings made of skin. My mother had them, and I swore to keep my triceps tight. Surgery has a way of undoing that work, so I am on track to get my tris back along with those powerful quads which have taken me up many a mountain.
The height gain allowed us to keep talking, although there were places where it was steep enough to demand that we concentrate on our feet rather than our words. At one point on the way down, Lisa checked in to see if we'd like a prettier view, which meant another half mile added to the overall hike. It's hard to overstate the value to the heart and lungs when you hike like this, which goes a long way towards long-term health.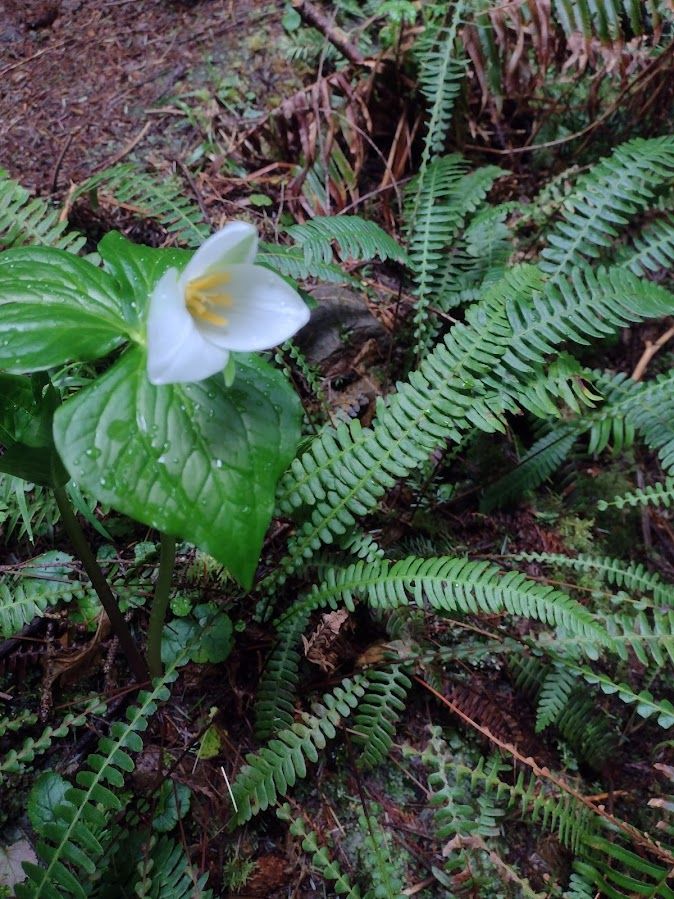 We took the longer hike. Several folks were taking photographs of the early spring flowers. We watched one young woman pass us repeatedly as she ran with her black pittie up and down the trail. As with all good groups, someone would call out "runner" to let the group know to make way.
Hiking with a group reminds and reinforces awareness of others, not only in the group but also on the trail. For folks who love going solo this is a fine reminder that you aren't the only one, and that mindfulness of others is part of being safely in Nature. You never know when it might be your turn to twist an ankle, suffer a bad fall or suddenly get ill.
Our group had people who had done plenty of international travel, people from all over, and who had interesting lives. If nothing else, a Sunday afternoon hike like this is a perfect way to get three things accomplished: make new friends, get your exercise and feed that part of you which is nourished by Nature.
It's hard not to love that combination.
Here's why this is particularly meaningful to me. Back in 2013 when I first began training for Kilimanjaro, I joined the Colorado Mountain Club. Without going into excruciating detail, let's just say that their attitude towards me as a sixty-year-old woman at the time was not only condescending, it was insulting. No trip leader would allow me to join them once they saw my age. When I repeatedly called the club to see if there were people I could hike with, they gave me numbers of folks who, in some cases, had already died. Most were so old they had stopped hiking entirely.
At the time I was running, not walking, running 3600 stairs at a time out at Red Rocks, at 6200 feet. I was doing fourteeners as training hikes. Lifting weights, cycling, swimming up to three or more hours a day six days a week. It might have been fair to say that I was in stupendous health not just for sixty but for any age. But the CMC would have none of it.
The breathtakingly arrogant and ageist people at the CMC had already decided I was a doddering old fool at sixty who couldn't possibly keep up. They had other issues too,  but this isn't that article.
Suffice it to say I demanded my membership dollars back and wrote a scathing article about the ageism. And every time after that when I received one of those happy-dappy WE MISS YOU emails trying to get me to rejoin, I forwarded them that article. Once, I got an apologetic email from a new club president. By then I was completely soured on the club, because the ageism was widespread throughout the organization. I wasn't alone in that experience, which is a pity.
That's why an inclusive club like Obsidians is such a joy. While they need to make sure you and I have the chops to keep up, the point is that we can find our level and slowly but surely level up over time.
The folks who are long time members of Obsidians have been doing this steadily, which makes them pros at all aspects of these sports from kayaking to hiking to cycling. One hike makes it clear that they hike at a fast clip, and to not sign up if you can't hack it. Again, that is my kind of hike, my kind of challenge, my kind of people. I train in order to do precisely those kinds of hikes, for those are the challenges which will help prep me for my second Kili summit.

Yesterday on my Hump Day I was back out at Cummins Creek on the coast, this time alone, for another training hike. I sped up to push myself, and ran most of the way back. I hate running trails, which is why I do it, for it demands uber-awareness and balance. I had to stop a few times as it's been two years since I ran trails before leaving Denver. It comes back, remarkably fast.
So today I was perusing the Obsidians' next offerings and have my eye on an eight-mile hike. The great beauty of doing regular hikes is that the body constantly reminds you that it can take on more, as long as we're consistent.
And I have to be, as I train myself once again to take on  Kilimanjaro.
Is this for you? I have no idea. The way I see it, meeting people close to my age (or not), all of whom have interesting stories and who are committed to health and the outdoors and who gather in the area's lovely spaces is a fine way to spend time. Obsidians is open to everyone who loves to hike, bike, ski, be in the high country, play in all the ways that Oregon makes so beautifully fun.
Might be time, if you're in the area, to sign up to play. Like I said, I just signed up for that eight mile hike. Gotta keep moving. Might as well do it where it's pretty along the way!
Dear Walkabout Saga Reader:
If my work appeals to you, may I kindly invite you to consider joining those Patreon supporters whose generosity keeps the gas in my tank as it were. Those supporters get to dictate my content calendar, we engage as a community, and this website and its content acts in service to our collective best selves.
You can explore that option here.
However you decide to partake of my writing, thank you.