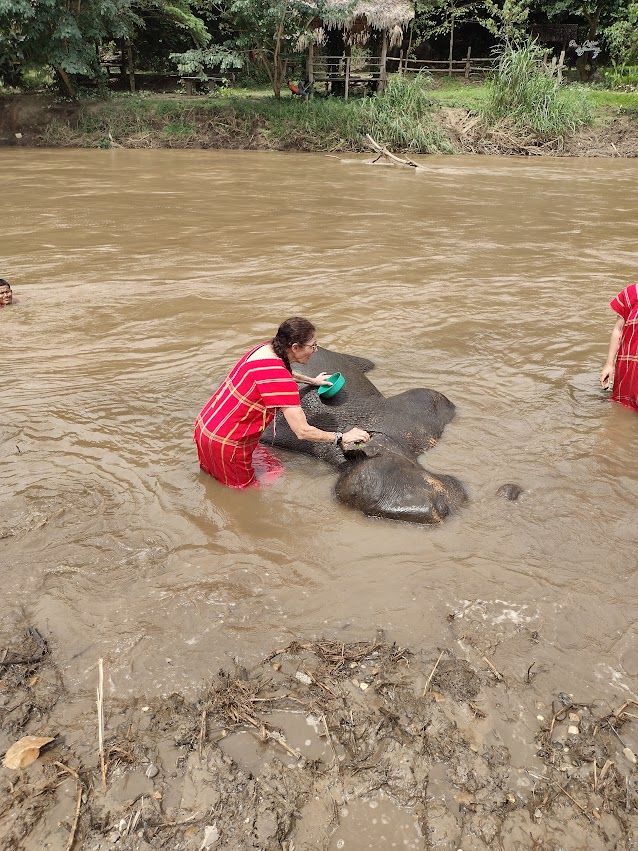 This author gives elephant "sanctuaries" a shot. Here is some of what to consider
Dear Reader: I am reviewing multiple elephant facilities in Thailand. This is the first of several pieces outlining what I  found. This is primarily for those who plan to visit this part of the world and who have baby ellies on the brain for photo opportunities, or similar.  Many of them make patently outrageous claims because folks are desperate and money is scarce. To save you some time I have include a number of relevant articles which might be useful if you're planning a trip here and want to choose a good operator. Even so, it's almost impossible to identify the best places. So....Buyer beware, please.
Some years ago, I trained as a mahout in Laos, using only voice, knees and heels for commands. That may anger some, but here's what to know.  An elephant can safely carry up to ten percent of its body weight at the strongest point right behind the head. In that regard, I am a flyweight and no danger to the creature. I did some research and found a place which would teach me everything from wound care to physiology as well as history of the Asian elephant without ever using anything other than gentle interaction and food rewards.
There are virulent purists who say that you cannot safely ride an elephant; I patently disagree. Many of those same kinds of purists will say the same thing about horses. The truth is likely somewhere inbetween, but it takes some work to find the balance. That said, I am familiar with far more issues regarding Asian elephants than the average traveler. While that doesn't make me an expert (nothing does, frankly) it does give me context that most don't possess. I work on large animals and care deeply about their future, which in too many cases is dim.
One terrific article which gives you plenty of background on this:
From  the article:
Standards of care differ wildly. With little or no transparency or state regulation it's impossible to learn about the camp's practices or the elephants' welfare. (Under Thai law, elephants are considered farm animals.) The ubiquitous brochures in tourist hotels are famously unreliable. Few of the camps have been audited for animal welfare by Travelife or any other science-based organization. Some such as the well-known, popular Elephant Nature Park in Mae Taeng refuse even to be audited. (A spokesman did not reply to requests for information.) (author bolded)
You can see the problem. For this story, I picked four outfits, three in Chiang Mai.  Two of those were at random and one I chose because my taxi driver, once a Buddhist monk, told me about an outfit that appeared to be doing things very differently.
Many tourists ask their drivers, believing they can get the inside skinny and pay less. What they may not realize is that those very drivers are partners (as was mine) with the outfits they are pitching to you. This isn't always a bad thing, but you really need to understand how interwoven this all is. That story follows under separate cover.
Tourism is one of the ways that those very animals can survive, for as long as people want to see animals, then governments, ever mindful of money and self-interest, will at least do the minimum to protect its voters' businesses, if not the animals.'
There are about 3500 elephants in the forests of Thailand right now (please note these numbers seem to always be shifting). The forests in Southeastern Asia are shrinking, in part due to extensive logging which cruelly uses those very elephants to remove their own habitat. But don't get me started.
Given the proliferation of photos of chubby baby elephants bombing tourists, it's no wonder that said tourists flocked to Thailand in search of those experiences.

Anything for a selfie, right? Too many tourists care far more about a selfie that gets them likes than doing the research which might expose the cost of that selfie to the animal. In this regard, I completely understand why the purists tell us to observe from a distance.
I visited three out of the estimated 223 (before Covid) facilities. To get more understanding of this very complex issue I also recommend this:
As with tigers, as logging has destroyed habitat, domesticated elephants face starvation. Covid made that situation far worse. The Thai government has passed multiple laws in an effort to protect this very special and sacred animal to the Thai people, but that doesn't always mean ethical treatment
You see the problem. As many have told me here, well-meaning governmental officials will impose laws without bothering to explain why to the people such laws affect. They also don't provide alternatives, education and other options. So the laws are ignored, if for no other reason than people are desperately poor, and will use any means available to make money.
To that then. This piece addresses the first of the three outfits I spent a day with in Chiang Mai.
The first is run by a "Mr. Lucky," or "CM Lucky." I can't find him on Trip Advisor but  he's known to the hotels. He's a taxi driver, fruit farmer and much more, which to me is part of the problem. An energetic and sincere man, he is stretched across too many concerns, and as a result his efforts at an elephant experience are problematic at best and abusive at worst.
Just as an aside: Positive reviews on Trip Advisor, which these outfits will feature prominently, are NOT an endorsement of safe and ethical procedures. Too many of us, and I have done it myself, use these reviews to choose, when a more thorough investigation might unearth something else entirely.
It's an hour drive to most of these outfits. Mr. Lucky owns some ramshackle, shabby concrete buildings on the muddy river.
Here's what troubled me:
-On arrival, we were subjected to wholly unnecessary long lectures. If the lectures had focused on animal welfare and safety, safety around the animals as well as the days' events and safety procedures, that would have been different.  This was a waste of time.
-Second, basic people safety. The muddy river and riversides are slippery, the boat small and water-logged, the river current strong and unpredictable. We were in unstable flip flops. I changed to hiking boots, which was wise.
-We paid for a "hike." Said hike was about 30 yards long. What was the point?
-We saw mahouts riding elephants and a white tourist riding an elephant seated behind the mahout. They advertise NO RIDING. Really.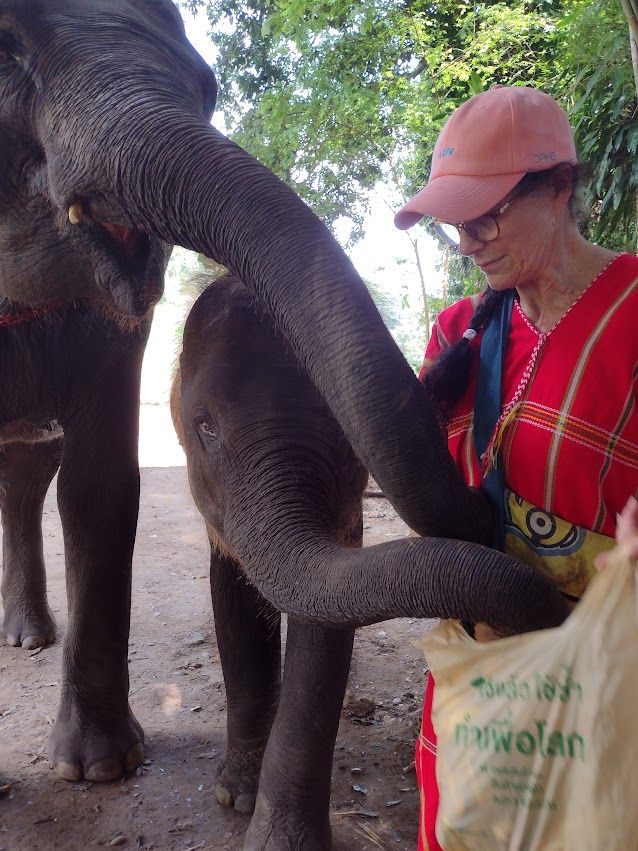 -To clean up, we were herded into an open concrete room where broken shower heads sent cold water in every direction. No privacy, no hot water, no soap and very bad towels.
This was the worst:
-A big male ellie was chained by one let in the open, in the heat, no shade, no access to the river. Ellies have to cool off, they get sunburned; that's why they love mud and water. Nobody responded to my repeated questions.
On the way home Mr. Lucky kept asking me to promote him. Nope. Mr. Lucky needs to stick with taxi driving and his elephants need to be rehomed, in my opinion.
If this is the only facility you visit, you might give Mr. Lucky a great rating simply because this is the first time you've been with elephants.
Sadly,  this is how we perpetuate questionable animal tourism which is already problematic:
You can see the challenge. The NYT article points out how hard it is even for a journalist like me to identify the better outfits. Many operators refuse to be inspected, possibly and likely because they know they will not pass muster. Such inspections identify what are inevitably costly changes and upgrades.
Every single colorful brochure in every hotel promises THE BEST ETHICAL NO RIDING EXPERIENCE IN THAILAND.
You and I know that to be patently untrue. Mr. Lucky's outfit is a perfect example of how simply asking at the front desk of your hotel can get you to spend money on an outfit that any thoughtful and caring traveler wouldn't dream of supporting.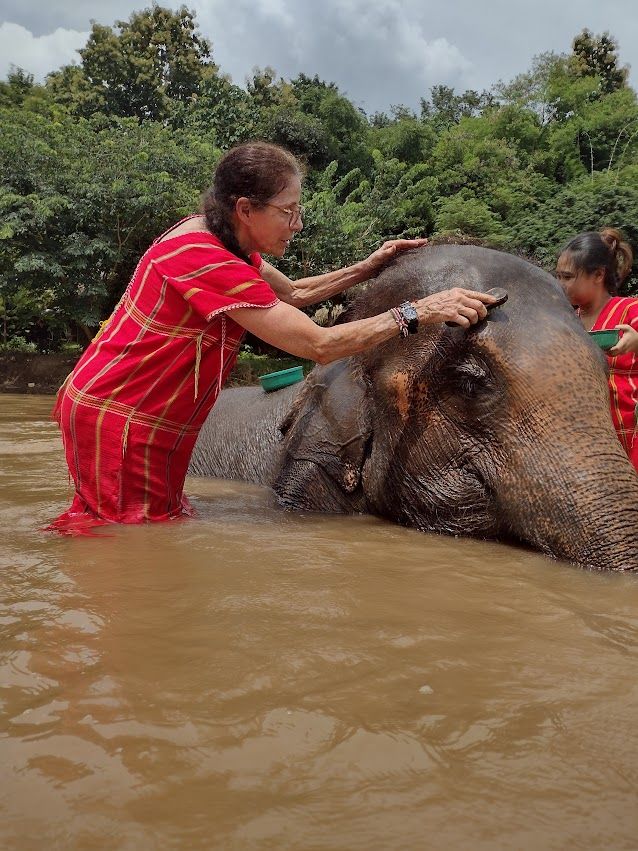 In parting, however, kindly keep in mind: A great many of Thailand's people depend on tourism. Too many are desperately poor, and without government assistance and intervention they will continue to do what they can to survive. So before we are too harsh in our condemnation, let's also remember that conditions create behaviors. Thailand's animals are far more depending on the Thai government, in this regard, than individual operators.
Next up: This outfit does it much, much better, and may be worth a look. Stay tuned.
Dear Walkabout Saga Reader:
If my work appeals to you, may I kindly invite you to consider joining those Patreon supporters whose generosity keeps the gas in my tank as it were. Those supporters get to dictate my content calendar, we engage as a community, and this website and its content acts in service to our collective best selves.
You can explore that option here.
However you decide to partake of my writing, thank you.