How Tanzanian women have begun to master Kilimanjaro
Nine years ago, Koleta began taking climbers' equipment up Kilimanjaro.
For you and me what the porters carry means that you and I, as climbers, only have to haul a small pack with less than twenty pounds, if that. The rest: your toilet, tents, eggs, melons, medicine kit and all your personal equipment up the side of one of the world's seven highest regularly-climbed mountains.
Like most pioneering women in any industry, she was subjected to jeers, verbal abuse and claims she couldn't make it from the men.
But in this part of Africa, Kili is king. From an economic viewpoint, about the only real money to be made is through being a porter, evolving eventually into becoming a guide (if that's what you want). However, that road is fraught with issues.
According to the Kilimanjaro Porter's Assistance Project, which has 156 Partner companies (those companies committed to fair pay, treatment and conditions for their porters), the minimum daily pay rate for porters is 20k Tanzanian shillings or $8.65 USD. Non-Partner companies can pay far less, and tip even less than that. Kilimanjaro National Park established those standards, but some companies don't even meet the minimum.
But those aren't the only issues.
For example: tent quality, the number of people sleeping in the tent, whether porters have to bunk in a mess tent. That means that the porters are forced to get up when the cook starts preparing breakfast for the climbers, which is often hours before the porters really need to wake up. Inadequate clothing, shoes and gloves can make a porter's life miserable. So does having to pay a bribe to get work in the first place, which used to be quite common, and may still happen. Some even have to pay for transportation to and from work, their overnight accommodations and other expenses which dig deeply into their pay, which can be as little as three US dollars a day. Given that many only climb perhaps twice a month during the season, you can see how work standards can powerfully affect not only economic conditions but quality of life for the some twenty thousand porters who count on Kili for work, male or female.
In addition to all that, Koleta and women like her found out the hard way just how difficult the climb really is. Before they built up their strength, some couldn't carry the 20 kgs (44+ lbs). And, they carry another five kilos of their own personal supplies, which means more than fifty-five pounds each. While that's a standard, some non-KPAP companies may require their porters to carry even more. Other porters who ended up having to share additional weight so that a woman can make the climb were understandably resentful.
Not being quite in adequate shape meant that the women at times walked into camp later than the men. Coming in later meant that they were forced to sleep closer to the tent door, which meant increasingly colder sleeping conditions as they walked higher up the mountain. Even worse, getting in late can often mean that it's possible that the food, which was fresh and hot for the first to arrive, may not only be cold, but not enough for the women. As porters have to provide their own kits (more on this later), a poor quality bag, no mattress or adequate clothing can mean misery.
KPAP Partner companies subject themselves to intense scrutiny and commit to higher standards in all areas of the Kilimanjaro climb. Not only do they meet the minimum suggested standards determined for porter safety and comfort for the climb, they often provide better rations, salaries and more transparent tipping conditions (this means that the porters know precisely how much the clients provided for tips, and paying the tips is done to ensure fairness and trust). While most Tanzanians are quite accustomed to tea for breakfast and not much else, KPAP partner porters get a supply of scones or other kinds of morning bread to supplement their diets.
Because the KPAP Partner companies provide three meals a day, often a porter may come down the mountain with a little more padding than when she left on the trip a few days prior. Being a woman porter is wicked hard work.
Yet came they did. Koleta, and others like her, single mothers with mouths to feed, came to hike.
Over time, they grew stronger. They walked faster, got to camp on time, and gained better sleeping conditions. Those who registered with KPAP Partner companies enjoyed the better conditions. While these women might not want the same kind of work for their daughters (a group of them, sitting in one female porter's house yesterday, emphatically shook their heads NO in response to this question) they have still changed the conversation about who belongs on the mountain.
"Now," said Anna during a meeting of these women in a wooden house yesterday, "we are respected. We can do the work as well as the men."
Part of how porters- and especially beginners- can get started is through KPAP's lending "stores."
KPAP has a free gear lending program for any porter. Their five small, simple offices provide access to donated clothing ranging from high-end Wolverine boots and Gore-Tex ski pants to Patagonia fleece jumpers. The porters sign for the gear, hand over collateral (such as a phone, which they REALLY want back), KPAP marks it down along with their photo, and the gear is promptly returned. This kind of program has made climbing much safer for many beginning porters. As they get better and earn more money, they are expected to save their shillings and purchase their own gear. This is just one way by which the porters increasingly see themselves as professional, as they build their own kits ranging from down jacket to thick gloves and a good bag and mattress for their comfort.
The numbers of women porters are increasing. While still a minority, they are steadily showing that they too can make the mountain trek just as well as the men. There are perhaps between 50–100 currently, and growing. In fact, several KPAP Partner Companies have made it a priority to hire women porters. These women, who traditionally balance huge loads on their heads as they walk the roads and paths of Tanzania, are trading the fruit baskets for the gear kits. As in other parts of the adventure world from the Amazon rain forest to the high treks of Nepal, women belong on the mountain, on the river and in the farthest reaches of the world. Porters and guides, drawn from the indigenous peoples who live their lives where you and I want to explore.
Yesterday, two American climbers set out on a fund-raising hike up the Rongai Route, the safest and longest of the Kili climbs. The trip is being guided by one of my favorite Kilimanjaro guides, Davis, who works for KPAP Partner Company, E-Trip Africa (one of the organizers and fund raisers for this climb; the money goes to help KPAP's efforts). Nathan, the CEO of a multi-million-dollar money management fund and his daughter, set out. They were in excellent hands. Among the porters was Emmy, who has been climbing for three years.
She grinned at me, her bright blue T-shirt urging us to run for fun, as the bags were weighed in preparation for the climb. Were it not for a couple of brutal knee injuries, I'd have been heading up the mountain with her.
And proud to do it. I have do doubt that she, like the porters on my first trek up Kili, could pass me at speed, carrying close to three times what I have on my back, to get the camp set up and operating when the rest of us limped in. When I climb Kili again, and I most likely will when KPAP has another fund-raiser, I hope to see many more female faces.
I hope you do, too, for women who walk the mountain belong there.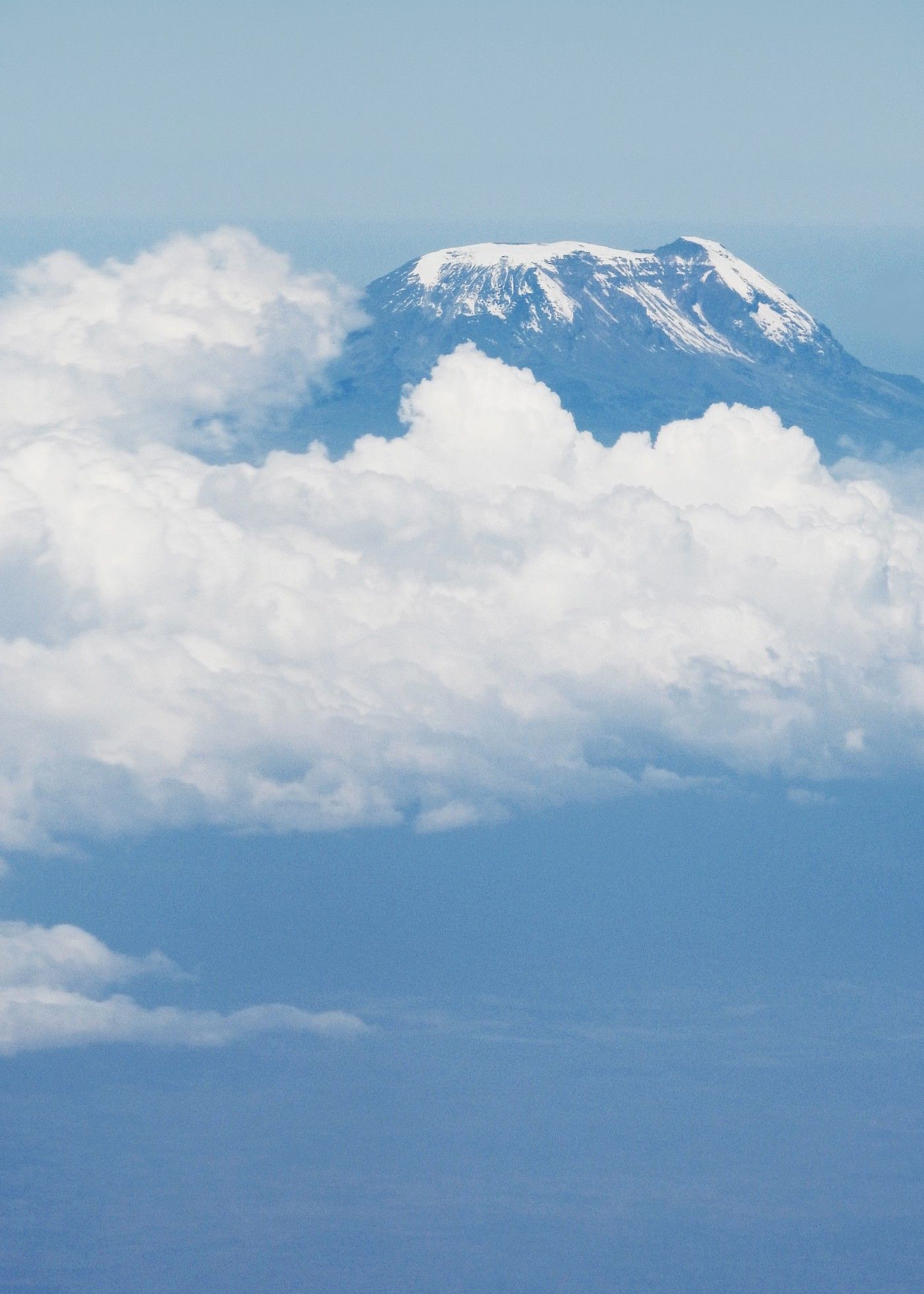 ---