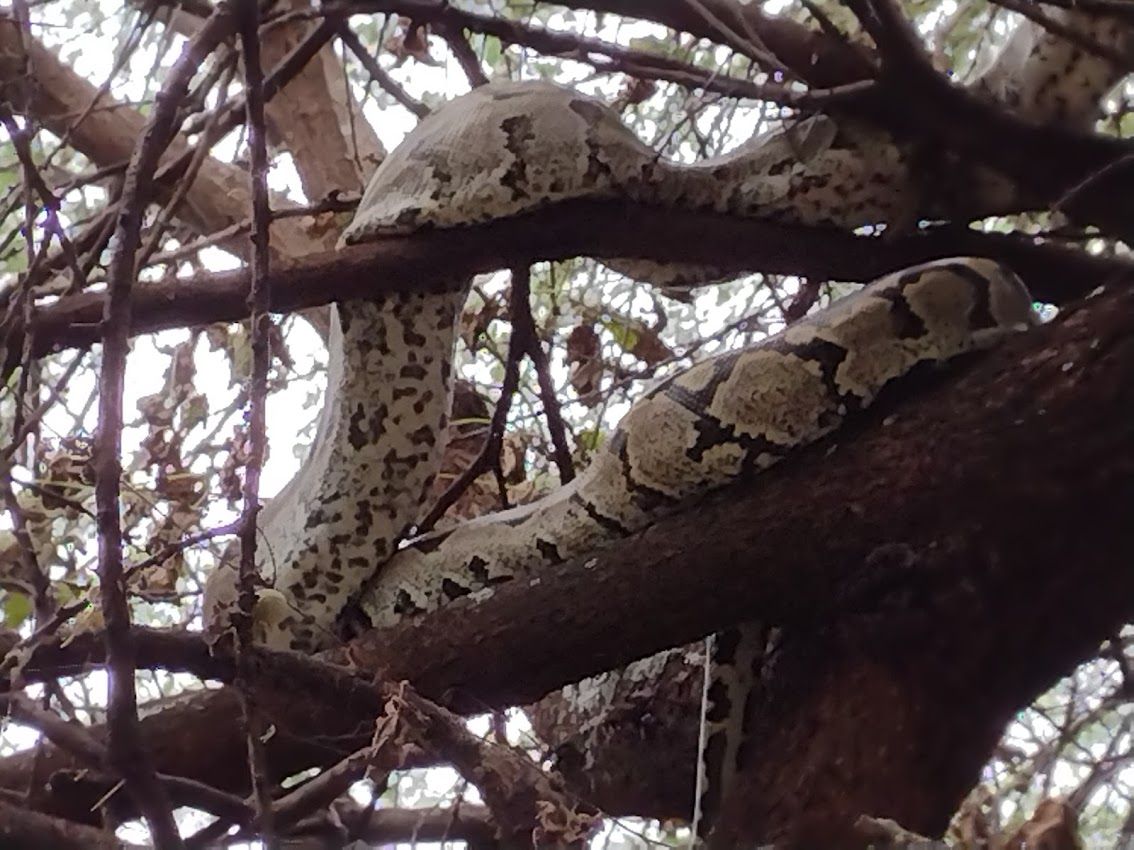 The final stop on my four-camp/lodge adventure was breathtaking. Including the "guard" at the Gate to Heaven.
Dear Reader: This is the fourth and final story about a recent safari which included some new parks for me, while staying at the camps and lodges run by Lemala. I hope to introduce you to not only what I consider the gold standard for sustainability in the African bush, but also get you excited about what you get to see out here, as well as the extraordinary level of comfort and beauty. Respectfully, I do not work for Lemala. I am keen on what they are doing and how, and genuinely hope you can see why there is a lot to be excited about in the future of African tourism. All photos credited to Lemala used with permission. They're much better than mine.
The park staffer hurtled out of the concrete building yelling BLACK MAMBA! BLACK MAMBA! It was late afternoon. My eTrip Africa guide Alladin and I had just pulled up to the gate. It had been a long day coming in from Ngorongoro Crater,  including having to get a flat tire repaired.
Stunned, Alladin swiveled to see where the danger lay. He had just directed me to the women's room not far from our vehicle. We had parked to do the paperwork for our entry into Tarangire National Park, the last stop on our current safari.
If there truly was an angry, aggressive black mamba about, we had trouble
Alladin looked at the madly-waving staffer, and decided, Wait. Let me check this out first.
This is just one reason I trust Alladin. He followed the staffer behind the concrete building to see where said black mamba, one of the world's deadliest snakes, was supposedly threatening the park staff.
Good thing. For about the time I came out of the ladies', Alladin was excitedly gesturing me over to see a magnificent rock python, which was resting heavily on the branches of an acacia. The rock python was digesting at least two recent meals, and wasn't likely to bother anyone unless provoked.
Granted. The rock python can get up to two hundred pounds and can swallow a small crocodile or an antelope. However, this one posed no immediate threat, and if anything, was a terrific introduction to yet another National Park I'd not yet visited.
If the park folks expected me to go screaming off to hide in the Land Rover like a mzunga (white person running around) they were sadly mistaken. If I err, I err on the side of getting a touch too close, which Alladin knows he has to monitor at times.
I LOVE snakes. I'm a Florida farm girl, raised with snakes, spiders, alligators and bad-tempered neighbors with stills. So I got in as close as I could, snapped some shots, and with that, Alladin and I drove through the gates of heaven.
Given that intro you might think me mad. However, Africa really is the cradle of civilization. The more you explore, the more you see, the more you realize that not only is heaven right here on earth, there are a great many ways to experience it directly. And, by the way, come back come to brag about it.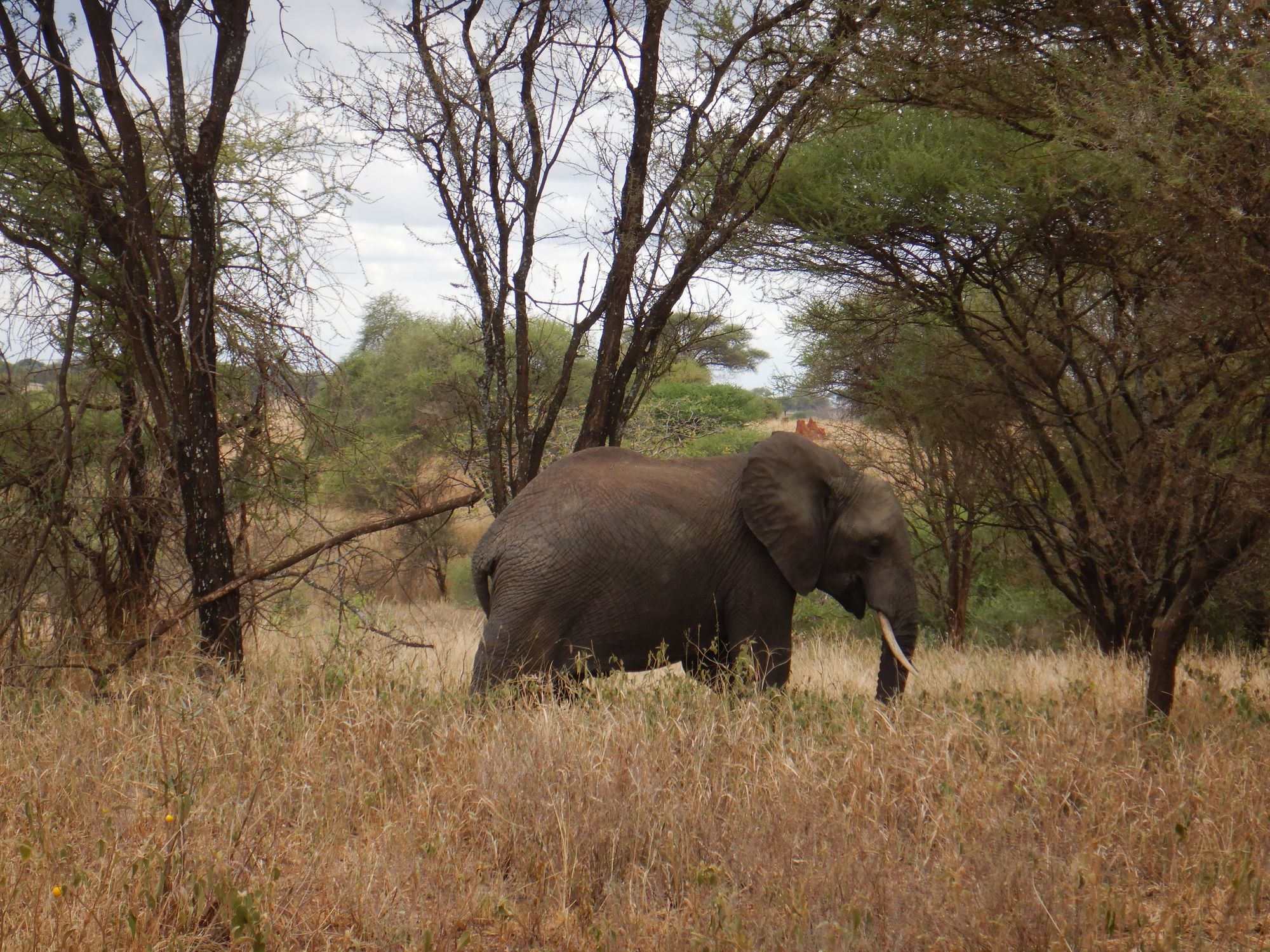 Heaven can mean a lot of things to a lot of people. Out here in the Tanzanian bush, for me it's the combination of a long, dusty day exploring, watching the animals, photographing them, learning from my guide and being utterly and totally overwhelmed with the magnificence of Mother Nature at her best and most terrible.  You feel vulnerable and immense at the same moment, humbled and happy.
The other part of heaven is rolling into the last of the Lemala properties at Mpingo Ridge. There the level of luxury, the views and all the amenities made for some other kind of experience. My expectations were already high, but honestly, I wasn't prepared for what I found.
To be fair to Dear Reader, as an experienced adventure traveler, my idea of luxury is a fast-cooling pan of very hot water delivered to the vestibule of my tent after a long day of hiking up the slopes of Kilimanjaro.
This time around, eTrip had sent me into the deep bush with my favorite guide, and we were guests at four fine, well-run camps and lodges. Part of the luxury was that first, as a journalist, I had access to wifi at each camp. That's just over the moon.
Second, I was able to investigate and report on what Lemala is doing to change how tourism treats not only the land, but her people, the animals and the resources which are so pressured in today's world. Since most of you are not likely to choose my typical adventure conditions and would more likely lean into what I found at Mpingo Ridge, let's explore that as well as what this marvelous park offers for the determined explorers among you.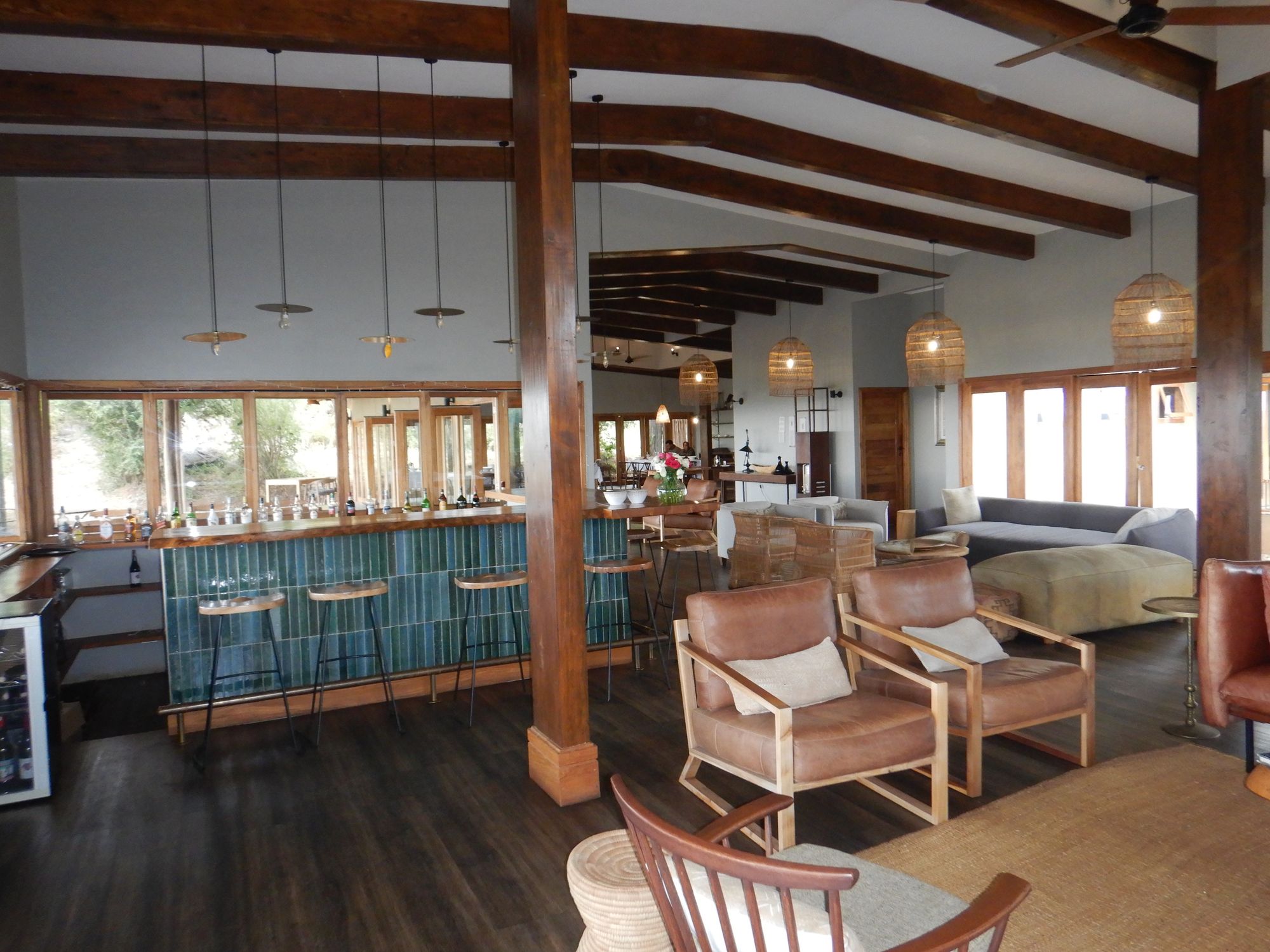 Rolling up to our final destination, I was struck by the beauty of the place, which takes advantage of the fact that Tarangire isn't the most heavily-traveled of the popular parks. That alone makes the experience here an advantage, for there is plenty to see and photograph, and fewer crowds. There are many, many elephants, which was a particular treat for me, and much more, which I'll be sharing.
Mpingo Ridge reflects many of the lessons learned along the way as Lemala has adapted more ways to recycle, protect water resources, reduce plastic and utilize products and processes which best ensure not only our comfort but also reduce the impact on the land and the locals.
As I have with each article, I would invite you to visit this page to see the kinds of commitments Lemala has made to the facilities, the people, their families and the land that makes all of this so very worthwhile: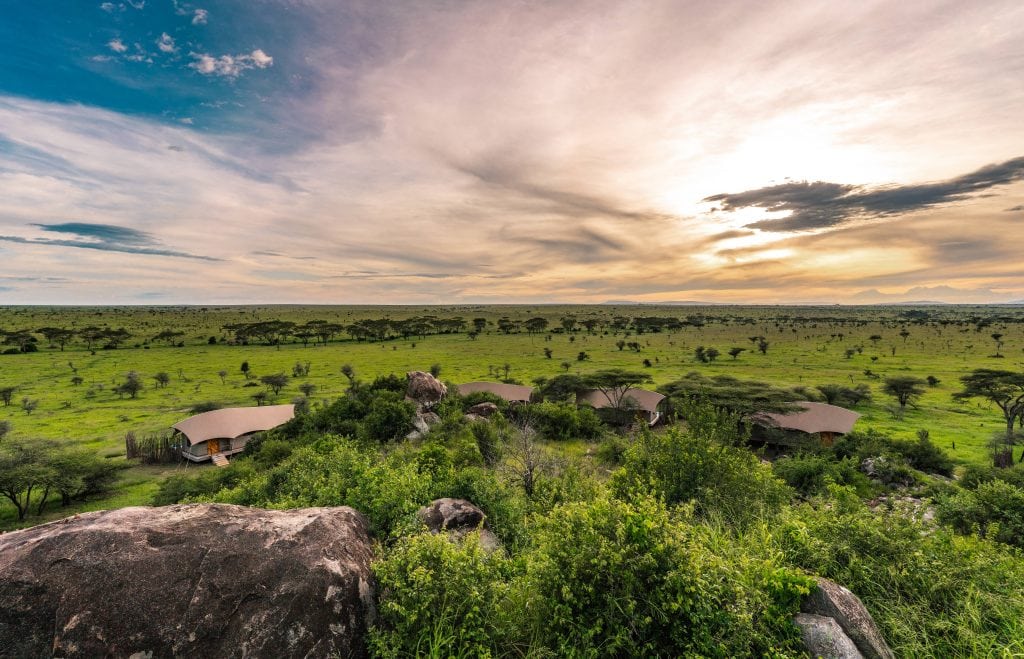 For example, as I was walked to my room by the Maasai warrior, I noticed that the raised walkway is made of recycled plastic planks. By now, I knew that local produce would grace my plate, and that the day's lunch boxes were hand made and completely recyclable. I knew that the water out here wasn't trucked in and that there would be not a single blue plastic water bottle on the property. Those which arrive by our hands are promptly recycled.
We are well past the point where companies which make their living on the land, bringing tourists to enjoy what this land offers, can simply take and not give back. Today the best companies are weaving deep relationships with the locals, creating employment and opportunities and better ensuring that the environment doesn't suffer from the pressures of tourism and land use.
For me, part of being in heaven, as it were, is knowing that part of my investment in being in such a place is helping ensure its existence for generations to come. A lot of these essential details can fade into the background in the excitement of our being in such a grand place,which is just one reason it's important to tease them out.
And what a place.
After I removed my dusty boots, I wandered happily around my suite. I was tired, so the very first order of business was a hot bath. Not just any hot bath. Mind you, if this had been the only thing different about Mpingo Ridge I'd have done backflips. Here's why: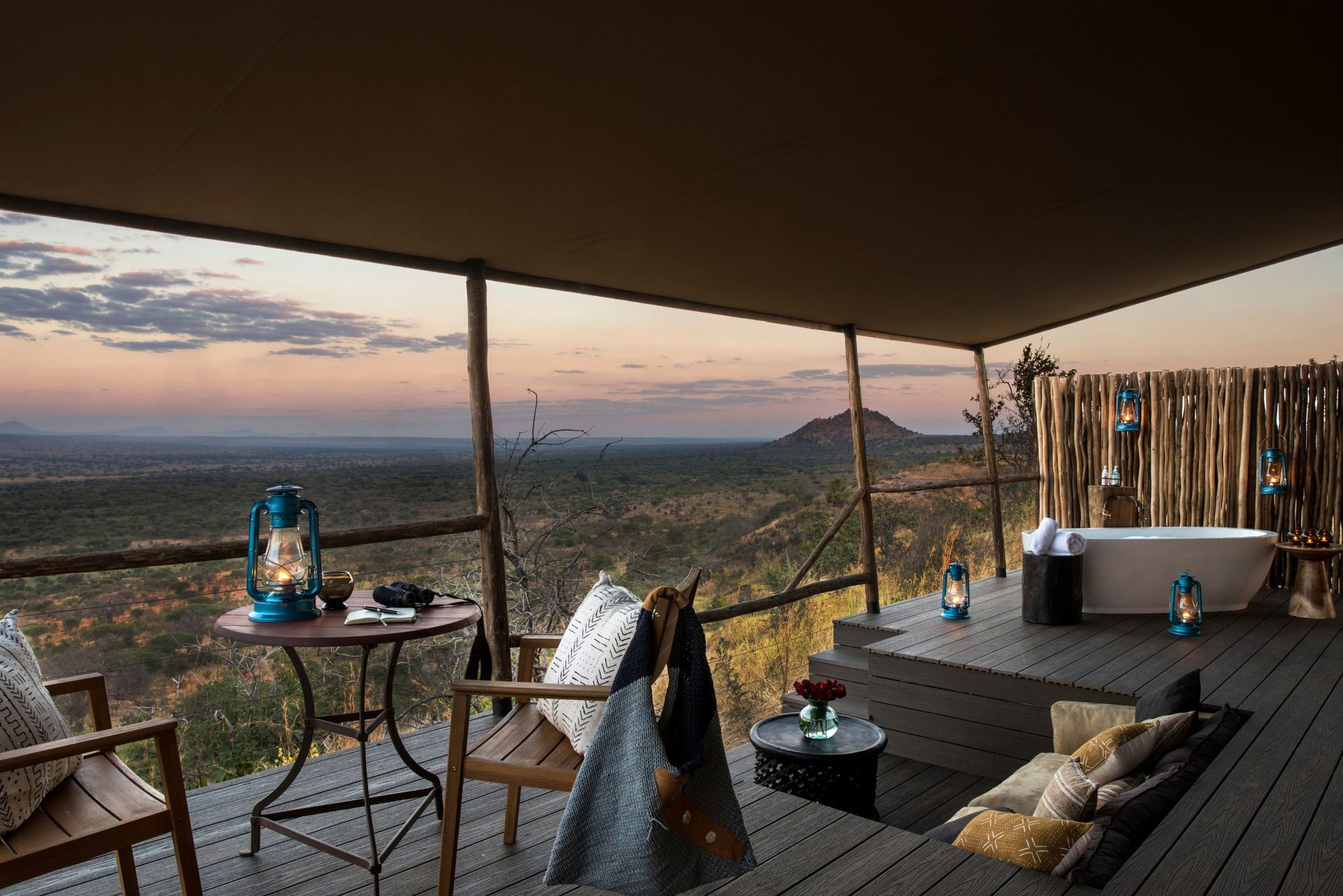 My deck, which featured, as do they all here, untrammeled views into eternity, a huge bathtub which allowed me to soak in hot, sweetly-scented water while watching the sun set.
Do I honestly have to add anything to this? You might add champagne, a beloved companion. For me, the sunset...well. Enough said.
Here's what greeted me when I dried off: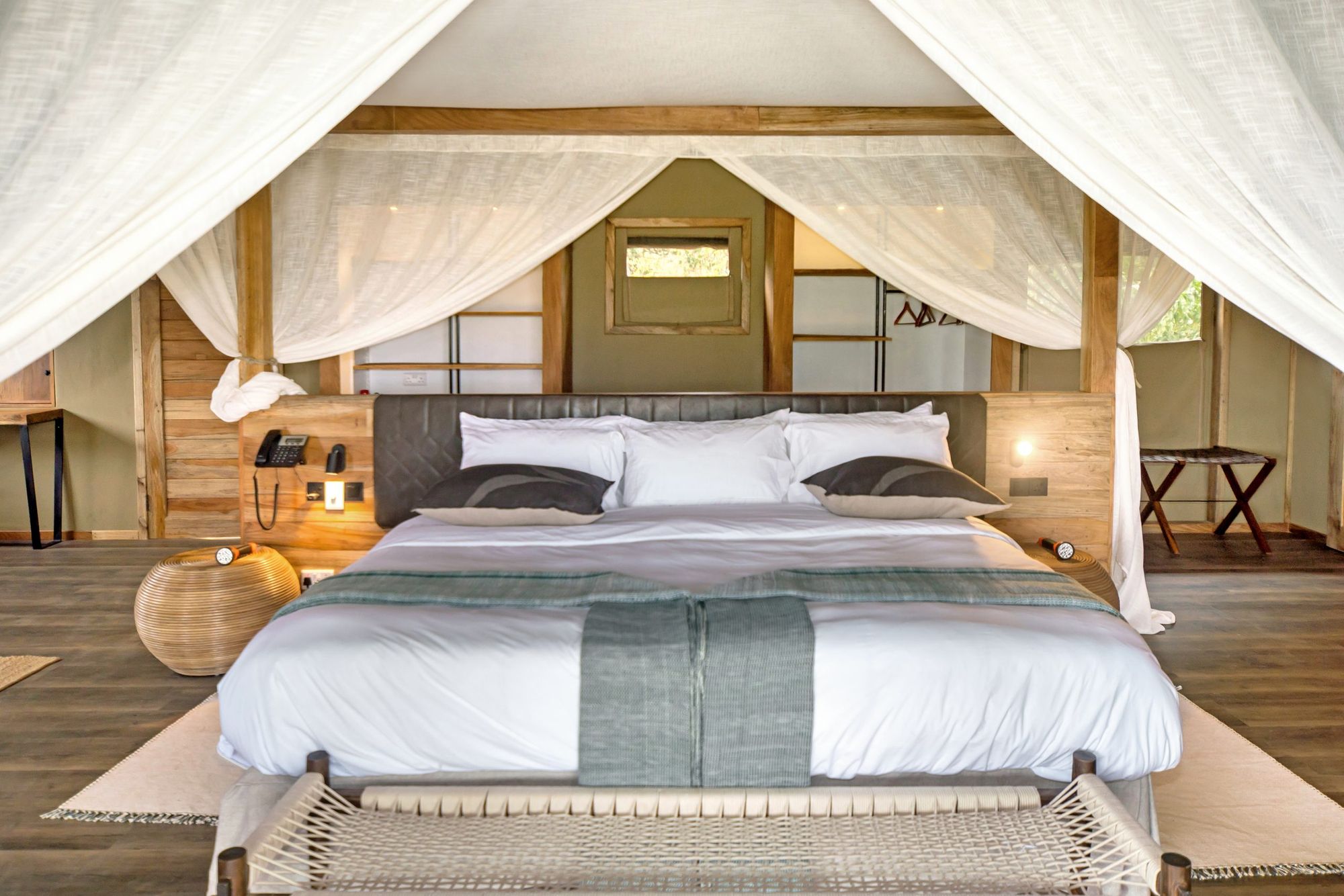 It's quite another thing entirely, if you are brave, to ditch the duds and walk around in your altogether on your deck. I did that several times, thoroughly enjoying the (pardon the pun) naked freedom of it.
Out on this escarpment, the only eyes on you will be wildlife. That's a whole other way to get close to nature.
That's how my day ended. The next day it started off even better, if such a thing were even possible, and it was.
My morning began very early, as always, and my room faced west. I got some writing done, then a call to the kitchen brought a Maasai warrior down the path to walk me back. At that point,  some of the more than five hundred species of birds began announcing early dawn.
The huge, welcoming, warm reception, dining and sitting area is well-lit both for morning and evening. As one of the first ones to the six am breakfast buffet, I could order my eggs, find a pastry or two. Then I could have Dennis and his staff set up a table for one to watch one of the world's most remarkable sights: dawn over the open African plains and woodlands.
One of many additional offerings for those willing to really get up early is a pre-dawn ballooon flight, which allows those privileged few to witness what the night wrought. I could see the balloon in the distance as it made its stately way over the treetops, giving its occupants a true bird's-eye view of the world below.
For my part, however, the treat was being able to snug my table out to the edge of the deck and catch the sweet morning updrafts as they washed the morning over us.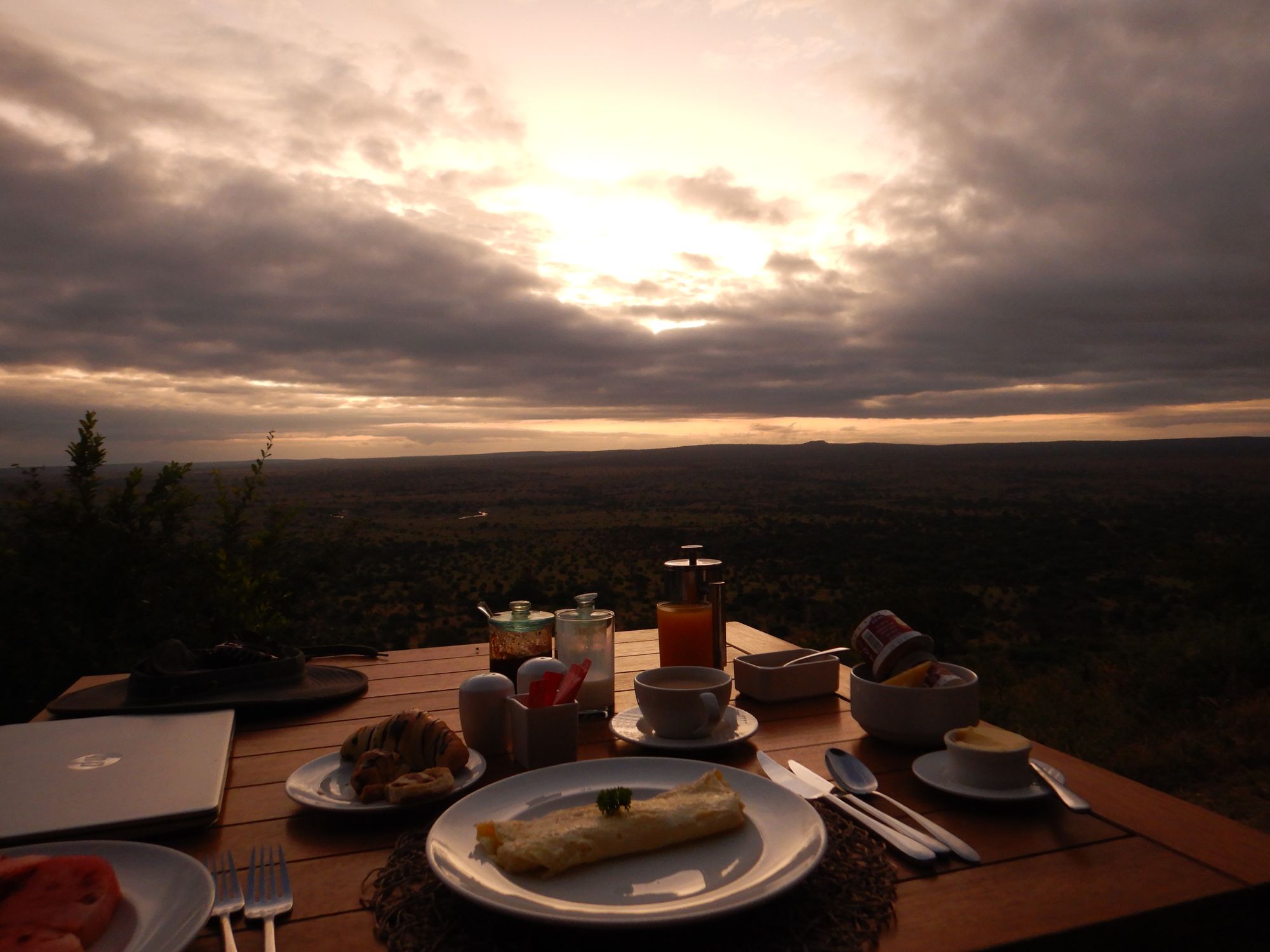 A foursome made up of a couple from Minnesota and another from Wisconsin were enthusiastically thanking Dennis for his many courtesies and services. I wandered over to say hello. Kim, the woman from Wisconsin, told me that she had skipped heading into the bush one day to take in all the amenities: the outside bath and shower, the massage.
"I didn't want to miss any of it!" She grinned. I can relate. I didn't either.
They were leaving, and understandably both excited and sad about it. I had only one more day, and understood the sentiments. No more time to lose.
Alladin loaded me back up into the Toyota, and we were off for the day's adventures. One more day in the bush, one more night in heaven, and it would be time for us to head back to Arusha.
Tarangire offers the safari lover a great many options, not the least of which is  a chance to watch the interplay of predator and masses of migrating prey conduct their watchful dance at a watering hole. Huge numbers of zebra and wildebeest, thirsty and needing to refresh themselves, gather near the hole.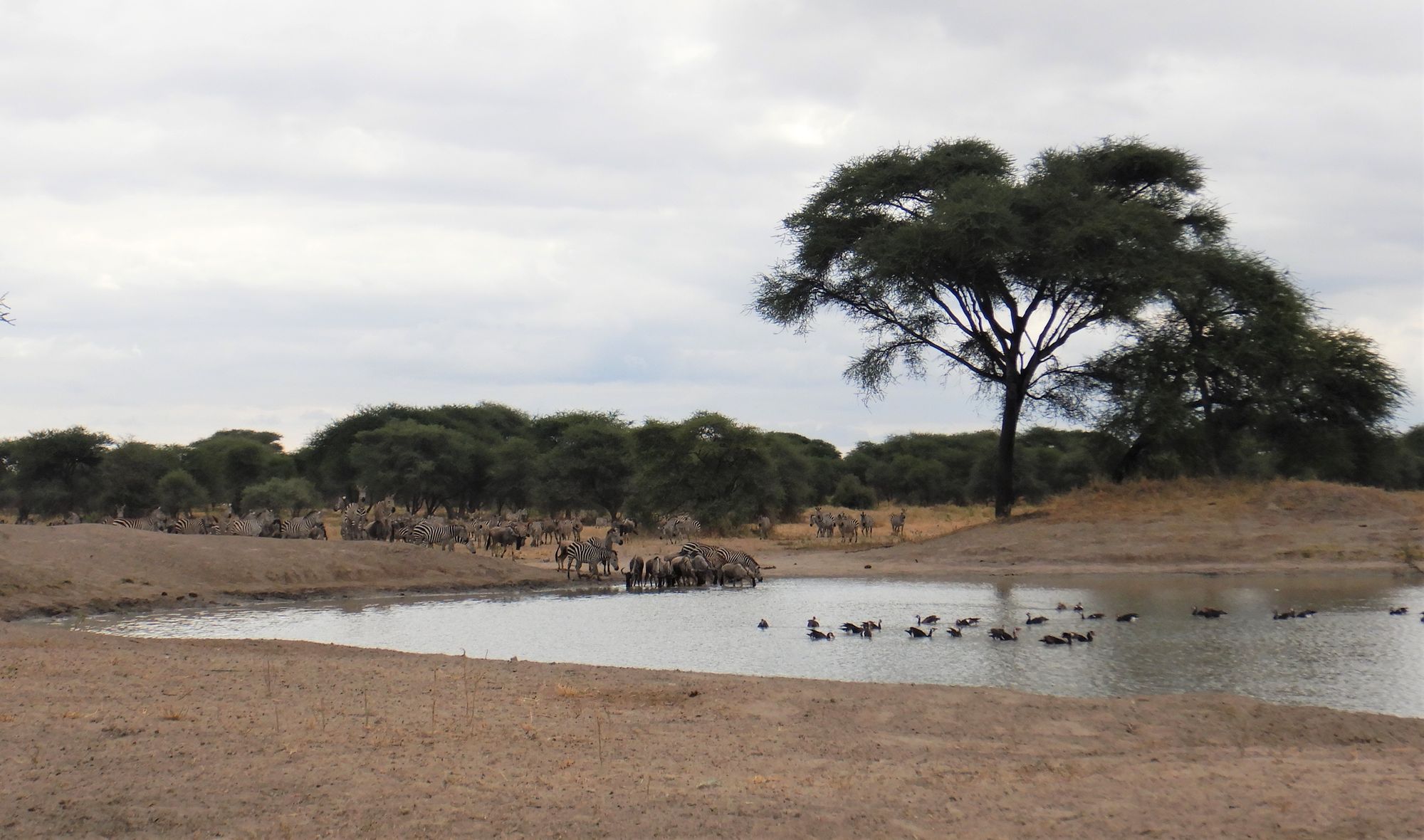 Because they are here, so are predators. Another guide informed us that there were lions nearby. Alladin parked us where we could observe how the zebras kept watch, and how the slightest movement of any of the sleepy lions on a rock not far away would send them running.
One of the pleasures of traveling solo is that you can opt to sit and observe for some time. Sometimes in a group, others can want to move along faster than you do. Nature unfolds; she doesn't entertain. Well, sometimes She does, but quite often it's not until you've been still for some time that creatures begin to move and become visible. Out here, patience is rewarded.
This happened  a bit later when Alladin spotted a cheetah consuming something small, perhaps a dik-dik, and I simply couldn't spot it. The cheetah had briefly sat up to check the surroundings (larger predators can steal its kill), and I had to wait until it rose again to see it. The camouflage is stunning.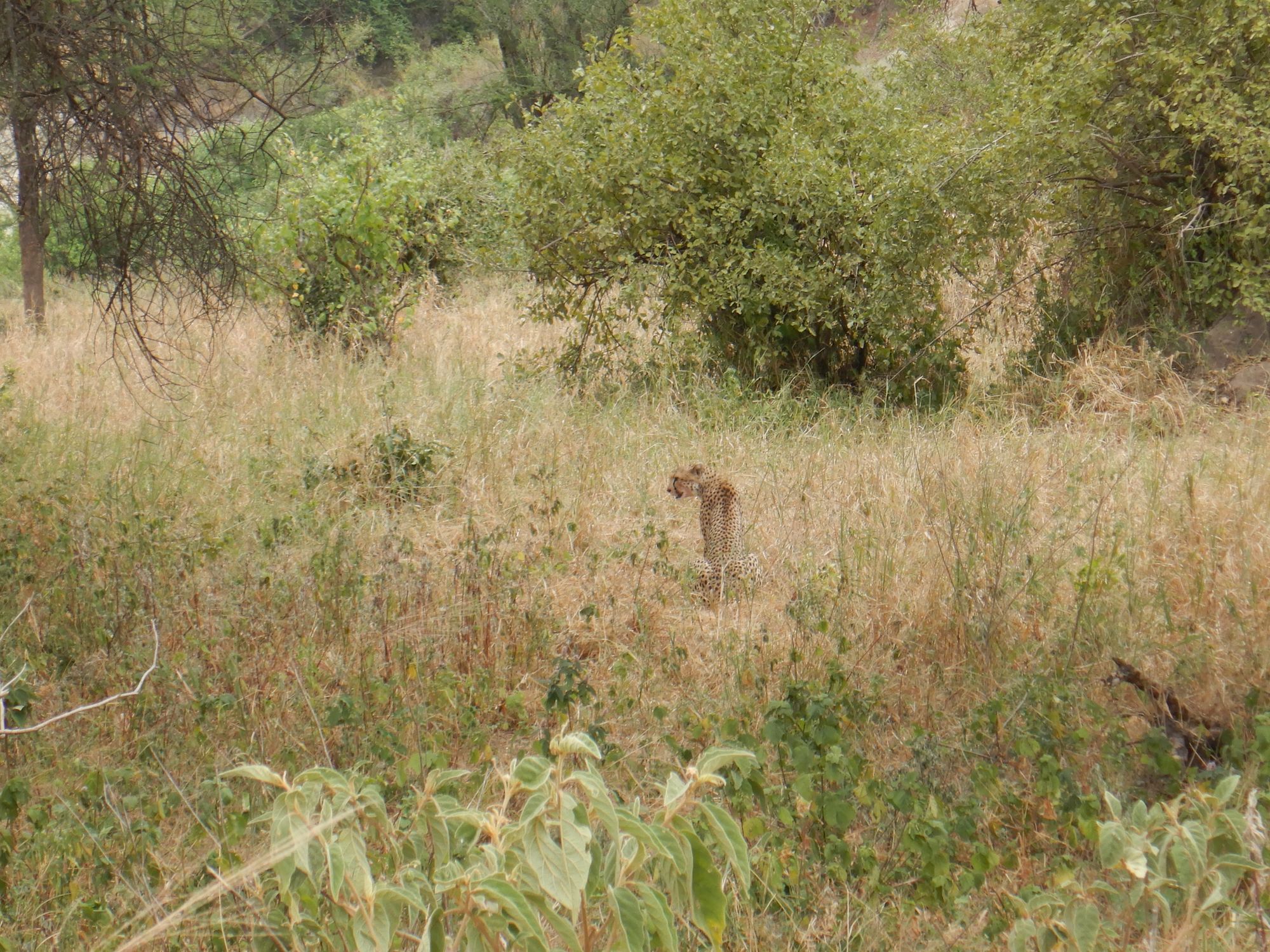 We found a picnic area to lunch, with plenty of vervet monkeys (do NOT feed them please) and a sweeping view of elephants moving slowly towards their next meal below.
After lunch we made our way to the river, where more elephants were feeding on grasses. A few climbed up the embankment and inspected our Land Rover. Alladin and I rolled up the windows, surrounded by four curious elephants. Their incredibly good sense of smell can locate their favorite foods (apples, watermelon, etc.), which can mean a perforated windshield or far worse if they get determined to eat your lunch.
That's another reason you don't feed the animals. Under no circumstances do you leave food on the dash and the window down.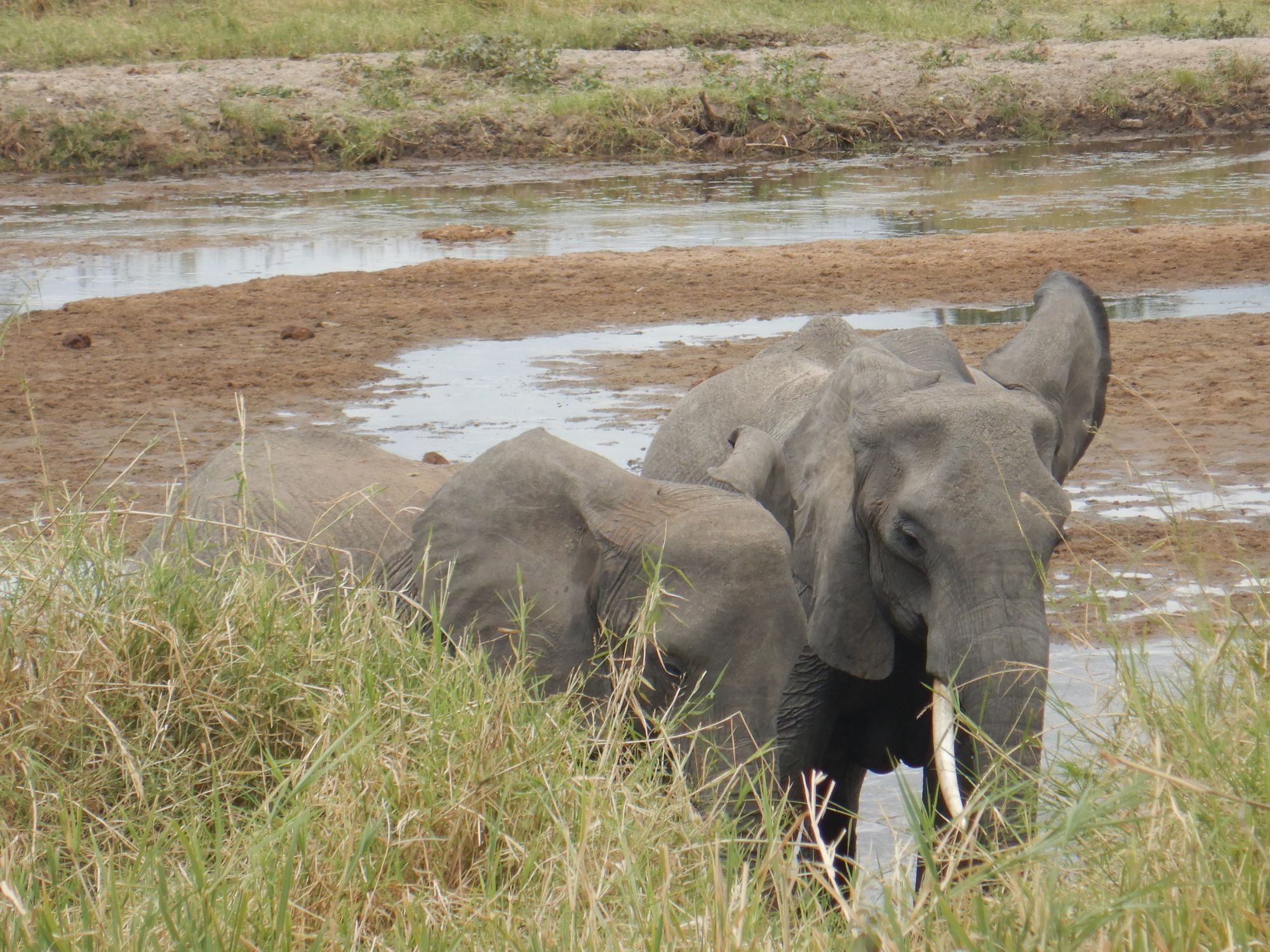 Tarangire also provided us a chance to see the great baobab trees, whose massive trunks sport the scars of years of elephant trunks' tearing into the bark. The bark looks like elephant skin, with folds and wrinkles unique to this remarkable tree. The leaves were mostly gone, given that this was still dry season and the rains had not yet reminded the forest of baobabs that it was time to leaf out again.
Another advantage of Tarangire National Park is that it's a very reasonable drive from Arusha. Even if you drove out just for a night at Mpingo, then spent the day in the park, you'd have truly expanded your horizons.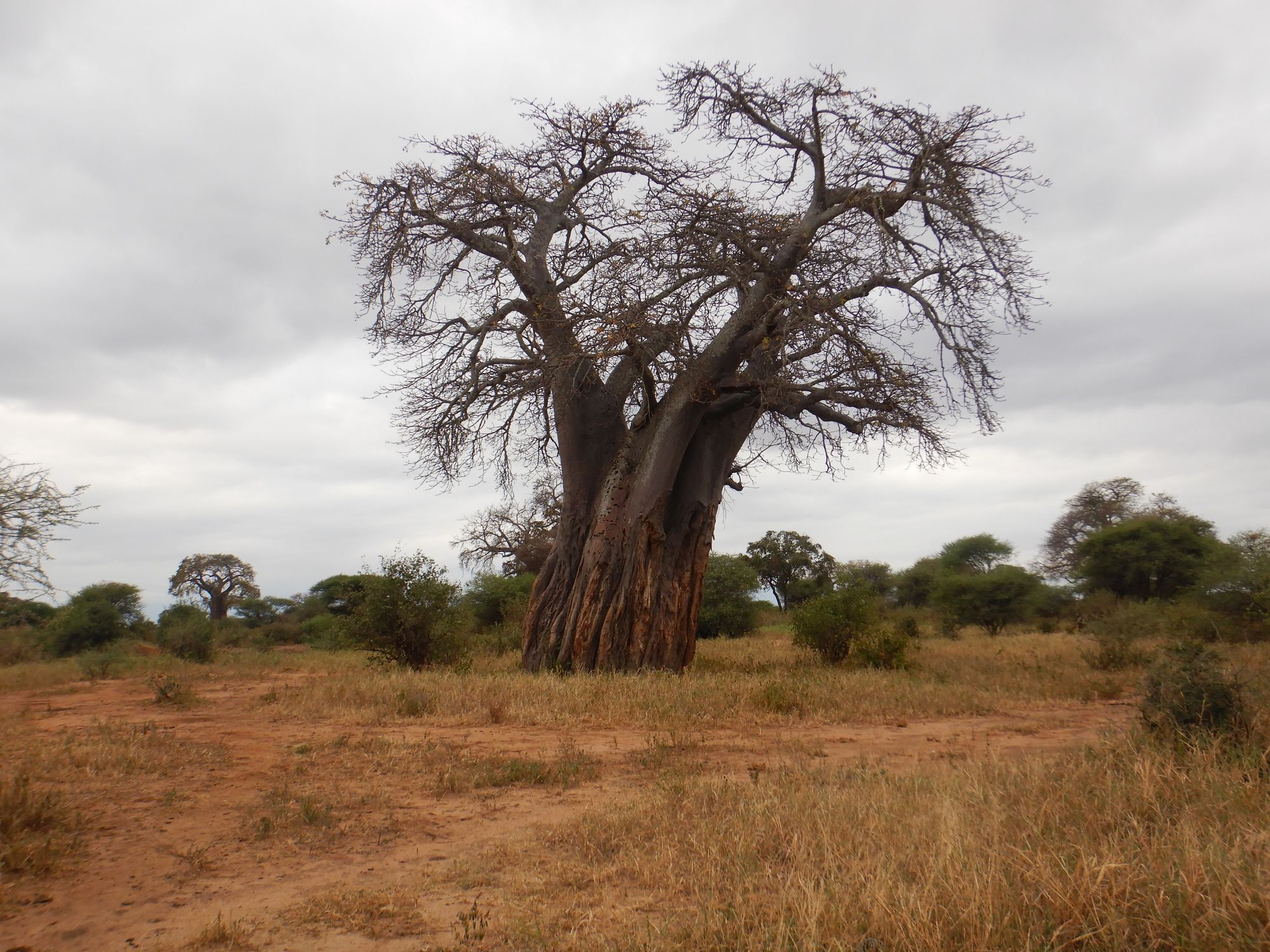 Alladin and I took our time during my last remaining hours. All too soon we'd be returning to the noise and crush of the city, so I meant to suck up every remaining second of heaven, as defined by the sights and sounds of the bush. Tarangire didn't disappoint.
I was able to capture a herd of elephants providing a mountain of quiet protection for a sleeping baby, and a bird species new to me. The long-lived Southern Ground Hornbill lives up to 50-60 years in the bush and is an opportunistic omnivore.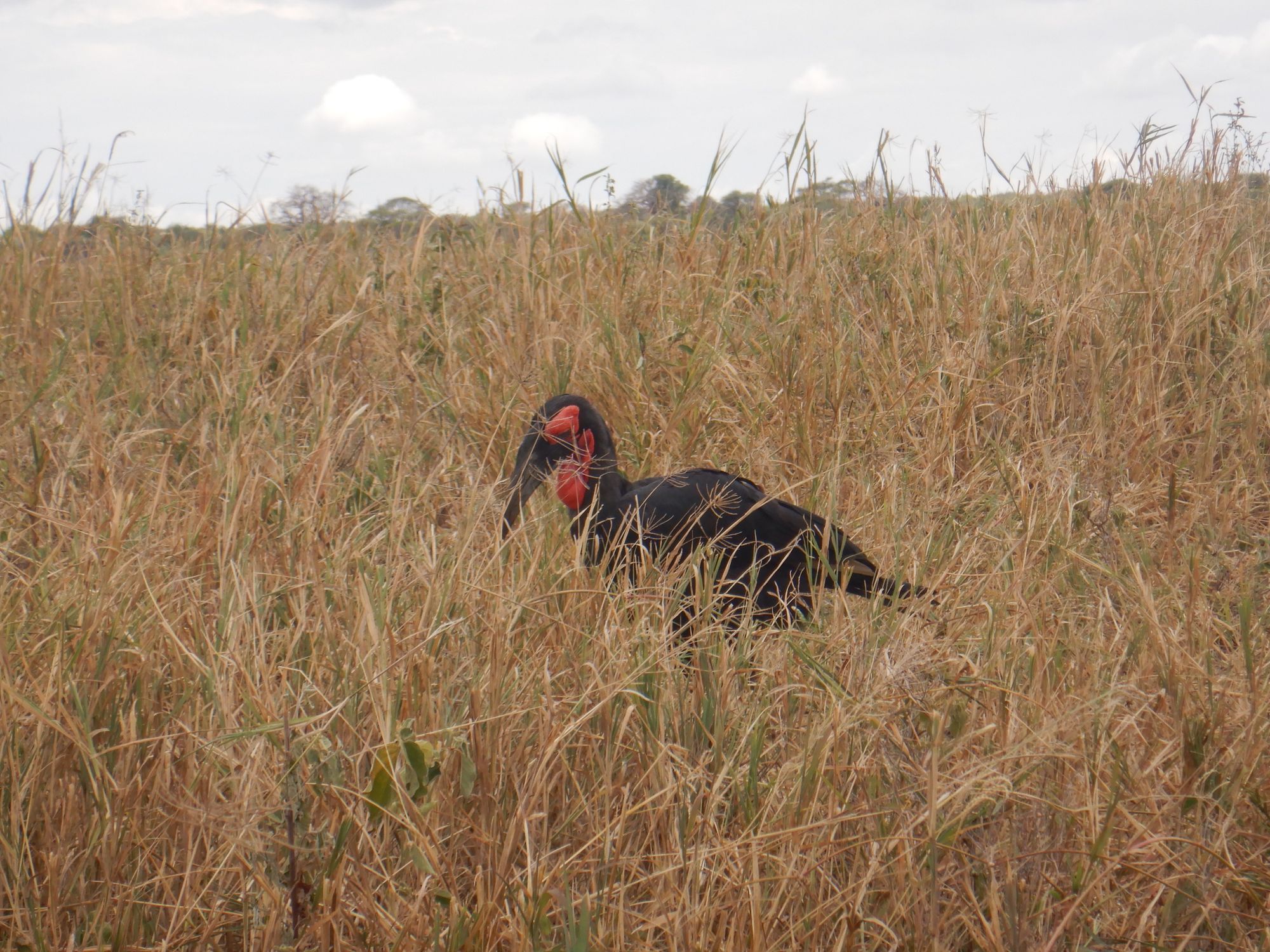 At the end of the day, a combination of immensely satisfied and sad that the day had, as it must always, come to an end, Alladin dropped me off yet again for the Maasai-accompanied walk back to my suite. My footsteps landed lightly on the greenwood planking as we walked the long path to my oasis.
Unbelievable treats awaited there.
Utterly determined to make the very most of what I had available as Kim had done, I took a hot shower in the outside stall.  The warm soapy water  sloughed off the heat and dust of the day while I stared happily out over the plains.  I shampooed with the coconut and lime products and slicked my long hair smooth with conditioner. Then I hung my damp towels over the railings and wandered on the deck, the warm breezes drying off the last of the shower, allowing Africa to caress me before one last dinner.  
As my hair dried in the late afternoon breeze, I wondered how on earth to write my friends about such a heaven on earth.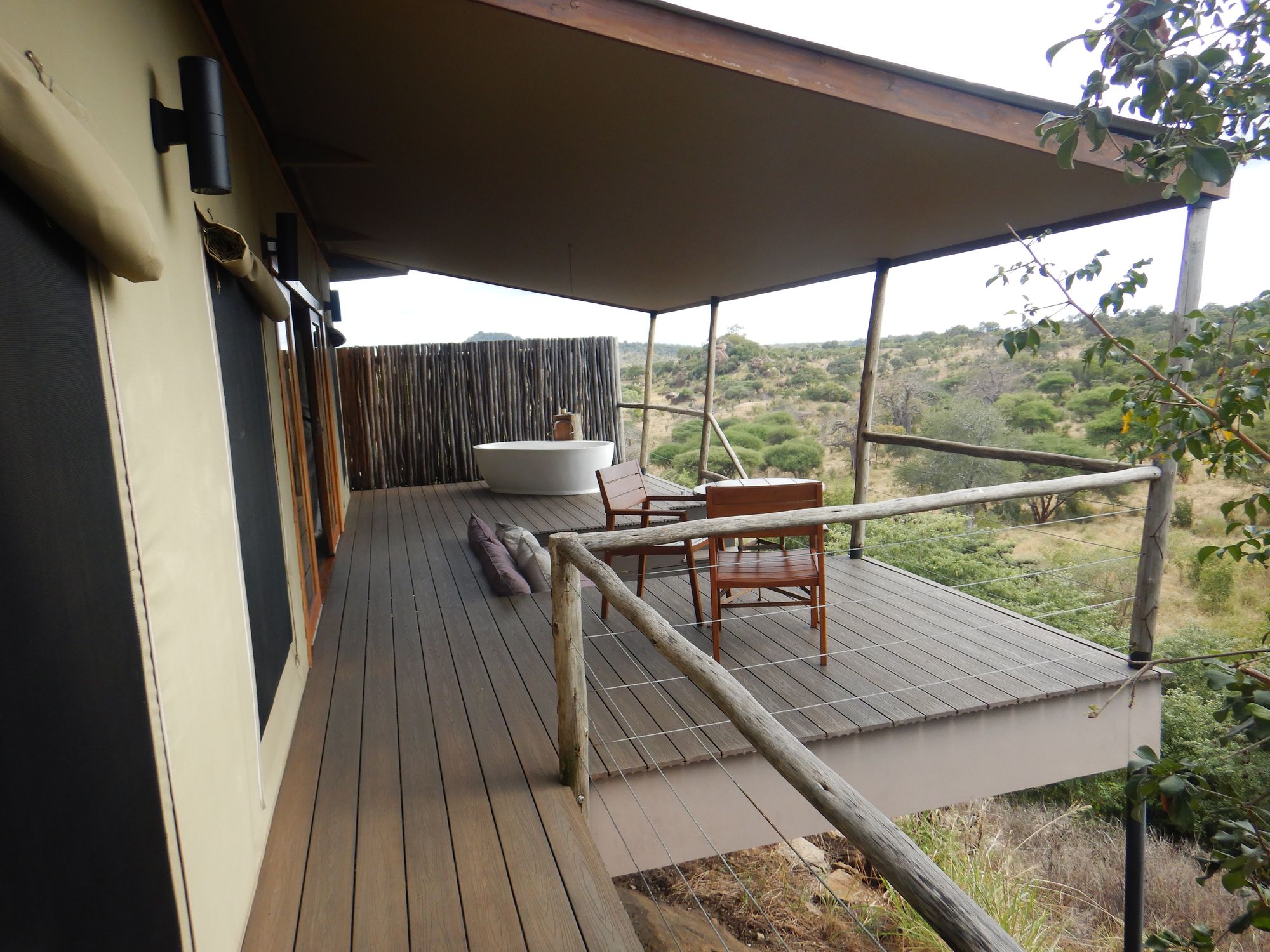 Once again, the staff kindly positioned my table so that I could enjoy the updraft.
Behind me, the sun did what the sun always and forever does in Heaven. I would be back to see it return on my last day, after one more soak in that fabulous bathtub.
At four am, shortly after I woke up, I emptied the coconut and lime bath salts into the deck tub. Then, as the tub filled in the early dark, I watched the night birds swerve and dive to catch the insects drawn to the lights behind me.
Then I lowered myself into the embrace of the hot water one last time, just to lock in the memory.
That morning, with Dennis and the staff making sure that my last minutes were magnificent, I watched my final sunrise in Heaven from the deck: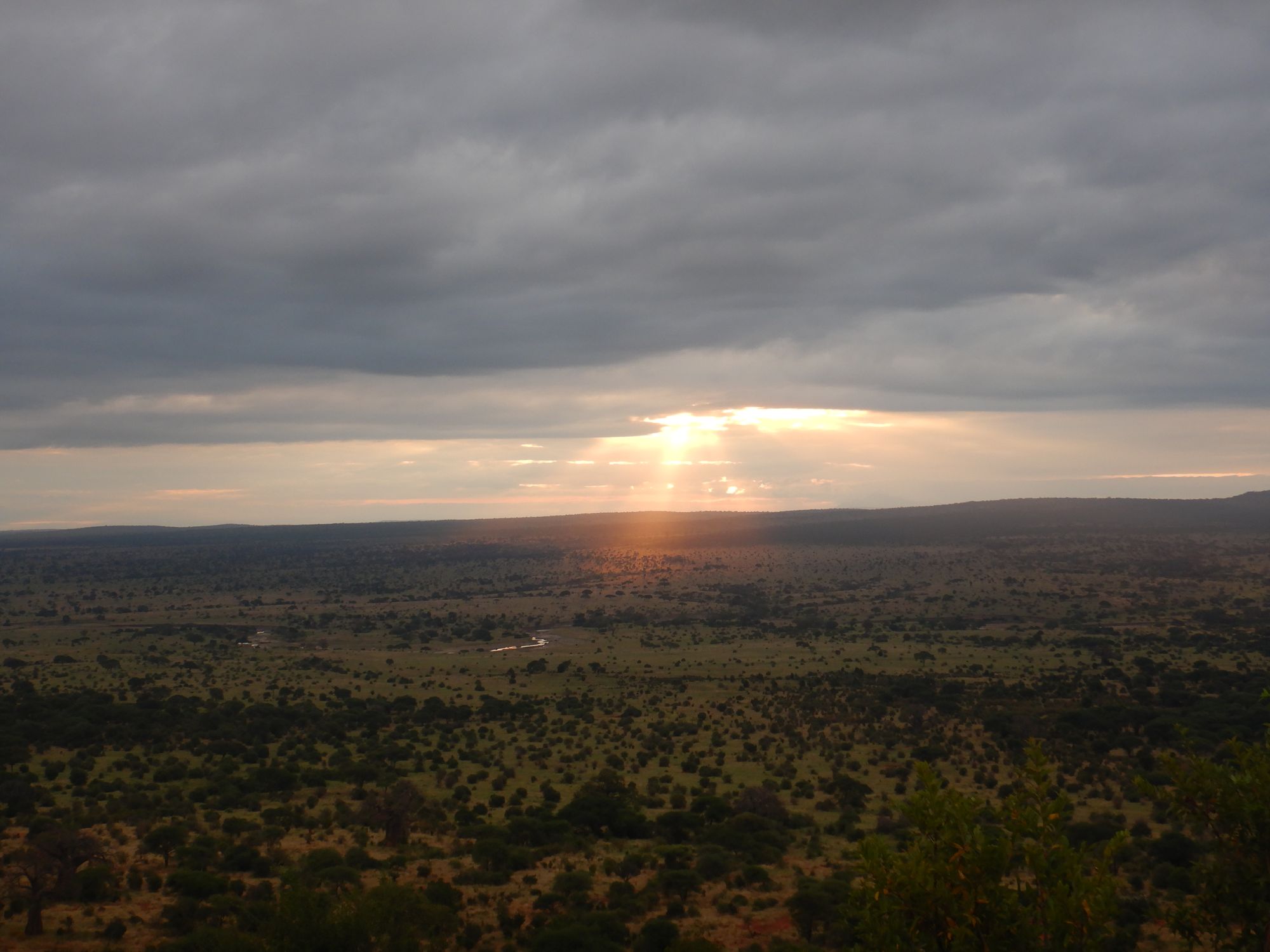 Alladin was ready to go all too soon. I wandered the gift shop (again, loaded with selections from Shanga House), as always left a generous tip in the tip box (please remember to do this, it's customary), and said farewell and thank you to the lineup of employees as I made my way to the vehicle.
This goodbye is also customary, to remind you and me that not only are the people of Lemala very happy to see us, they want to see us again. It's not just our dollars which are welcomed out here, it's the fact that we have been transformed. Perhaps when we share our stories, others will want to come.
The more who come to Heaven, those who choose wisely that is, the more impact Lemala can have on the people, the place and the future of this Heaven on earth. Sustainable tourism is the only way of the future. When we support it, we do far more than return with vivid memories of our own.
We ensure that others have better lives too, and that includes the animals we come so far to see. I bade a fond farewell to Lemala Mpingo Ridge, its employees, and Alladin drove off in the dust as I waved at the elephants playing in the mud. They get to stay in Heaven, and it's our job to make sure it stays there for them.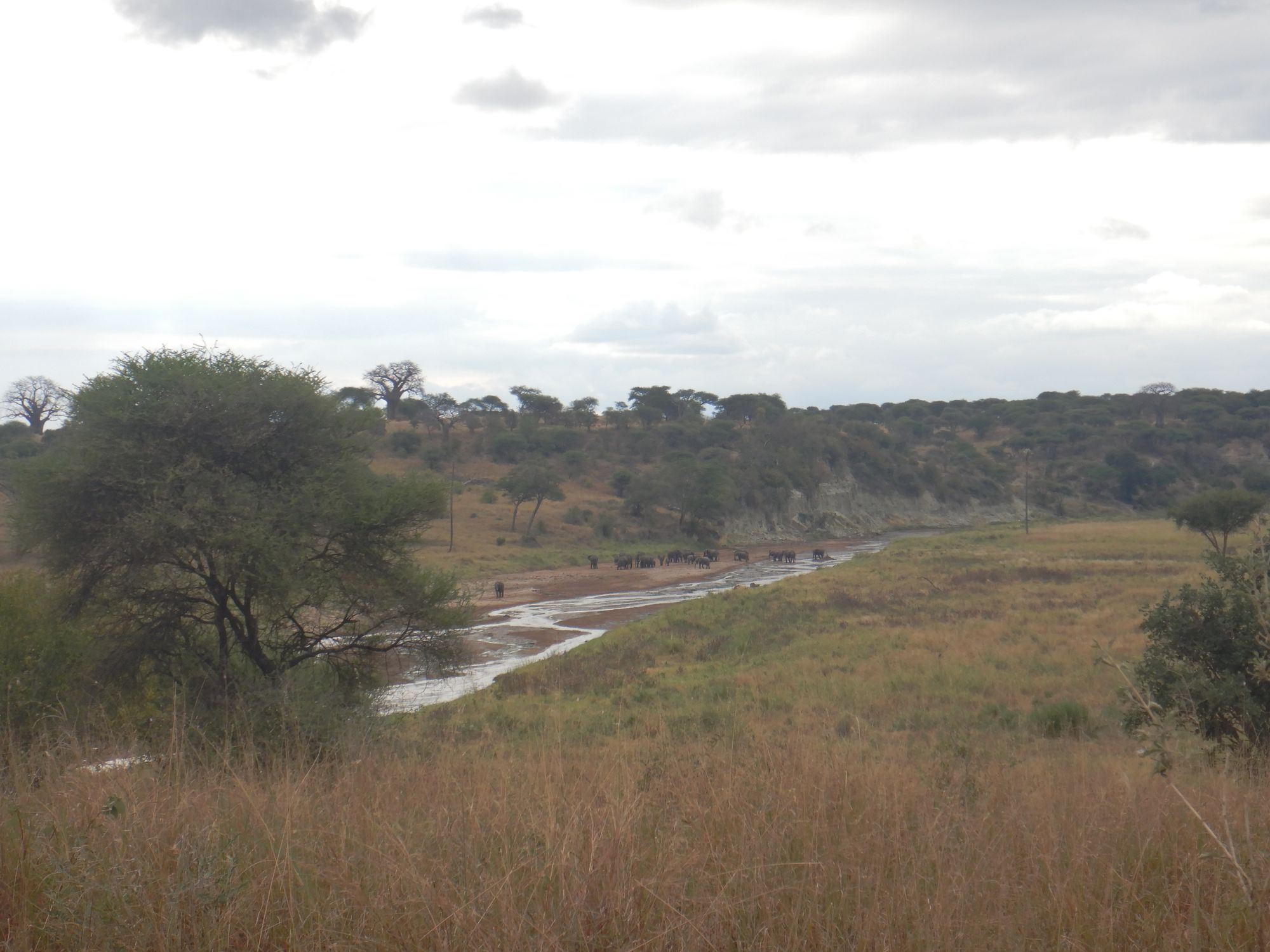 Dear Walkabout Saga Reader:
If my work appeals to you, may I kindly invite you to consider joining those Patreon supporters whose generosity keeps the gas in my tank as it were. Those supporters get to dictate my content calendar, we engage as a community, and this website and its content acts in service to our collective best selves.
You can explore that option here.
However you decide to partake of my writing, thank you.