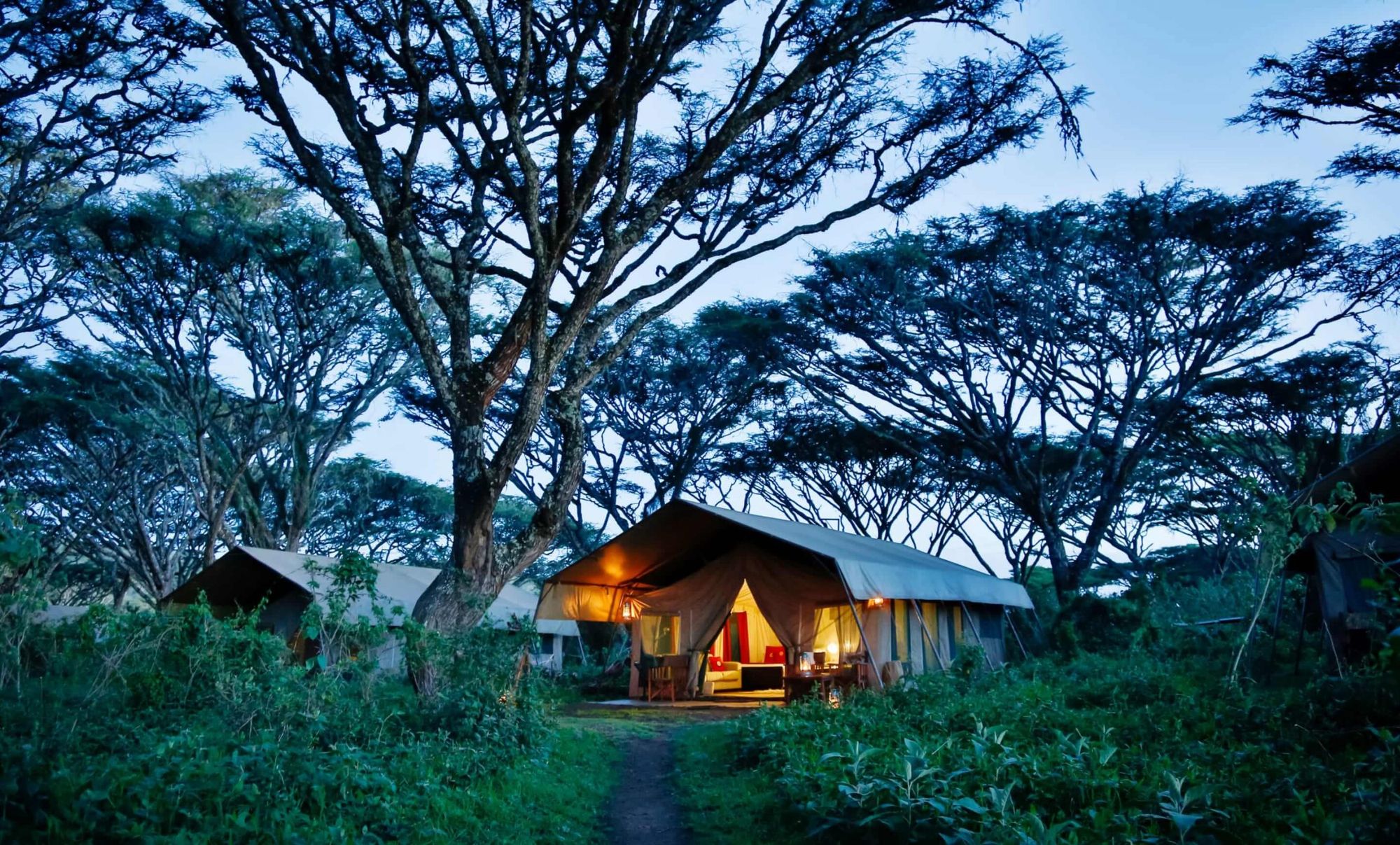 A storied crater reveals her beauty and her beasts, and I stay in magnificent comfort under the umbrella acacias
Dear Reader: this it the third installment in articles I'm writing about my safari in the Serengeti and beyond. I'm writing about how one company's tented camps and lodges in this part of the world represents a significant leap forward in sustainability while not reducing comfort one iota. I'm also sharing what brings me here, which is that very environment worth saving, and hoping to inspire you not only to head on over but also to make informed decisions about where you stay. It does matter. I do not work for Lemala; all photos used with permission.
Alladin, my eTrip Africa guide, and I rolled out of lovely Lemala Nanyukie tented camp into the bright sun. We were loaded up with the handwoven lunch baskets which are part of the Lemala signature to reduce all plastic use and employ the local communities. As we descended from the kopje, we passed cape buffalo and their calves and once again, rolled out into and across the ocean of endless grass that is this part of eastern Tanzania.
We were on our way to one of Tanzania's most popular destinations.  Part of Ngorongoro Crater's immense popularity is its proximity to Arusha. Depending on your route and how often you stop, it can take between about four and five and a half hours. Since we were already in the bush, for us it was a different kind of drive.
Already in the eastern Serengeti after staying at the Lemala Nanyukie lodge, our drive would take us across vast open plains of waving grass with fewer of the typical rock kopjes which had dotted the lands around us like islands. Out here, the lions could disappear into the gold waves like wraiths.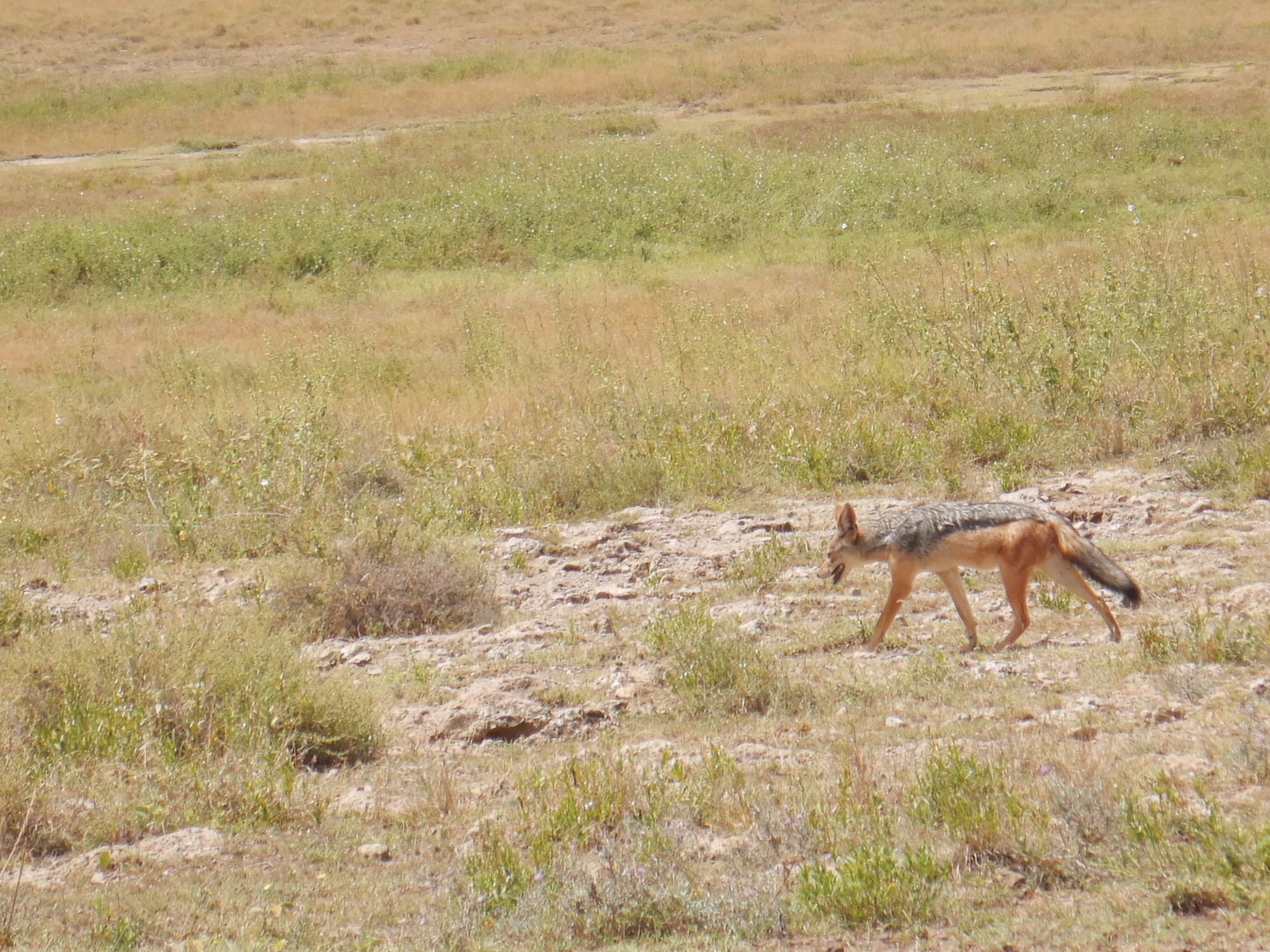 Also tough to spot are jackals, whose senses are fully developed for they are both scavenger and hunter, are nearly invisible out here. Their variegated coats can give them away if you have sharp eyes. We saw a few, along with plenty of Kori bustards stalking for any available food. Male bustards may be the heaviest bird capable of flight, and their distinctive way of walking/stalking makes them easy to spot.
Along the way, we passed one large kopje close to the side of the road. Even from a distance you could see the lumps atop the great boulder which indicated that a pride was spending a lazy afternoon in the warm sun.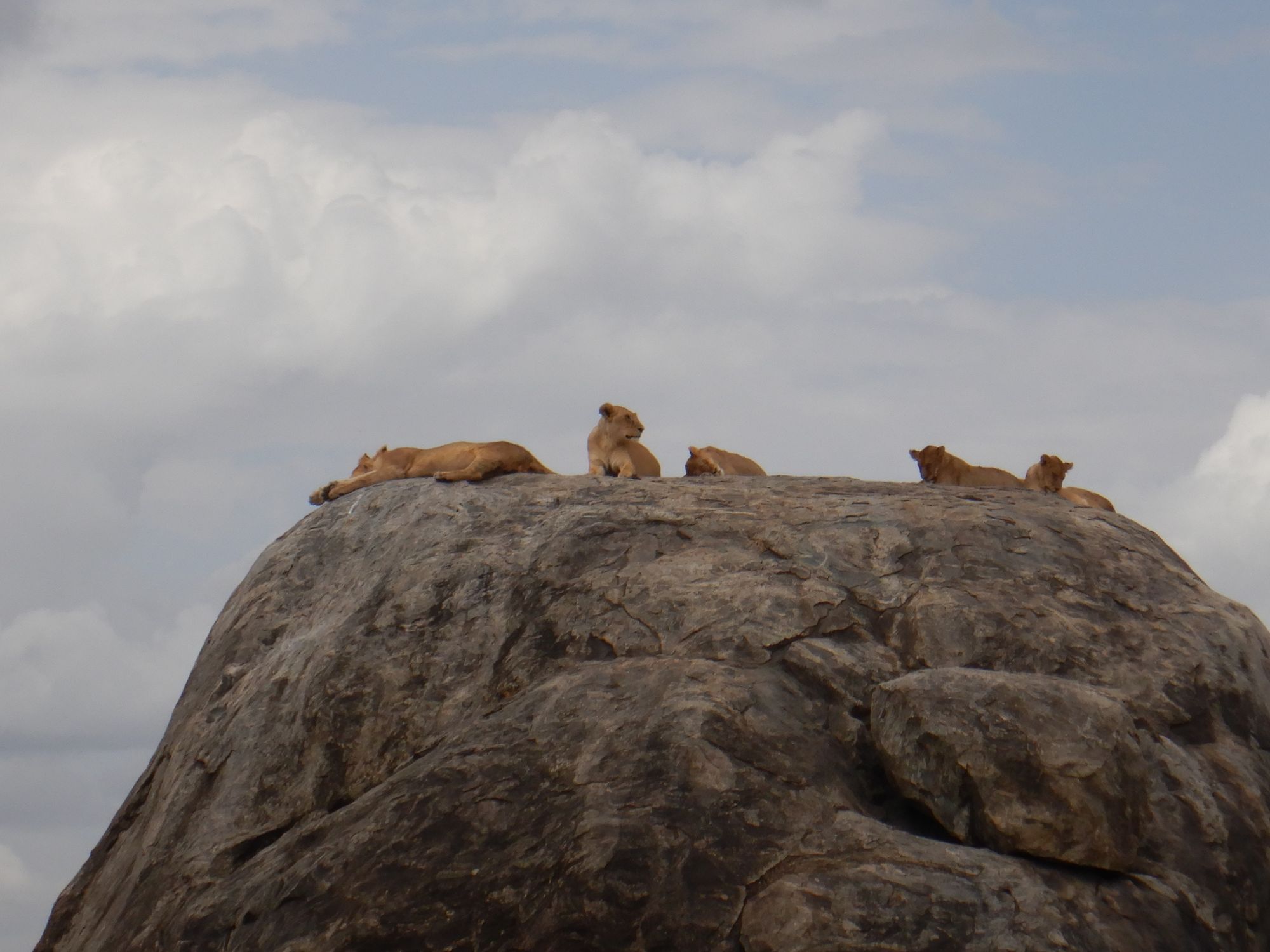 We also passed what Alladin referred to as a gang of male lions. These had become famous for being bad boys, he told me. Some fifteen of them would muscle in like hairy Mafia and simply kill other lions, leaving them for the hyenas, before moving on to other prides.
Even Nature has her bullies.
A high point of our drive: I was finally, finally able to see what I had heard about and read about for years. We had reached a spot on our dusty clay road where a part of the million-strong wildebeest migration was crossing.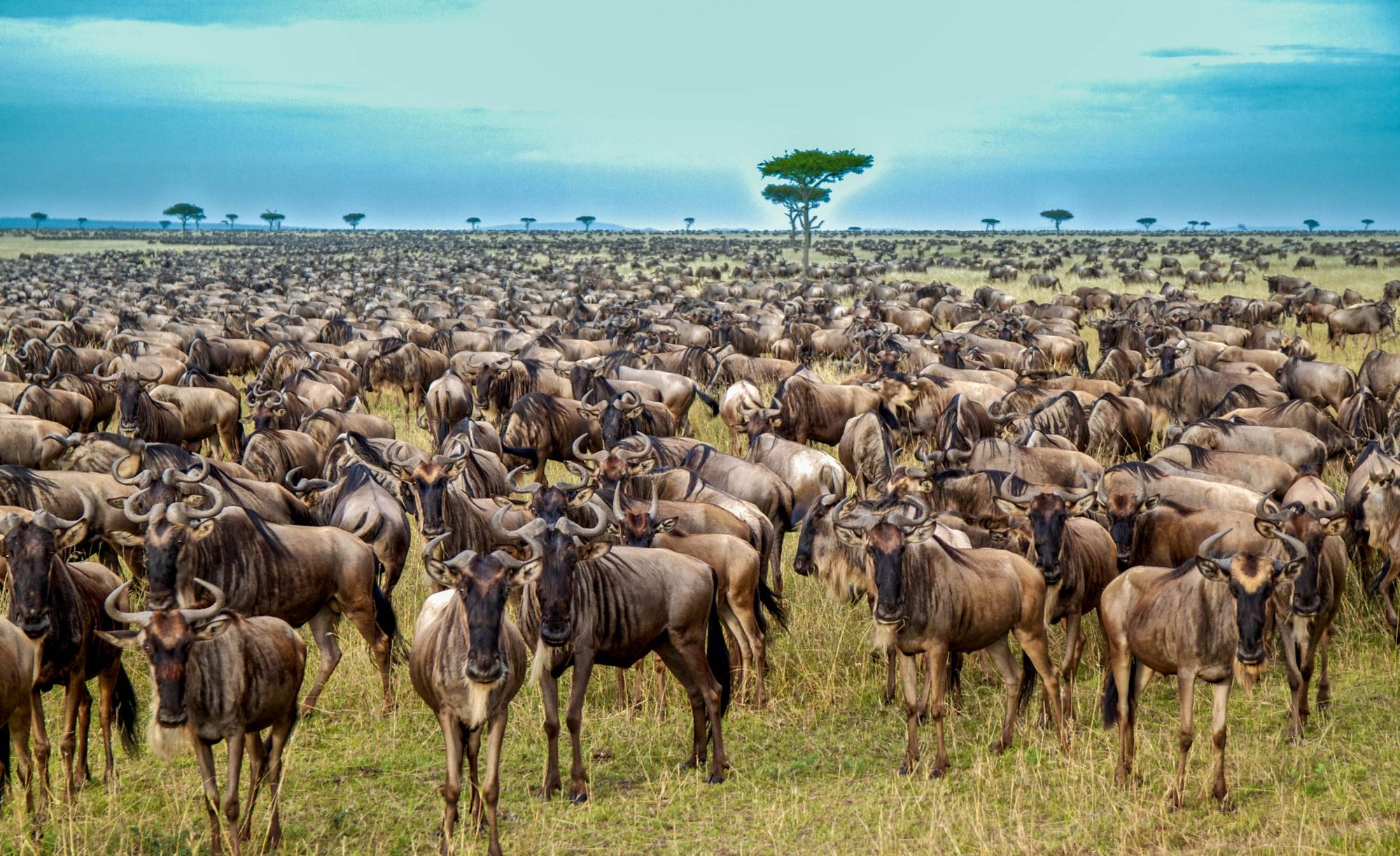 These animals are driven by instinct, Nature, the availability of good fodder and the need to calve their young in  particular area where the local grasses provide plenty of minerals to build strong bones.  This annual migration is famous world-wide. Now I was watching it unfold right in front of us. Proper food and constant movement help the calves build their strength to help them cross the mighty Mara River in Kenya, just over the border. Even so, some 40% of the calves die every year falling to prey, drowning or unable to make the trek.
I leaned out across the top of our Land Rover and panned my camera 180 degrees. As far as the eye could see, the wildebeest were moving. The males were grunting territorial challenges, and many were chasing other males away from their harems. In this vast nation of animals, the fights over who got to hold onto whom would cost many a male a limb. That alone was a victory, for the injured male, forced to slow down and unable either to escape or disappear into the moving herd, would be easy prey for any predator.
While we weren't watching them cross a river, this photo from the Lemala gallery gives you a pretty good idea of what we were seeing: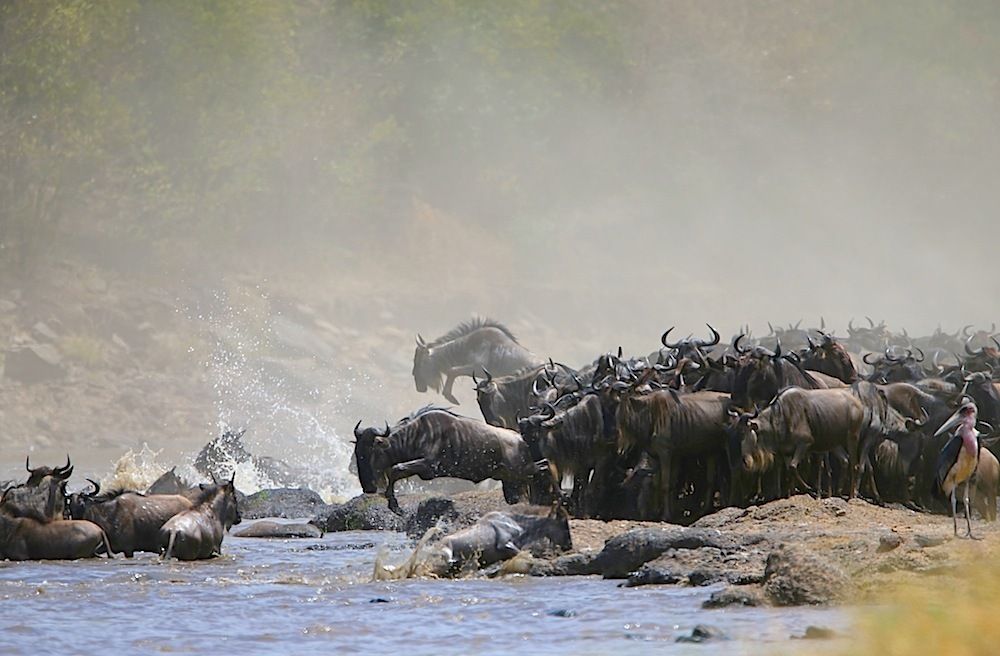 Eventually we reached the entry point to Ngorongoro, which meant paperwork and a lunch. We chowed down under a covered picnic table close to where several men were weaving traditional roofing for those tables. Alladin and I watched for a while, then he commented,
"That's art." He's right. It was beautiful craftsmanship, a skill handed down over the years. Grasses were cut, carefully secured, layered, cut again, tapped in for a perfect line. Hours of labor, for a beautiful and very functional result. Rain doesn't get through all that, and the end product left no manufacturing mess. When the roof finally outlives its purpose, you simply spread the grasses where they could become mulch.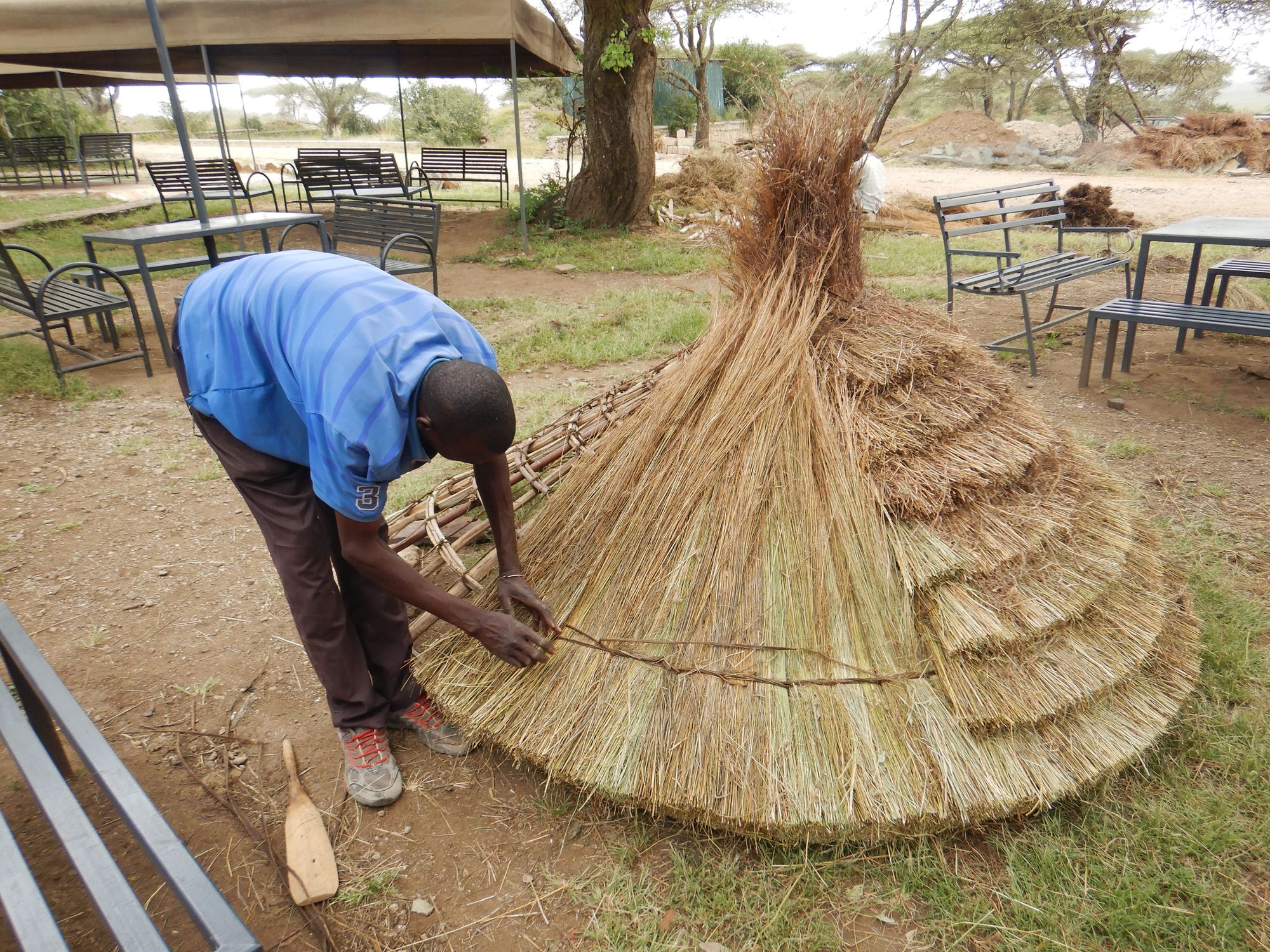 "And we're losing it," he added.  That's also true.
To be here is to also witness a world undergoing massive change. Some, perhaps, not so good. To be able to see this kind of work still being done was deeply satisfying.
Ngorongoro Crater is just one part of a vast conservation area which also includes the grasslands, woodlands and bush through which Alladin and I had traveled. The Crater itself provides a unique opportunity to observe the animals and their predators, for here they don't have to migrate. Water, grass and all the conditions conducive to life exist, making a visit nearly perfect to see wildlife and bird life in abundance.
For my part, when you add to that the altitude and the lush vegetation which spills like abundant ivy in all directions as you climb higher, this makes for a unique experience.
That was underscored when our Toyota got stuck behind two other vehicles on our way to the Lemala Ngorgoro tented camp site. We were just in time to see a massive bull elephant, ears straight out in full confrontation mode, lift his trunk skyward mere inches from the lead vehicle.
Wisely, Alladin put our vehicle in park and turned it off. Whatever happened next was likely to take a while.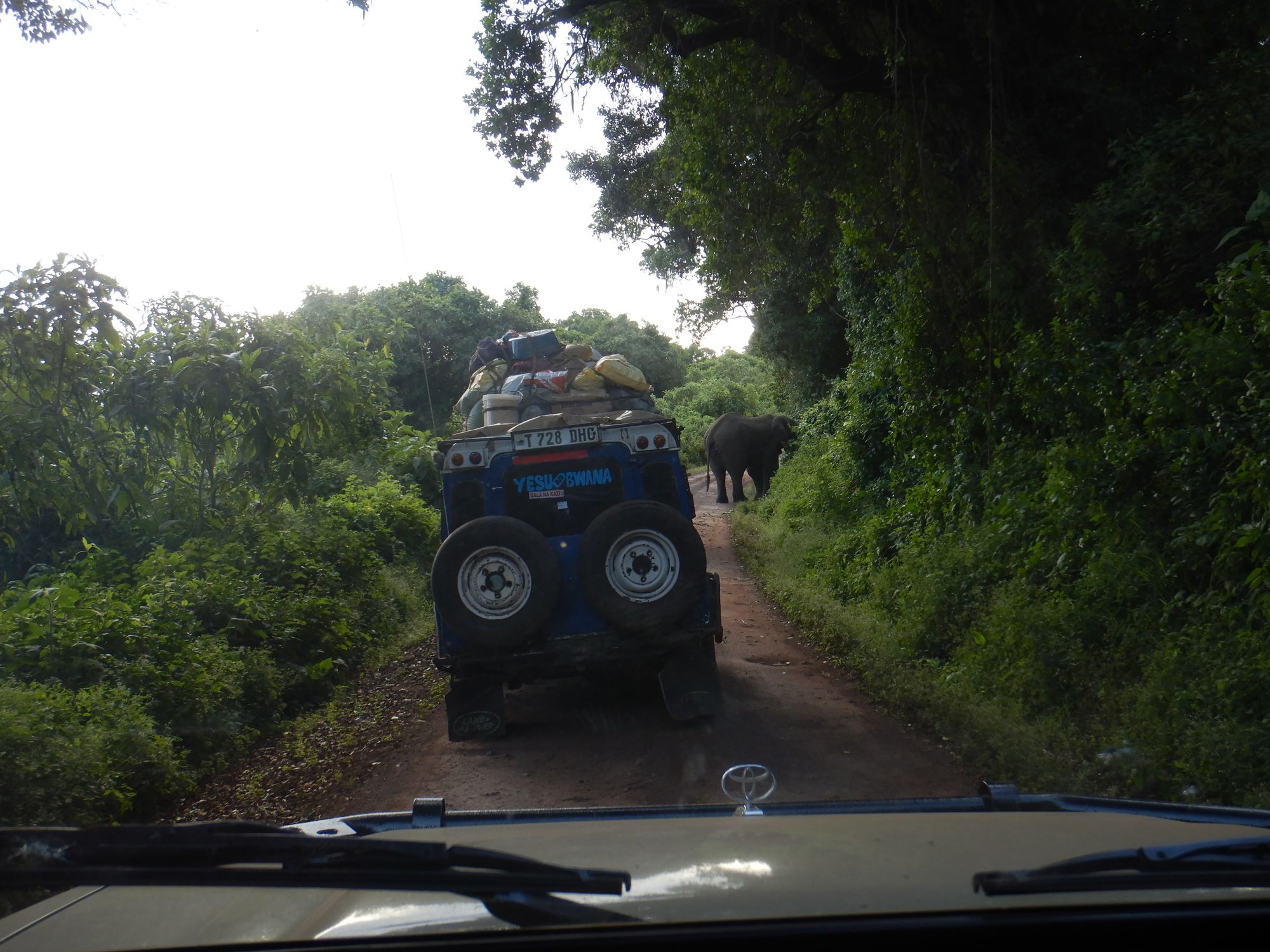 We watched in silence as the elephant moved his ponderous bulk to feed by the roadside, his body still blocking us. Finally, he disappeared into the forest.
The first vehicle gunned and took off. So did the second. We drove by more slowly. From inside the Land Cruiser I spotted the enormous bull looking through the leaves right at us, ears still in alert mode barely inches away.
Beautiful, but potentially deadly. That would give brand new meaning to the term "road rage."'
As if to make that point, not far up the road, several women were picking up the firewood that their terrified donkeys had scattered all over the road when an elephant had suddenly appeared. Another driver told Alladin, who had stopped to check (it's rude not to), that he was staying there just in case the elephant came back.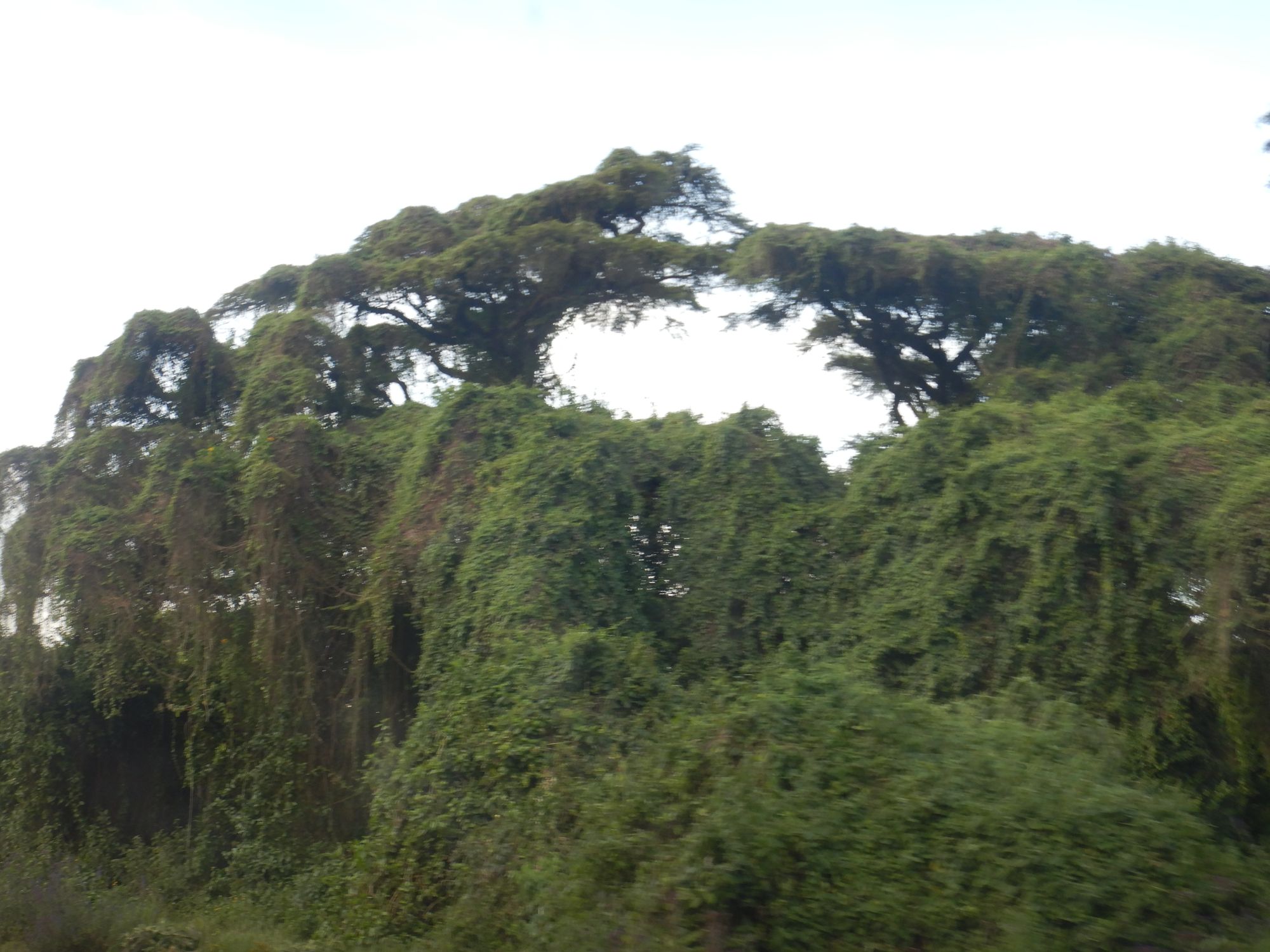 By the time we had finally begun to curl around the final few corners into the Lemala camp, the world had grown much darker. Up here, the umbrella acacia trees form a dense canopy overhead. From afar they look like rippling carpet. Underneath there are abundant, rich growth and wildlife.
And lucky for us, a gorgeous tented camp, our destination.
Seth, the Lemala manager, and another employee greeted me by name and as before, Alladin and I were offered the sweetly-scented cool towels to wipe away the day's dirt.
Seth's team got me checked in and straightaway walked me to my tent.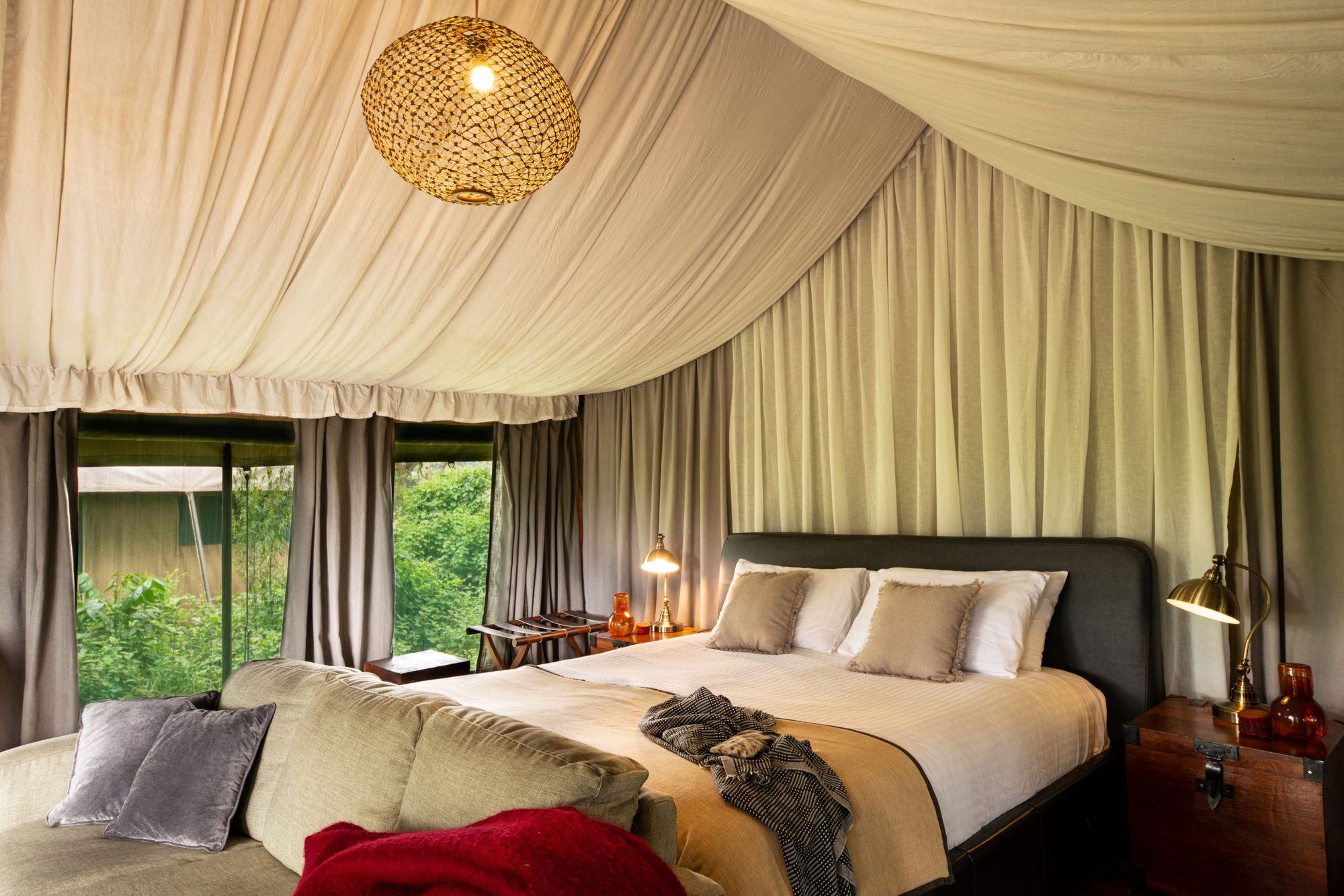 Praygood, my Maasai guide, had set up a heater in the room, knowing that the temperatures would soon be plummeting. I can't speak for anyone else but for my part, the colder the night, the better the sleep. However, knowing that at least until I got ready for bed I'd be enjoying a heated room, that was a comfort I'd gladly accept.
Lemala Ngorongoro's reception area features planking which mimics wood but is actually recycled plastic. This, along with the many other efforts for conservation, reminded me that up this high, this far away, these efforts count even more towards helping preserve such a beautiful place.
Again, in case you haven't seen this, please consider reviewing this from the Lemala website: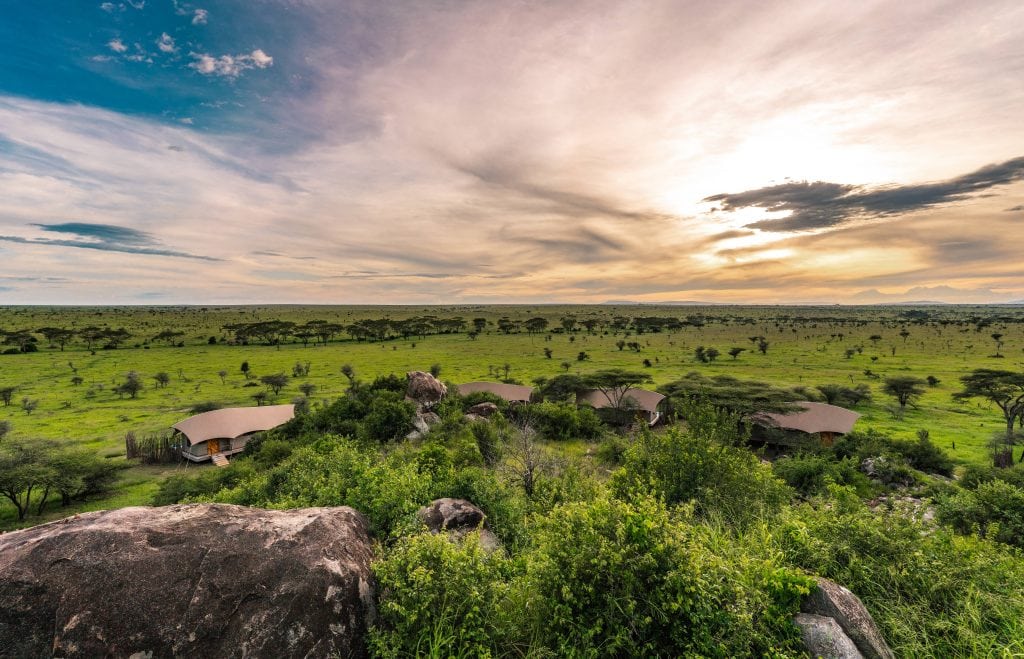 One of the advantages of this location is that you are very close to the wildlife viewing, so the journey to some of the best viewing in all of Africa is just a few minutes away. We'd arrived rather late in the day, and as an early-to- bed type I was eager to get some rest. I called on the walkie-talkie to get my Maasai guide back to the reception area, his flashlight providing a broad swath of light so that I could keep up with his pace.
This camp's wifi-was also available in the reception and dining area. It's a smaller and more intimate space, with a completely different feeling to it than the other camps. Here, being at the edge of the crater, high and cool, and enveloped by the secretive and mysterious cover of this great forest, I felt a real sense of closeness that was underscored by the warm smiles, wonderful food and many kind gestures.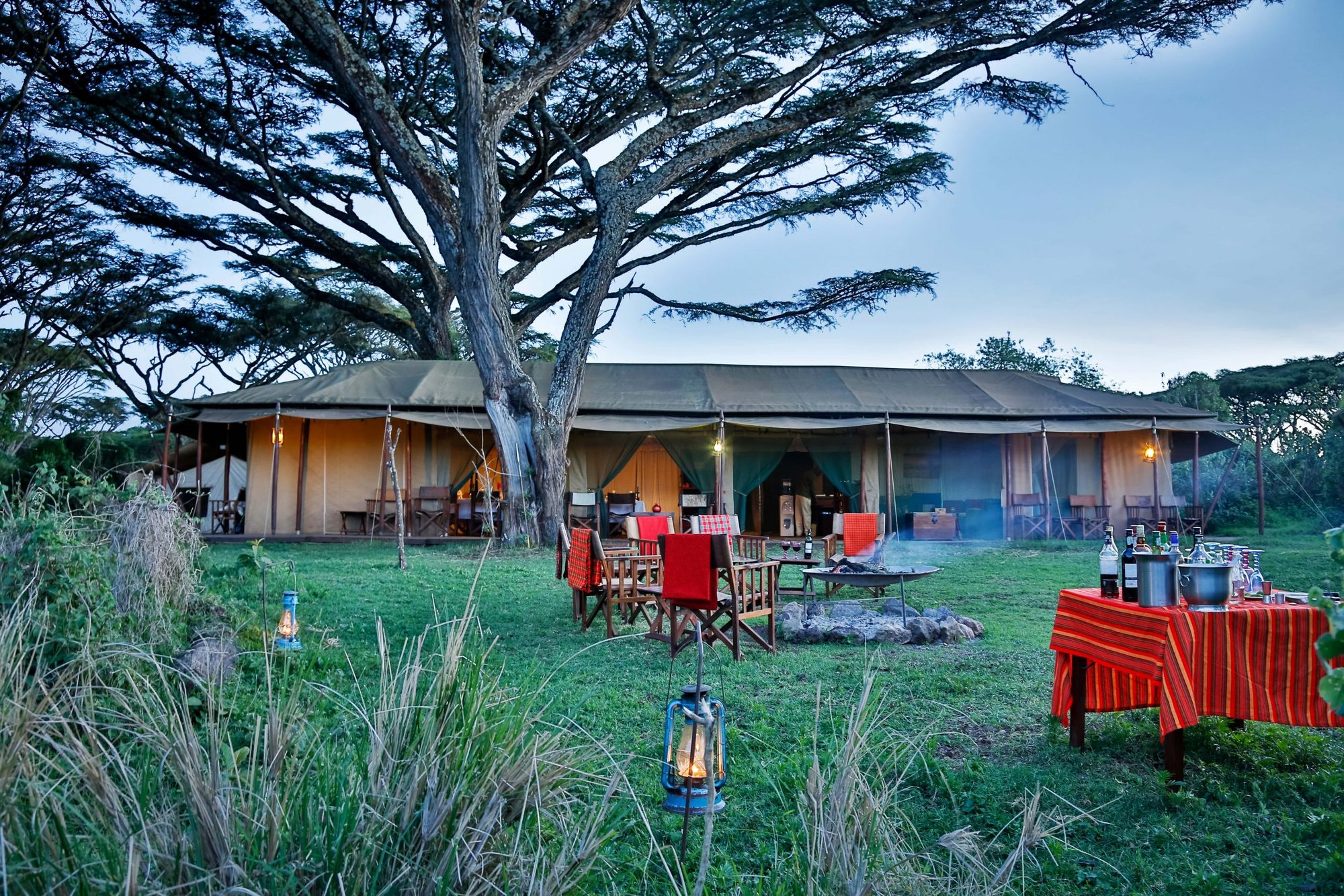 Ngorongoro had been where the Maasai chef who had delivered such a fine meal to me in Ewanjan had been trained. Seth, our manager,  was new on the job here too, and his eagerness to do the right thing by all his guests was obvious.
Lemala's kitchen provided another perfect dinner, with the kind of attention to service that by this time, had become just what to expect. However with the light fading fast, I wanted to capture a few photos of other guests who were enjoying the fire pit: one honeymooning couple from Mexico and another woman who was happy to share a contact for horse riding in Namibia.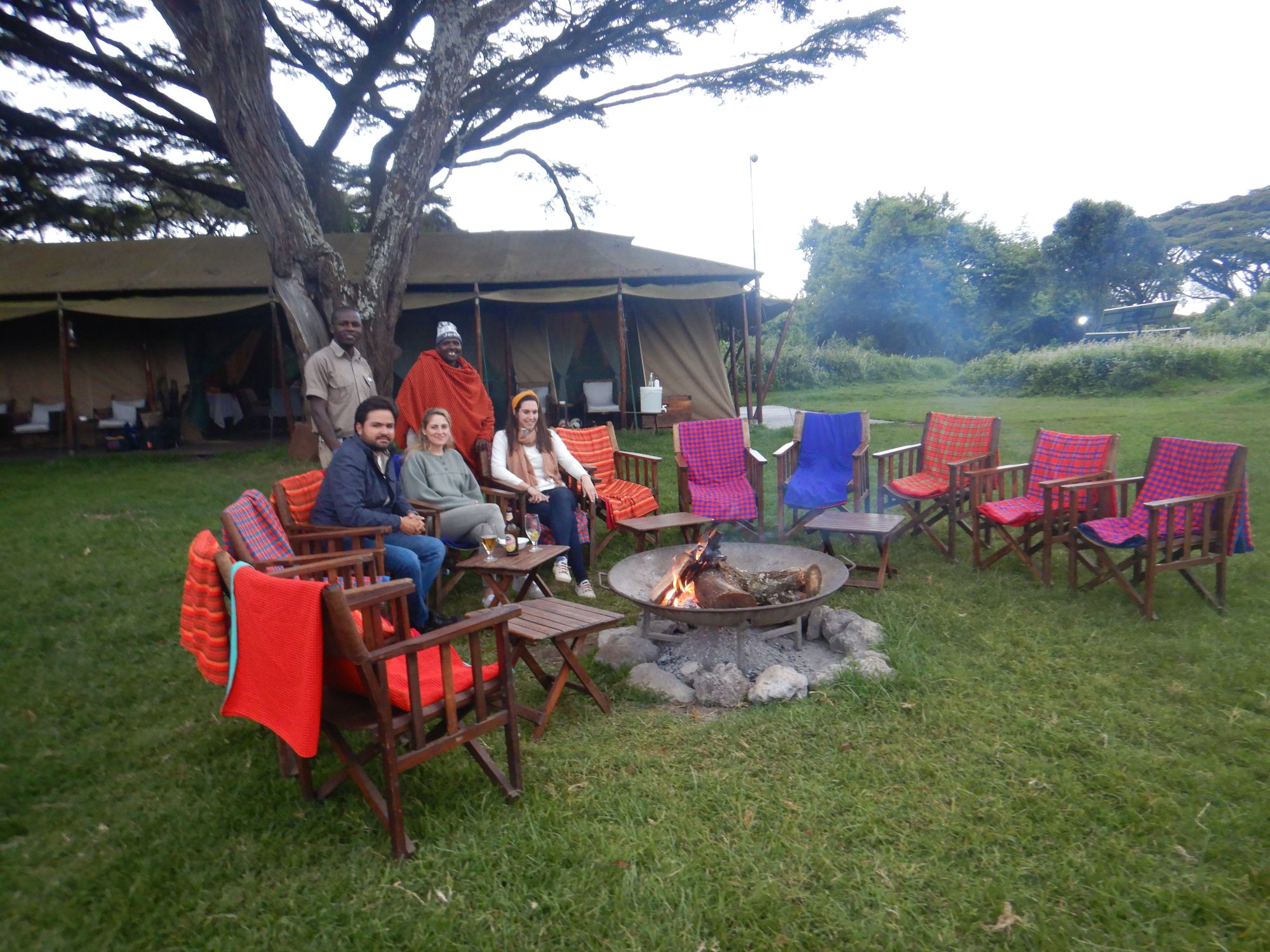 Of such exchanges, friends are made.
Under the canopy of trees, the Maasai warrior walked me back to my tent, where I collapsed into the soft bed as the heater's warmth slowly dissipated into the cold African night.
The next morning I woke up early to night sounds, which are the best symphony on earth. It was too early for anyone but the kitchen staff to be up, so I took advantage of the quiet to do a quick wipe down in lieu of a shower. There would be plenty of time for that at our next location and for my part, a good wilderness wet wipe fit right into the surroundings.
After a filling breakfast, Seth and the staff saw us off, yet again armed with those wonderful hand-woven lunch boxes full of customized meals for us both. I couldn't help but smile as I imagined losing one of those lunchboxes in the wild, only to know that the woven wicker and bits of wood would simply resolve into the forest floor. Not like plastic. Which is the whole point.
That small item multiplied by millions of visitors is precisely the kind of long-term impact that Lemala hopes to make. And since they will always need more lunchboxes, the people who weave them stay employed, ensuring that those families thrive.
I mention this because so often, most of us are so excited to be at the camp, to see the animals, that so many of these critically important details may pass us by. The lack of plastic bottles, for example. Solar power.  The recycled planking. They all matter, because those are the kinds of details which better ensure future honeymoons here, and the children who result of those honeymoons being able to see those same wonders.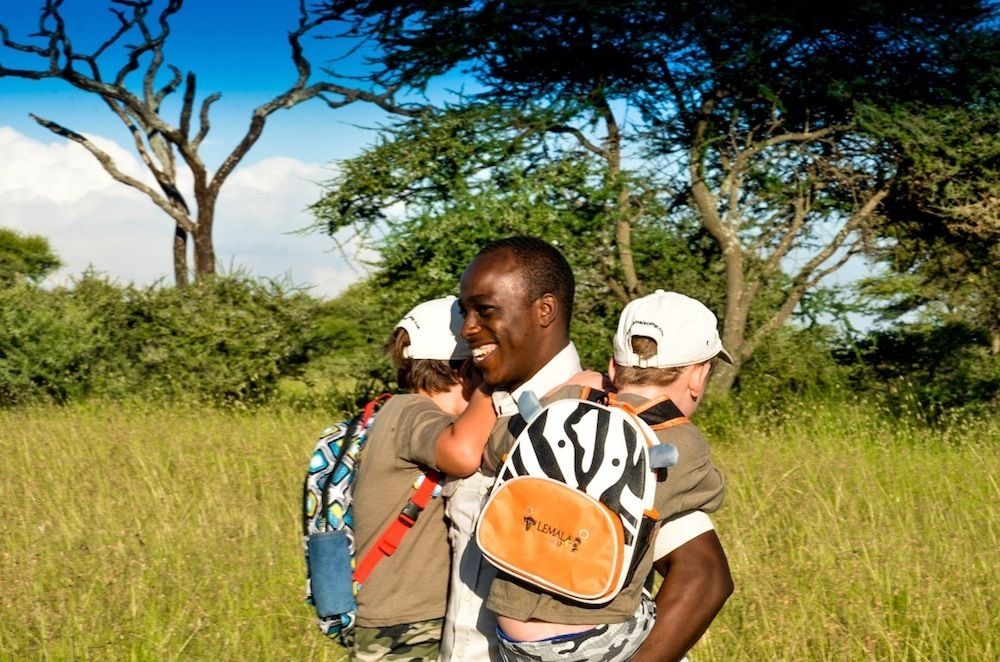 But back to our day in the great crater. Almost immediately, as promised, Alladin and I were in the thick of it with all the animals in all directions. Here, without the great imperative of the migrating herds, were far more animals standing quietly or calmly chewing their cud.
We drove up to a viewing area to find one vehicle with the tourists photographing a small lion family. Behind the car, however, was a good reason not to have to use the toilet just then: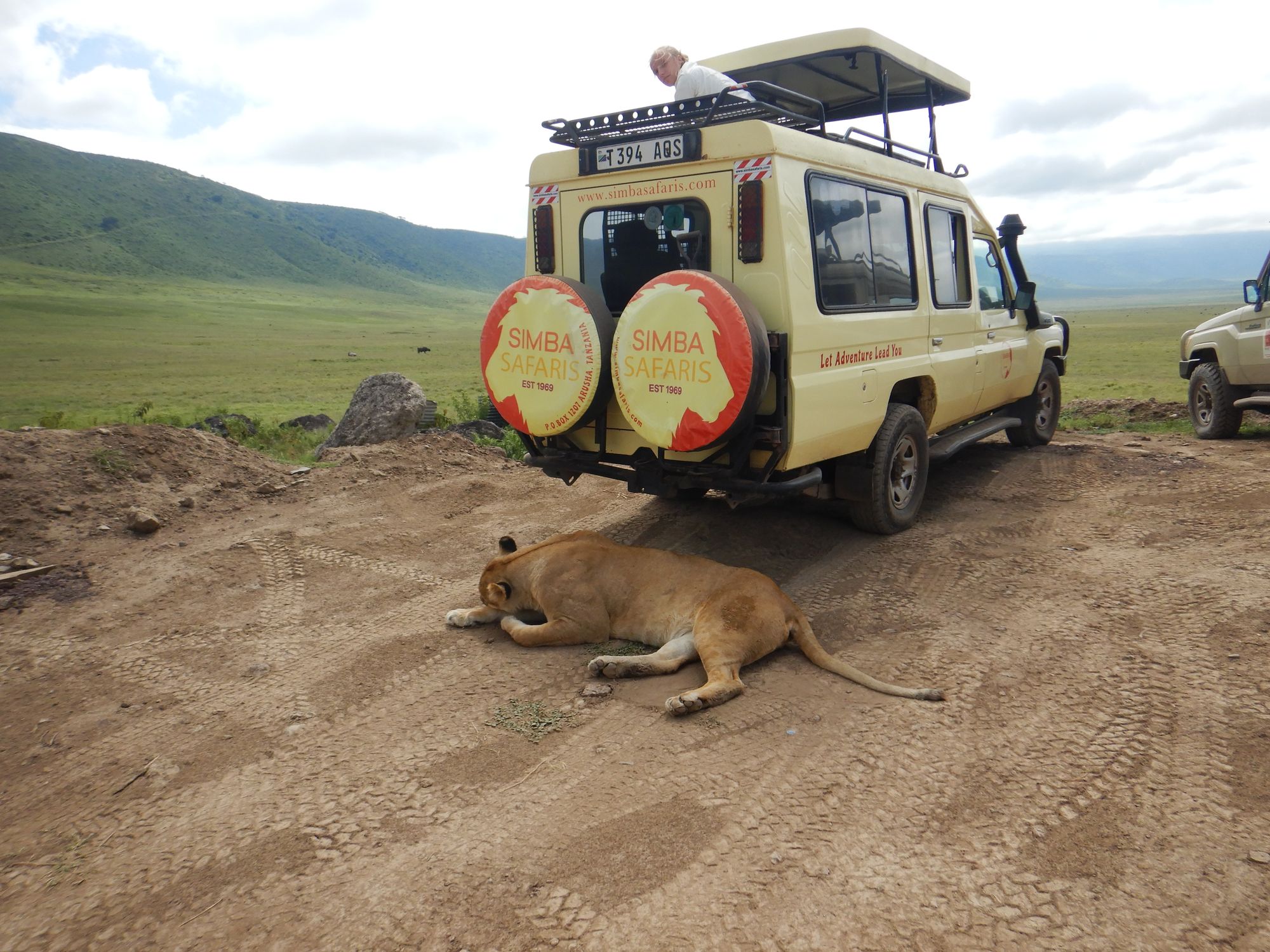 The driver of that vehicle took a look at ours, and informed Alladin that we had a flat tire.
Well of course we did, right next to a sleeping lion.
Alladin carefully backed up, kept backing up and kept backing up very....very...slowly, past this:
and kept backing up until we could safely K-turn our vehicle into a wide open space. We, like the zebras, had to keep an alert eye out in all directions while Alladin filled our flat with air enough to give us the pressure to get to a nearby tire repair shop.  That would take a while, but two things: we had a spare, which he liked keeping for real emergencies, and he thought this tire might get us far enough. He figured correctly.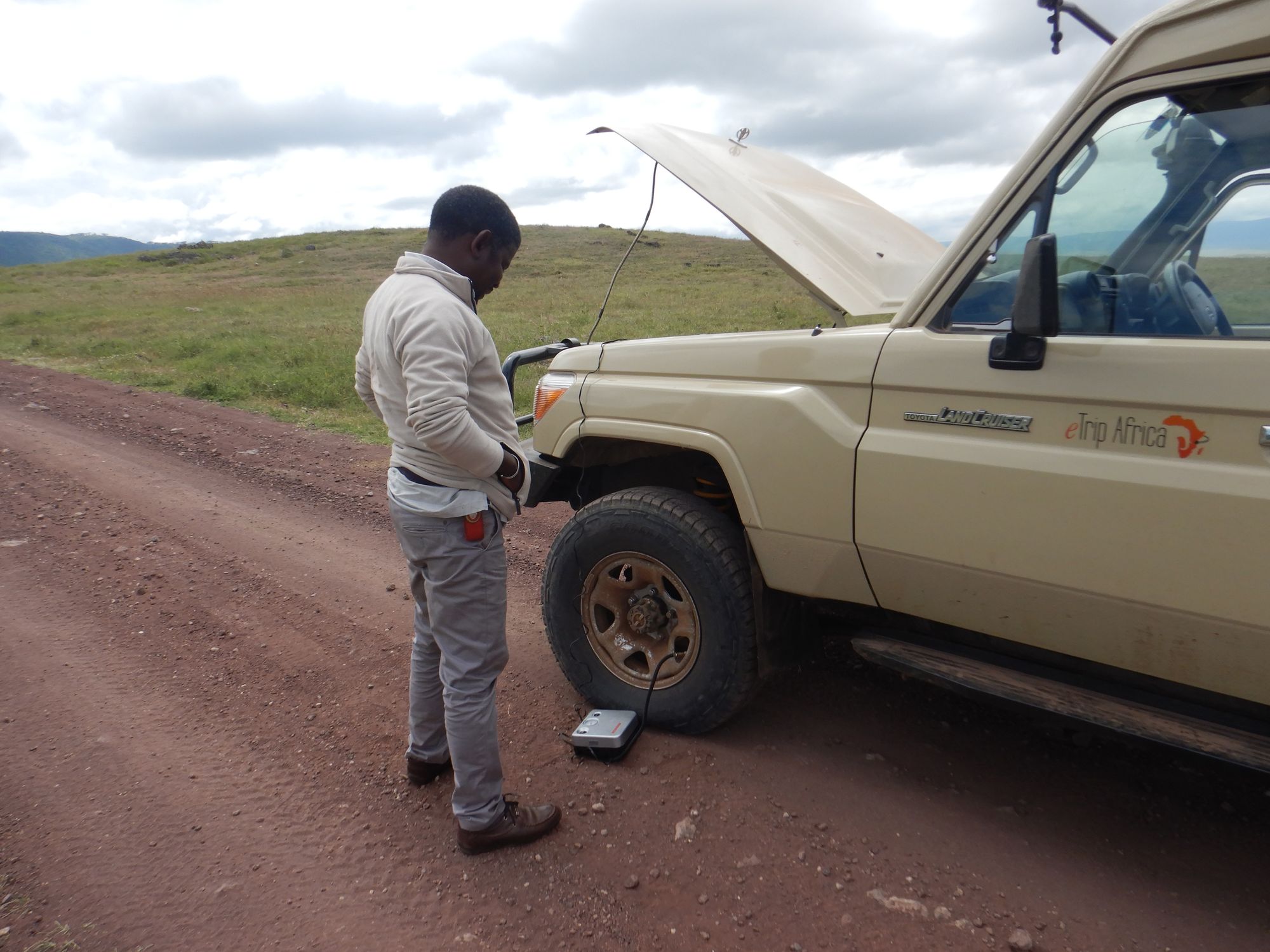 We made it to the tire shop in time. But I'm ahead of myself. Because the tire didn't deflate too quickly, we were able to take in a lunch, and just a few more sights: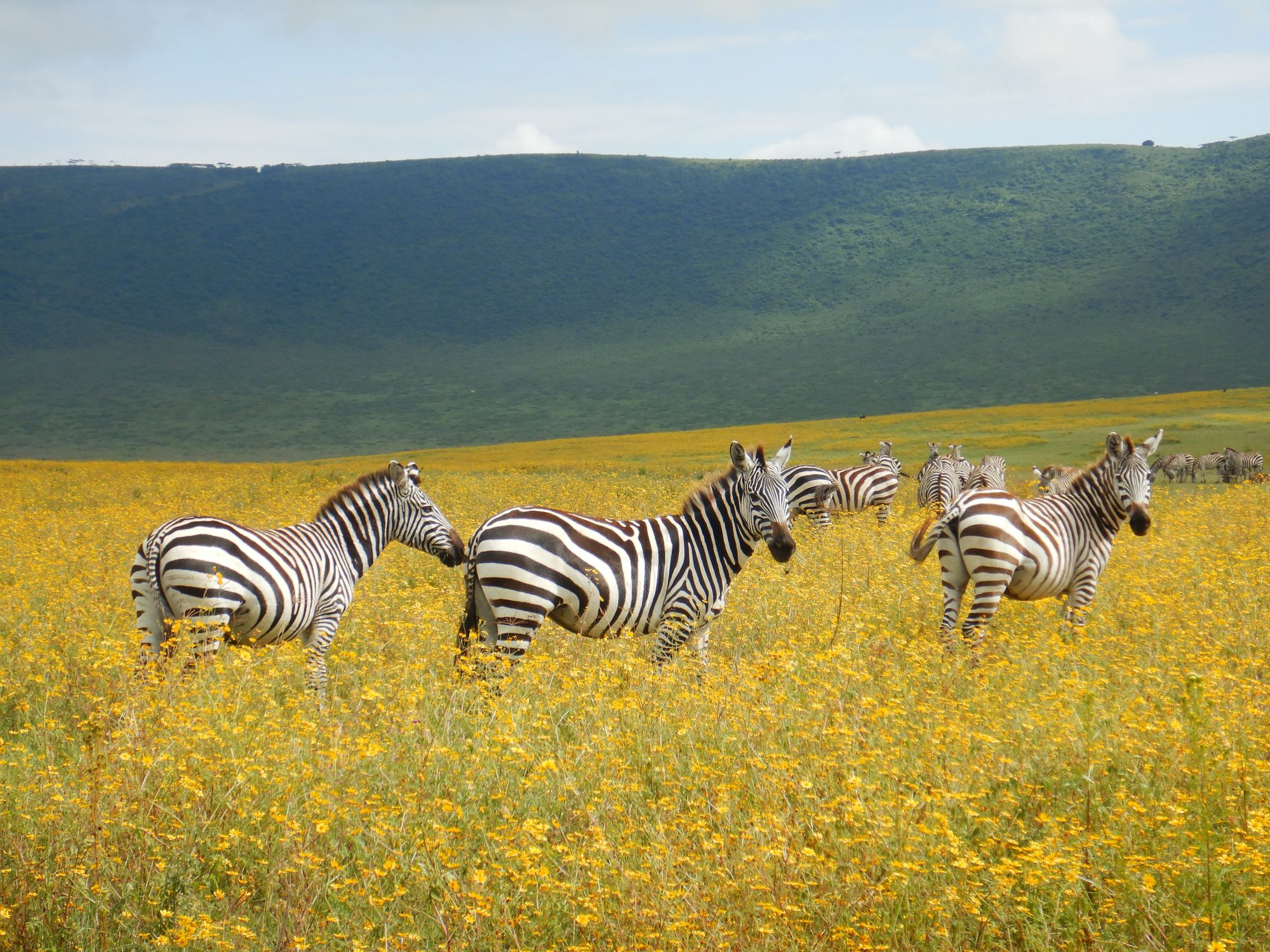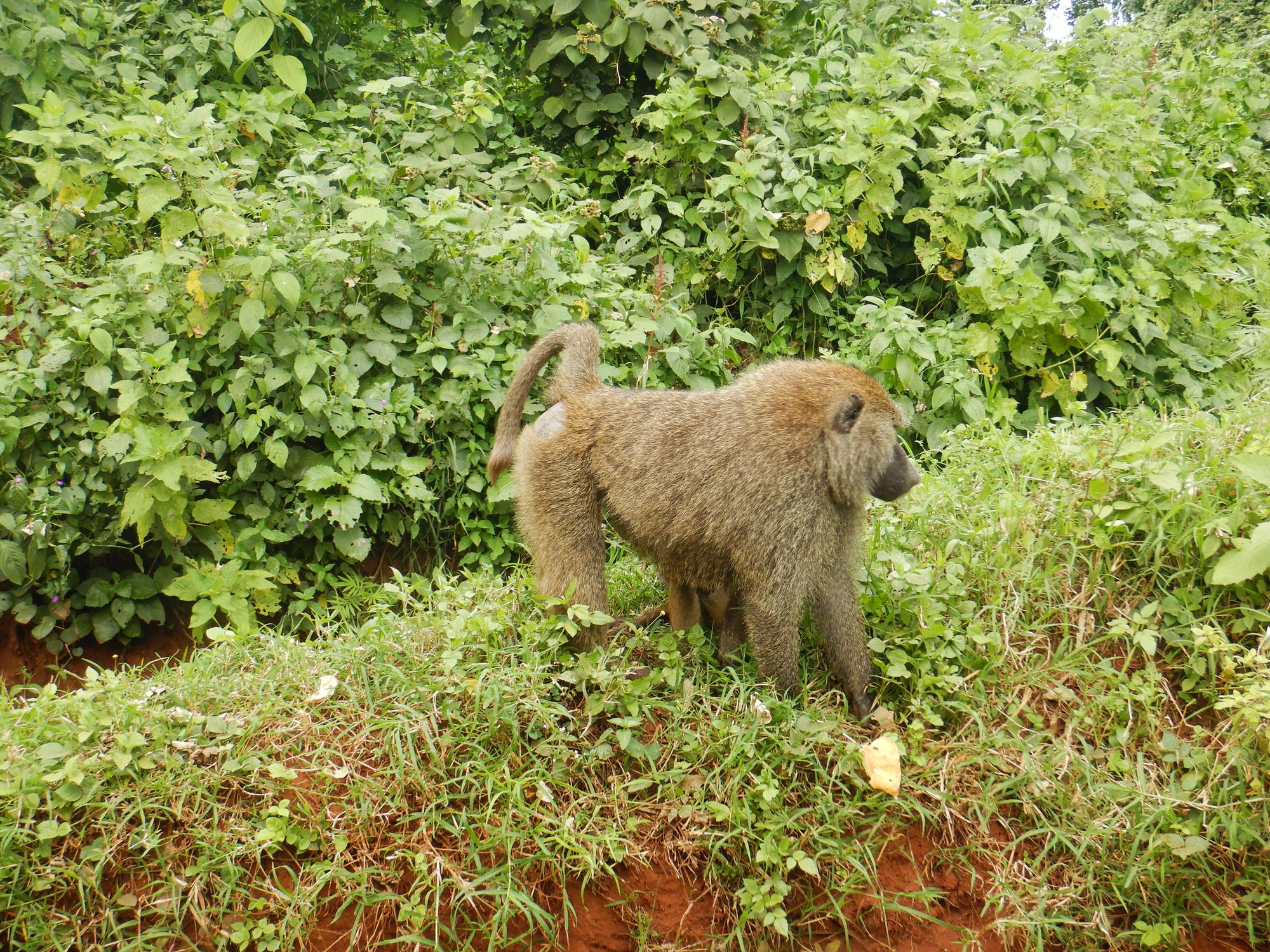 And so much more. But I'm going to leave it at that and invite you to consider making this trip. While the rest of the world does what it does, here in this part of Paradise, which is cool, green, and sometimes deadly, the world does what it has always done: mate, give birth, run, play, eat, sometimes get eaten, and then does it all over again.
Out here in what Alladin calls The World, is the real world.  In my opinion, Lemala has found a way to balance our very real desire to see The World with a way to reduce our intrusiveness upon it as well as increase our joy in being in it. That's the heart and soul of sustainability.
Part of our responsibility as tourists is to choose where we stay in such a way that our dollars are invested that commitment.  I hope you will give that some thought when you come, because some day, well, you really do need to experience Paradise.
Alladin's and my commitment was first, get that tire fixed, and second, make the drive to our final stop on our journey: Tarangire National Park.
But that's another story.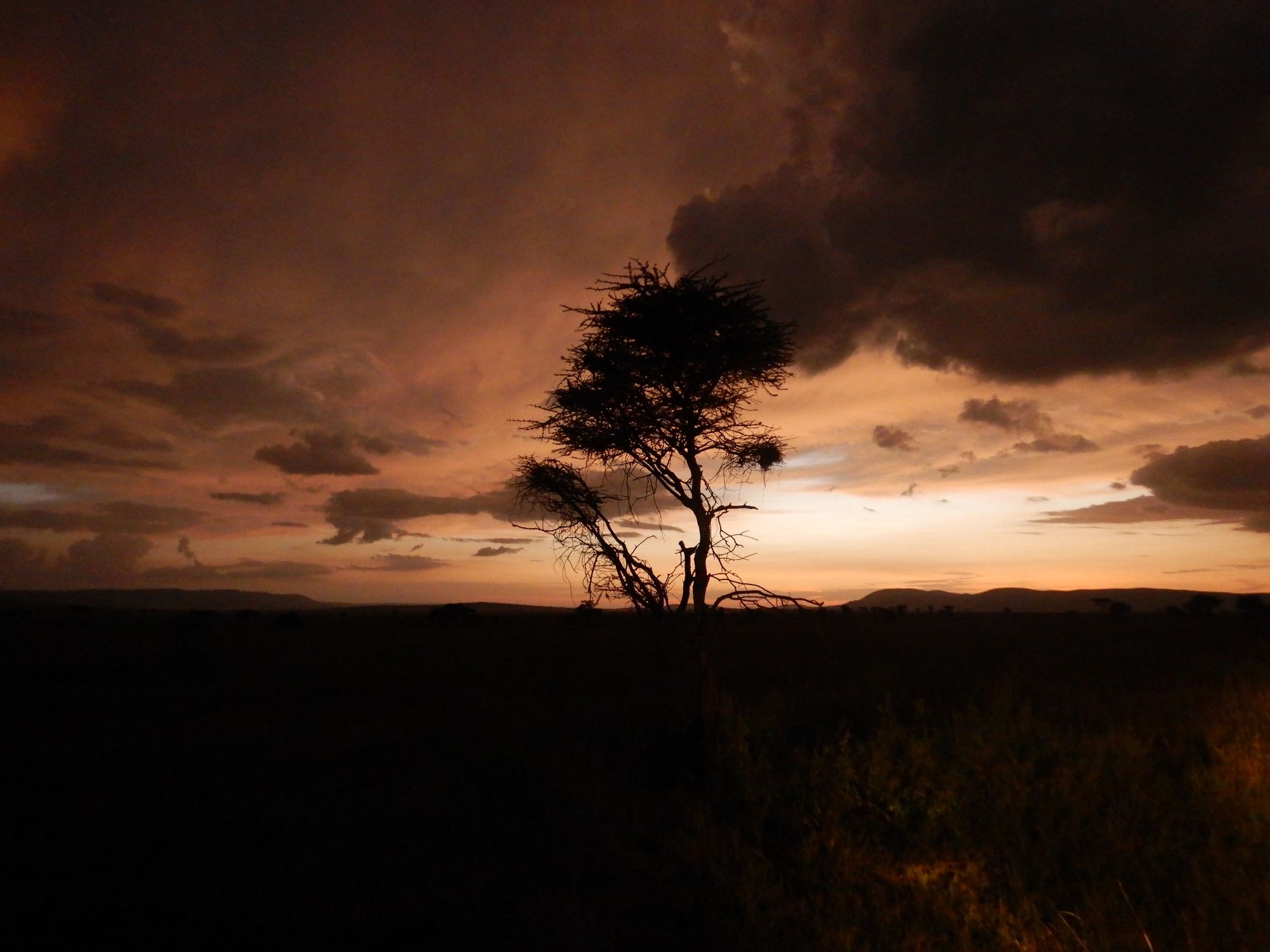 Dear Walkabout Saga Reader:
If my work appeals to you, may I kindly invite you to consider joining those Patreon supporters whose generosity keeps the gas in my tank as it were. Those supporters get to dictate my content calendar, we engage as a community, and this website and its content acts in service to our collective best selves.
You can explore that option here.
However you decide to partake of my writing, thank you.