The impact of seeing a 100-year-old fashion icon staring out at me from the paint aisles. It means a lot, as it happens. A lot.
If you're an over-fifty woman, it might well mean a lot to you, too. If not yet, wait a while. It will.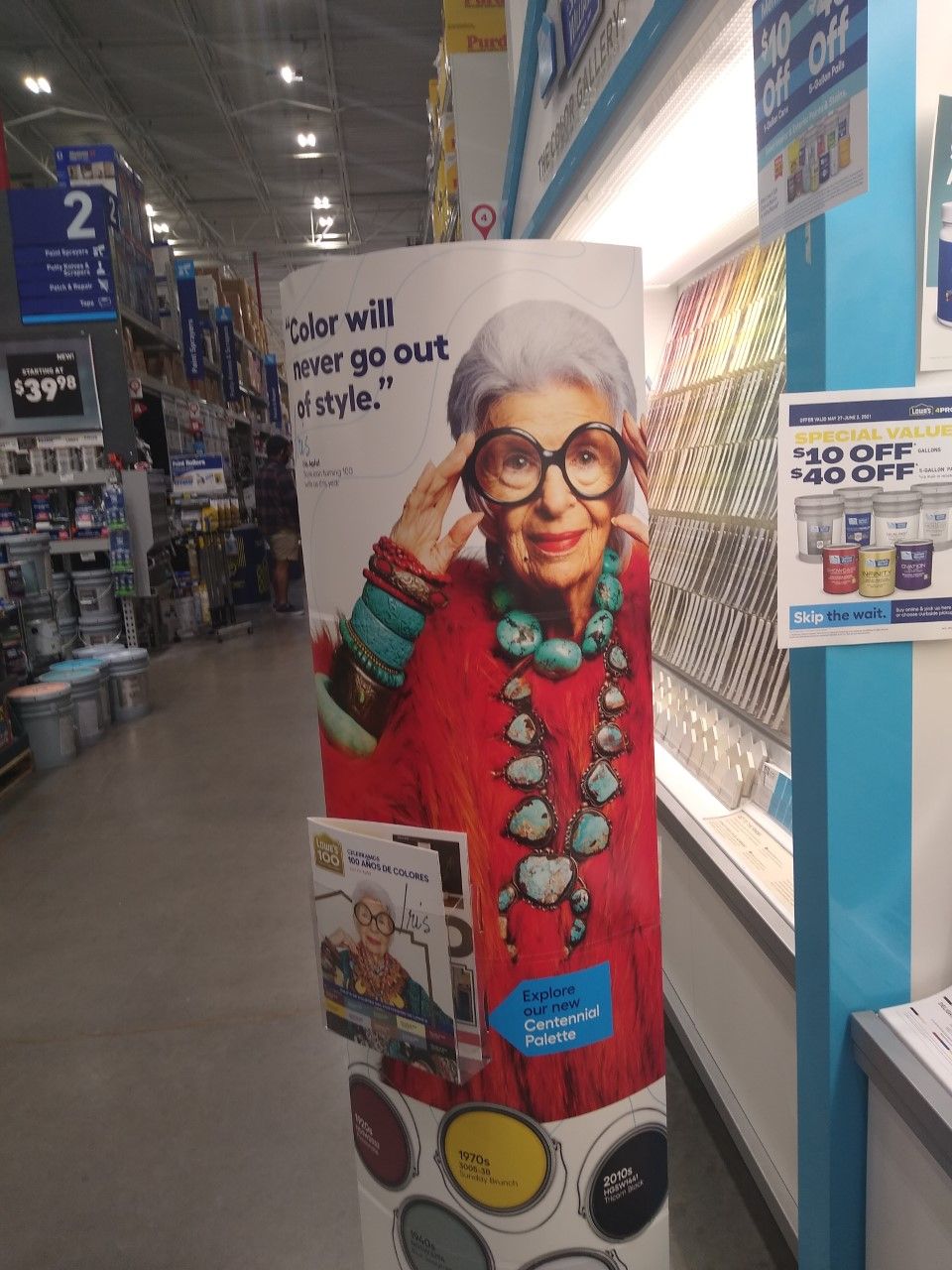 It's a crack in the walls of ageism, and it ain't much. But I will take progress any way I can.
One hundred year old Iris Apfel, long a staple in the fashion world, is a celebrated model. Those of us who have fingers in fashion, especially those of us long of tooth, found the fact that she signed a modeling contract at 97 something to celebrate. For women like me, whose travel adventures are affected by insurance companies who cut us off at 70 (I have a year and a half left, so SCREW YOU), we are faced with the fact of our subjective worthlessness daily.
I have difficulty with articles written by my fellow Medium peeps which  push the narrative of invisibility lower and lower, the latest being mid-forties, which riled my wrinkled ass enough for me to contact the author. She simply said "it's in the research," which is like saying "if Jones and Smith both say it, it MUST be true, " no matter how mindless or idiotic it is. We repeat bullshit in part because said bullshit feeds our internal narrative, not because it's accurate.
But that's another article. This is about Iris. And aging. And us.
Iris's face staring out at me when I turned the corner into the paint aisle made my whole fucking day.
The world of makeup is coming slowly to the realization that consumers like me, with money to spend, are tired beyond tired of seeing twelve-year-old models used to pitch skin products that they won't need for another twenty years. We get it that we have wrinkles; we would prefer they be soft to the touch. We get it that that surgical options are the only ways to erase them; we are tired of the lies in the ads. Honey, if even a tenth of the claims on those bullshit boxes and tubes were true, we'd all have faces like Thylane Blondeau or Jare Ijalana.
I'm not them. You and I aren't them. Never will be. And besides, they too will age.
When Iris shows up as a celebrated model, she redefines what beauty is as we age. In the world of the everyday, we women who have to toil and dig soil and clean up others' spoils are spoiled after thirty-five, according to the (mostly male) pundits and their enablers who have products to sell.
I beg to differ.
In two weeks I will be saying in Santa Fe. In that place of magnificent art, history and beauty is a museum dedicated to the work of Georgia O'Keeffe. She was an  original in every way, and she carved out a life for herself in the heat and cactus thorns of one of the most breathtakingly lovely places on earth. She was a loner, independent and a rebel, one of our first feminists. For me, she grew more lovely with age, and I often think of her when I chose clothing. My late-in-life designers are a riot of color: Stella Jean, Mary Katranzou, Peter Pilotto. Architectural blouses by Monse and Antonio Berardi. Stuff I would never have worn twenty years ago.
The older we get, the greyer we get, the more freedom we have to express ourselves with clothing as art rather than painting our aging faces, which can become mawkish after a certain point. O'Keeffe's character and individuality make her lovely in  my eyes, in that way that extraordinary older women, like Jane Goodall and Toni Morrison and Maya Angelou embodied themselves in their own fullness and competence without the need to be seen as lovely by a world audience.  They had not yet become who they would be at twenty, even forty. That is the beauty of getting older as a woman.
This is one of the great and abiding gifts of age. When we let go of the addiction to being young and lovely, we have room to become incredible. Said simply, we can finally, just...
BECOME.
Quarantine and stress didn't do a whole lot for our collective body confidence, to be fair. I still got peppered aplenty with ads for grossly overpriced gowns (and I am going to wear them where? To jerk blackberries out of the yard?) and blouses that start at $1500 right about the time my income plummeted like everyone else's. I was intrigued by the number of articles moaning about how old people felt, mostly women, who took off their makeup, put on sweats and let it all hang out as they needed more elastic to accommodate the extra chips and salsa. And pizza.
Men, too, but this isn't about men. It's about us, as women, struggling to continue to  be valuable and viable in a world that demands that we be goddesses, young, lovely, fertile and fecund even as she must give those things up to truly evolve into her goddess-hood.
You and I cannot do that if we are forever distracted, demeaned and undermined by demands that we cannot meet, standards that nobody can live up to. If we do happen to be young goddesses, we spent vastly too much time worried about time, wrinkles and age, while failing to build character. Living a life, as it were. I did plenty of that myself, this isn't a slam. I didn't even begin to come into my own until I was fifty-five, and I am still climbing that arc.
However. Iris. At 100, gracing my Lowe's aisle, wearing my favorite jewelry, of which I have plenty, and decked out with colors not unlike that which I have in my own wardrobe.
Somewhere along the way in the last few years, I stopped garnering attention. It was such a subtle thing that it slipped by me without a shout or even a whisper. I hardly miss it, that catcalling, verbal fucking, the casual eye rape in the street, the office, the airplane, the elevator.
Gone. Just gone. While on rare occasions in other countries where certain locals believe that older white women tourists are the Grand Triplicate: Rich, Horny and Desperate I get approached, it ain't because I'm seen as a sex object. I'm an easy mark, a dumb desperate wallet. Nope, dope. Keep it zipped, baby boy.
Mother Nature allows us many years to come into ourselves, should we so choose, once you and I can release the demands, such as we shouldered them, of family and the struggle to keep up appearances for others. When appearance becomes what we do for ourselves, goddesshood is much closer.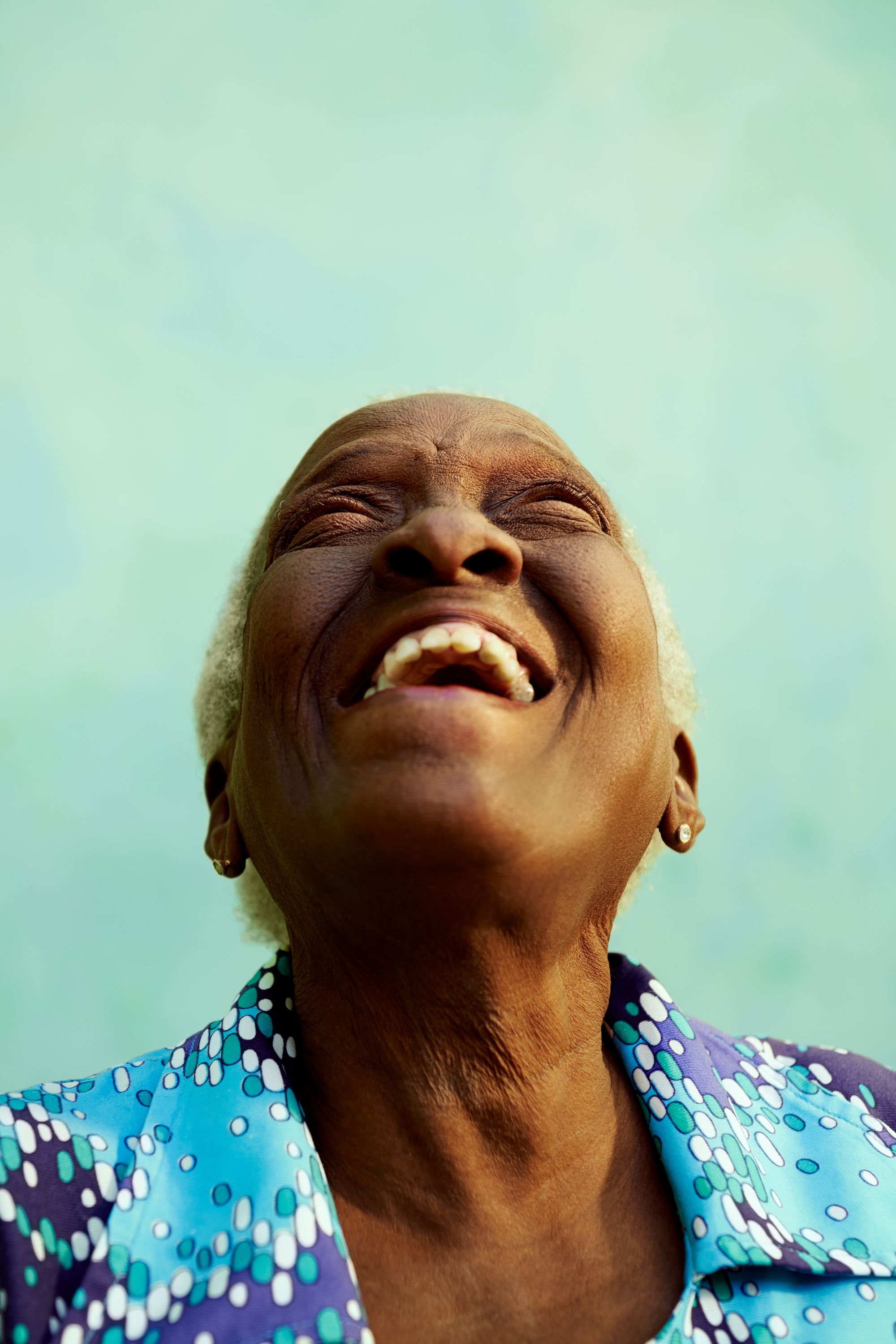 My aging mother was never free of the compulsion to be skinny. The cost was terrible, for as she aged, she was still dogged by a societal standard that had become meaningless for a woman in her eighties. She wore a girdle from the fifties, held together by hundreds of safety pins (it should be displayed at the Metropolitan Museum of Modern Art) until the day she died. She was never, ever free.
Apfel, very much herself, worth some $25m which she can of course never spend, is for me a statement about age as beauty as age. She is an outlier, but then, so is Goodall, so were Angelou and Morrison and O'Keeffe.
Apfel is a character, not a caricature.
We become caricatures when you and I allow a careless, selfish society dictate our value, which increases as we age, to demean, diminish and destroy us just as we arrive at the threshold of our greatest personal power.
Which, kindly, to my mind, is precisely why the Patriarchy does to older women what it does, most especially older women of color. Some of the most powerful, influential and incredible people in my life were, and are still, older women of color.
There's a good reason to be leery of them if you have no backbone.
I have learned a great deal from them how to build a backbone, and how to age unapologetically. That's part of what being a goddess is all about.
The more we see extraordinary women of age celebrated, and it's coming, the more you and I have room to grow. Grow flowers, grow a backbone. Vegetables. Grandkids. Poetry. Memoirs. Buildings. Businesses. My mentor, who died at 92, was still starting and running businesses in the clean water space. Does it matter what we build?
No. But we cannot grow if we don't know our worth. Iris Apfel is a reminder that our worth doesn't end at forty. She is a reminder to all of us that we're just getting revved up.